Covid-19 was a catalyst for many life changes. For Kingson Kwan Chun-kit and wife Anna, the pandemic sparked an "impulsive" decision to buy a flat in Yuen Long, in the western New Territories.
"We needed more space; it was reasonably priced; and the estate's 100,000 sq ft (9,300 square metres) of gardens were perfect for us to walk our dog," says Kwan, an entrepreneur in the human resources field.
The purchase would also be an opportunity for Kwan to work with Sai Chan, creative director of MOFT Studio, and express his latent flair for interior design.
Only the couple and Aka, their Shiba Inu, would live in the original four-bedroom, two-bathroom, 900 sq ft (84 square metre) flat on the fifth floor of an eight-year-old building. This allowed scope to reconfigure the layout to create a lavish bedroom suite, two separate work-from-home areas, an open kitchen and a room to host gatherings.
The construction component of Chan's remit was made easier as, she explains, only one wall in the flat was structural (and it wasn't in the middle). The rest could be demolished.
Kwan's love of wabi-sabi, the Japanese design aesthetic based on imperfection and impermanence, is evident in the use of natural materials such as wood, plant fibres, earth and stone. Walls and ceilings are finished with a faux stone paint coating in light beige.
'I'm super-happy': she got apartment back on her birthday after makeover
Although the look is based on comfort and simplicity, the new spatial arrangement, completed in April 2022, is anything but ordinary.
"I don't like it when you go into a flat and see everything all at once," says Kwan. "I prefer mystery, to walk through and explore."
So, at the entrance, Chan designed a decorative screen made from terracotta bricks, its pattern framing geometric shards of light from the living room window, and affording a peek into what lies beyond. With Kwan being a whisky connoisseur, she also tucked a drinks-and-coffee bar into the pathway leading to the social zone.
The removal of walls gave more floor space to the living and dining areas, which now incorporate an open kitchen with a solitary bank of cabinets running along a wall.
The hero of the space is the beautiful dining table. Made from the trunk of a roughly 80-year-old ash tree growing wild in a Polish forest, the tabletop was crafted by architect turned woodworker Filip Winiewicz in his Kwai Chung workshop, after a three-month search for the perfect piece of timber.
Couple's apartment revamp is an object lesson in space maximisation
Left in its natural state, bearing the marks and lines of age, the slab was so big that one end could be carved off to form a coffee table.
Chan designed both tables with transparent Perspex legs, giving the impression that they "float" above smoky-black-stained solid oak floorboards in two sizes, laid randomly.
Around the table are six chairs in timber and rattan, while rotating gently overhead is a pendant handwoven from umbrella sedge, a grasslike plant whose stems are used as a traditional material in indigenous Taiwanese coastal cultures.
On the wall next to the table is framed Chinese calligraphy that is part of Kwan's art collection. "Its meaning, in essence, is that in order to achieve a beautiful life you have to go through pain, sweat and tears," he says.
The space freed up by the three surplus bedrooms gives Kwan an office-cum-music room off the living area, and Anna an office-cum-dressing room beside the couple's bedroom.
Homeowner who can't afford interior designer goes DIY and finds new career
It also allowed for the creation of his 'n' hers fitted wardrobes and a lavish bathroom, complete with soaking tub, created by the merging of the two original bathrooms. A guest toilet and storeroom are now in the original enclosed kitchen.
While the en suite facilities are spacious, the bedroom itself is kept purposely simple and diminutive in scale.
"I wanted nothing in there but the bed, to simply lie back and enjoy the view," Kwan says of the aspect over the estate's grounds ringed by mountains in the background.
Just two weeks had passed between the couple's October 2020 desire to buy and signing the contract on this flat.
"It was an impulsive decision, but the right one," Kwan says.
Living and dining area
The table, handmade by Filip Winiewicz of Hardwood HK (hardwoodhk.com) and set on Perspex legs, is paired with six replica black-lacquered beech Wishbone chairs.
The client sourced the Riyar pendant, hand-woven by Taiwanese artist Kamaro'an (kamaroan.com), and the framed Chinese calligraphy, by Malaysian artist Jameson Yap (jycalligraphy.com). The coffee table is a cut-off from the ash slab used for the dining table and on it is a sculpture by New York artist Kaws (kawsone.com).
The three-seater sofa came from JG Casa (jgcasa.com). The kitchen cabinets in black Formica, with a rough-textured counter featuring black granite, were built by MOFT Studio (moftstudio.com).
The smoked-black-oak timber flooring was a custom order from Wooderland (tel: 6680 2121;
[email protected]
).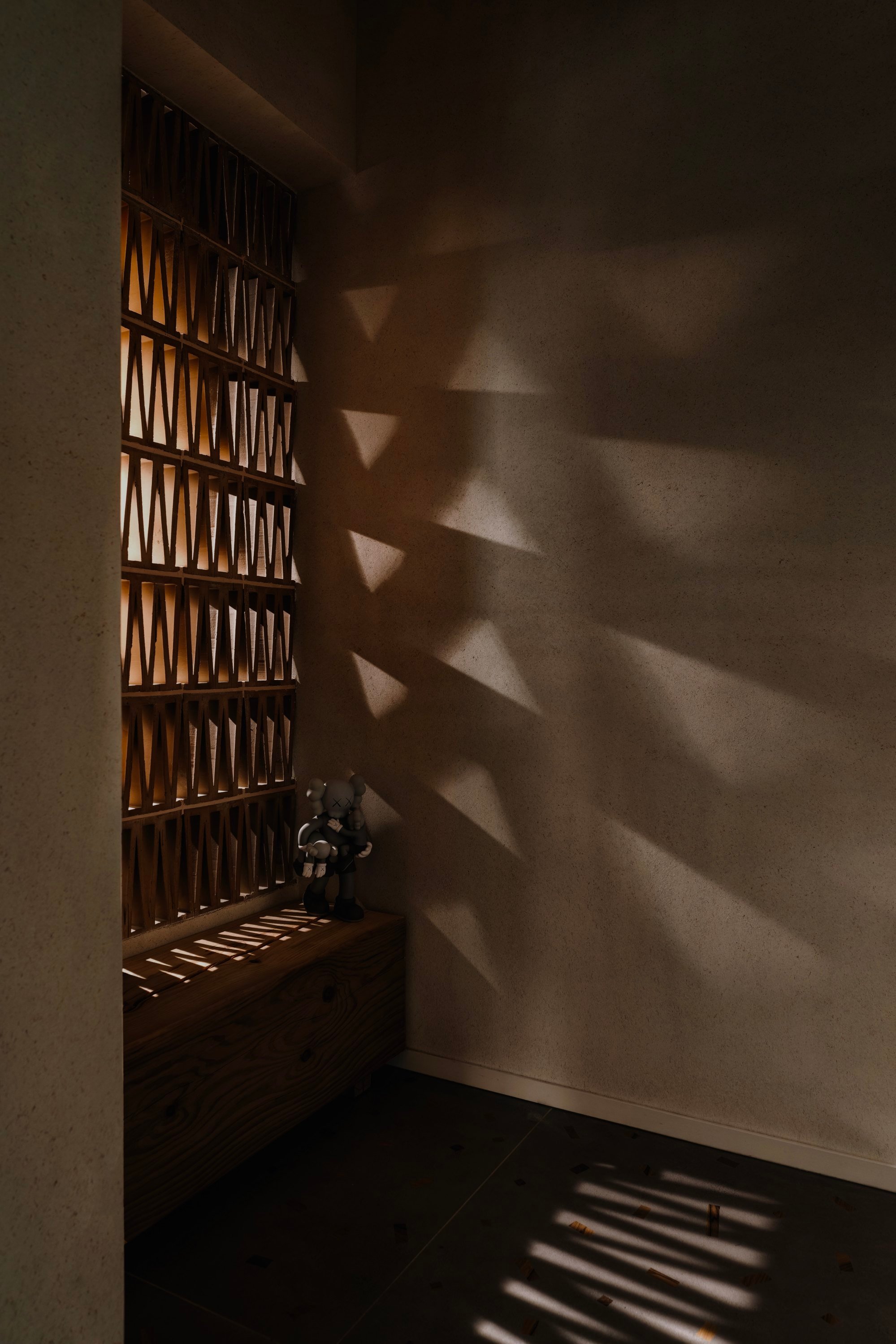 Foyer
To add an air of mystery upon entering the flat, Sai Chan, creative director at MOFT Studio, designed a decorative screen made of terracotta bricks from Mutina's Celosia collection, bought from Anta (antahk.com). The clients brought the solid wood bench from their previous flat.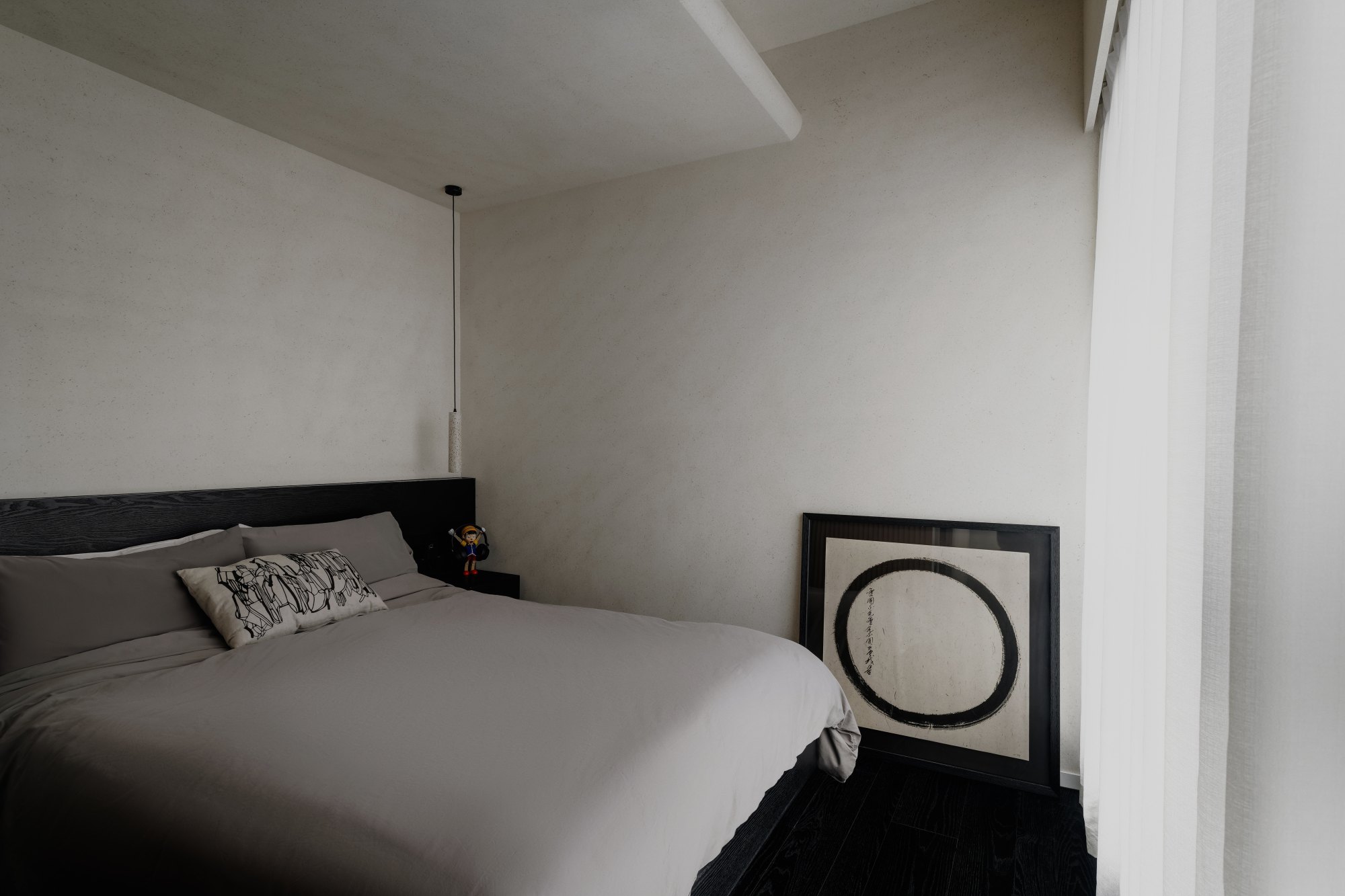 Bedroom
The custom bed frame and headboard with connected floating bedside table was designed and made by MOFT Studio. The concrete hanging lamp was sourced from Taobao (taobao.com). On the floor is a painting by local artist Grand So (Instagram: @grandso_mobilegrandarts).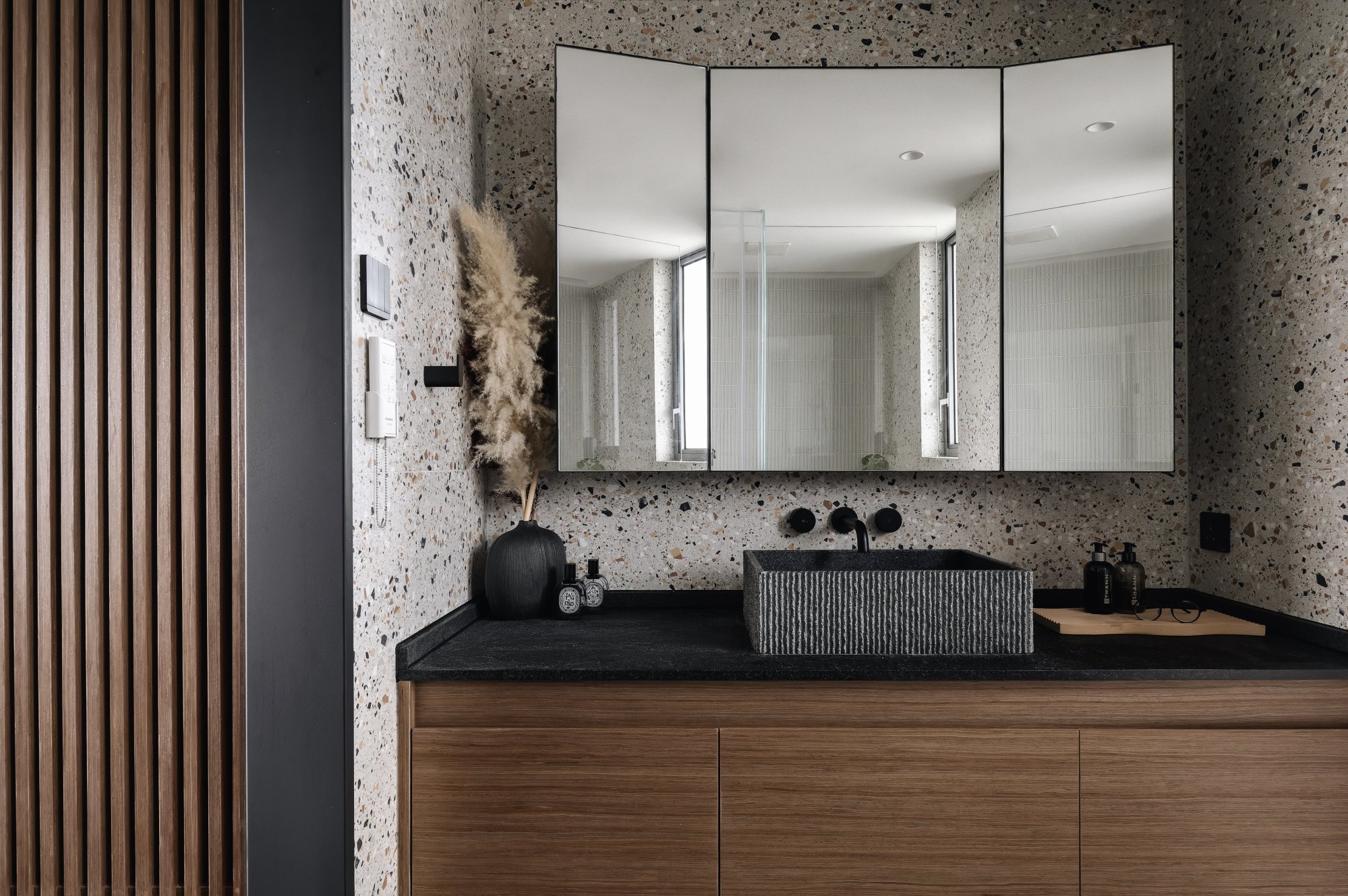 En suite bathroom
The terrazzo stone tiles, by Italy's Iris Ceramica, came from Beauty Floor Engineering (beautyfloor.com.hk). The Mayfair basin and tapware were from Gobo Interiors (243 Lockhart Road, Wan Chai, tel: 2511 9908). The three-panel mirror was designed and made by MOFT Studio.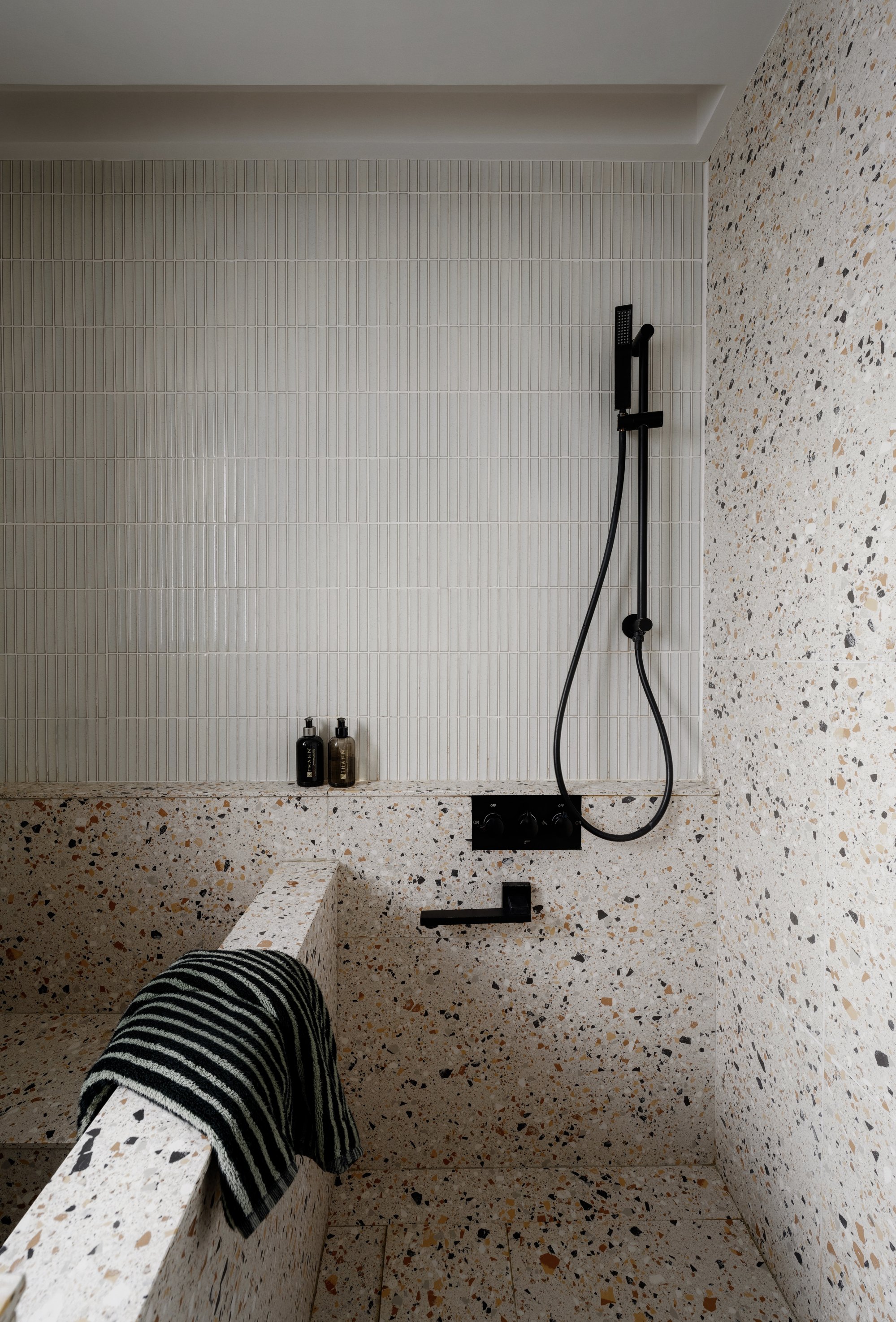 En suite bathroom detail
Complementing the terrazzo tiled en suite is a Japanese-style bathtub made by MOFT Studio's contractor.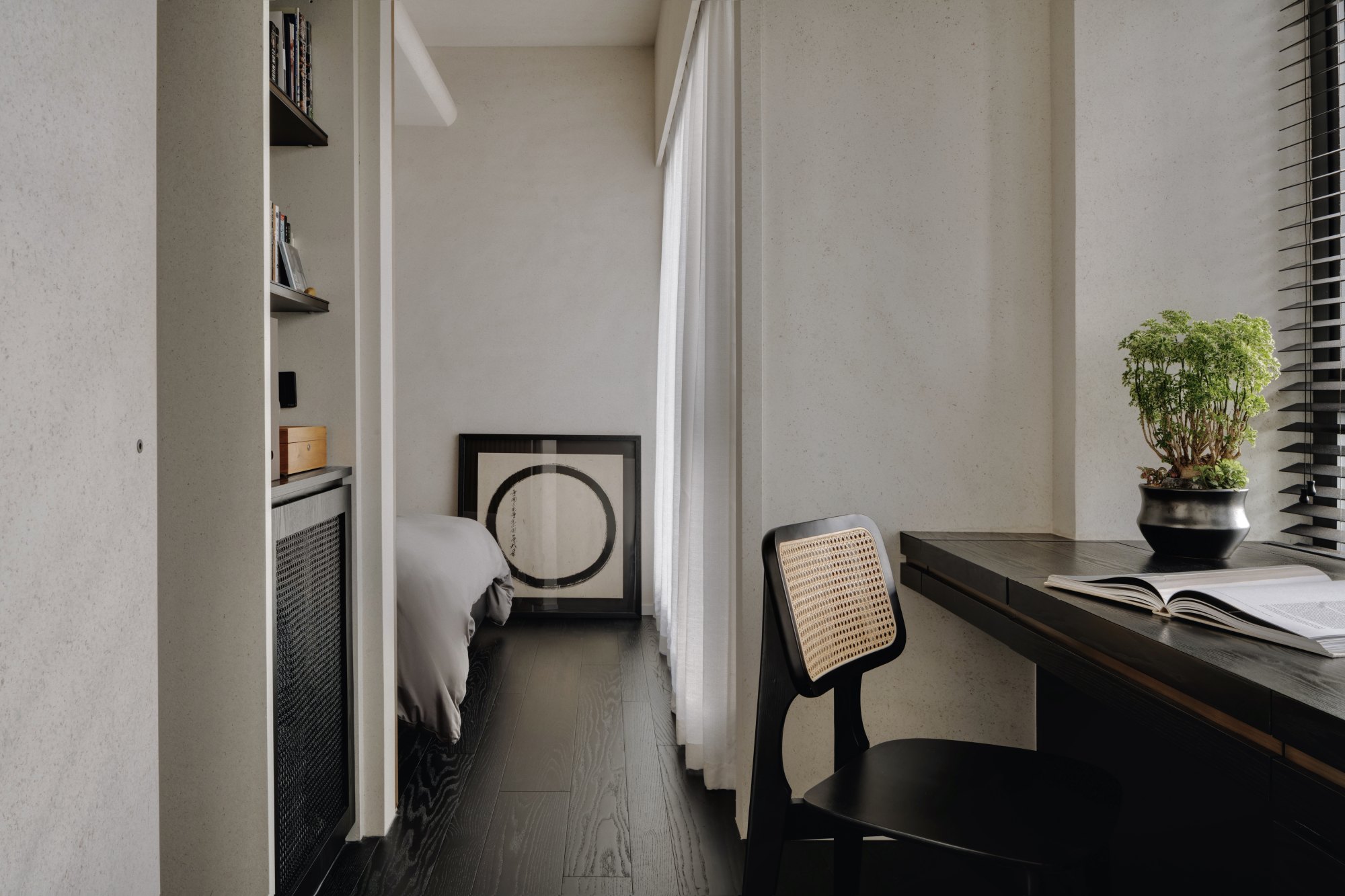 Home office-cum-dressing room
Anna's bespoke desk, shelves and cabinet on the left, in matching black Manchurian ash veneer with brass trim details, were designed and made by MOFT Studio. Her black oak and rattan chair was sourced through Taobao.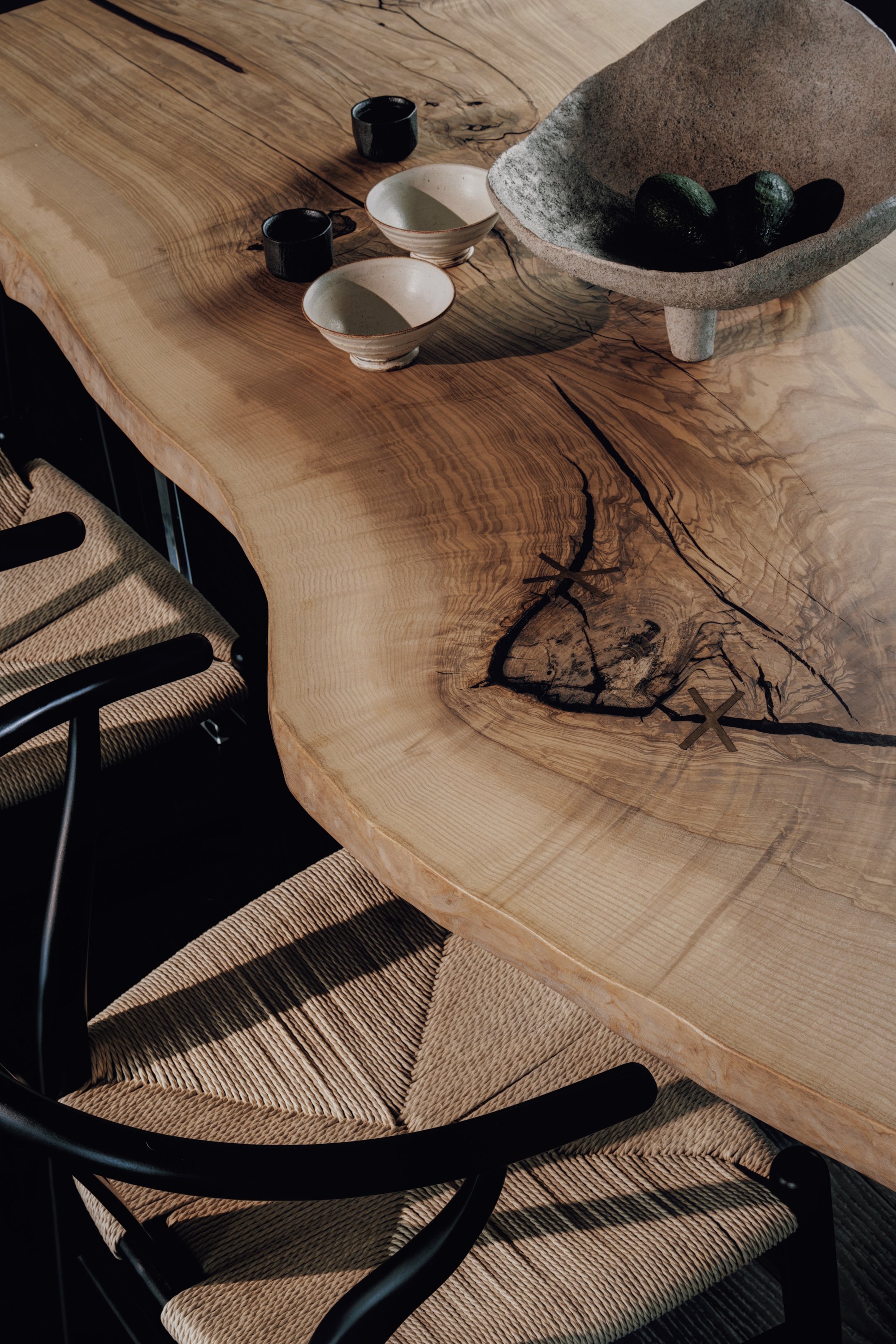 Tried + tested
The bespoke dining table was crafted from an 80-year-old ash tree sourced in Poland by its maker, Filip Winiewicz of Hardwood HK (hardwoodhk.com).
To retain naturally occurring signs of age, and to keep the surface smooth, Winiewicz uses a special technique: he fills the cracks with resin and uses a brass X inlay for reinforcement. The detail has become his signature.
link