Benzhe Design's 'Building in the Cracks' in Shanghai
In a residential neighborhood in Shanghai, amidst a cluster of buildings, Benzhe Design has constructed a small wooden structure built onto an existing balcony. Named Confidant Zhishe or Building in the Cracks, this compact addition spans just 19 square meters and neatly fits into the space between the two adjacent walls of the building. The client, a good friend of the architect, wished for a cozy nook – a tea study – to serve as a space for friendship, tea tasting, and reading. However, the indoor space wasn't sufficient for these functions, so the decision was made to utilize the external space to expand the usable area. Situated at the rear of the building, in the north-east direction, the new structure receives only about two hours of morning sunlight, as the surrounding buildings block the sun for the rest of the day. Thus, to tackle this challenge, the design team introduces the principle of 'no making, no breaking', allowing the project to adapt to its surroundings.

all images by Su Shengliang
Designing a Cozy niche for relaxation and reflection
Benzhe Design's layout unfolds as a trapezoidal design, with a landscape platform connecting the indoor and outdoor spaces on the northern side, a tea-tasting area on the south-western side, and a patio space in the south-eastern corner. This space is enclosed within a glass box, enhanced by a wooden envelope to ensure privacy for its occupants. This dual-layered approach creates a stark contrast between the robust exterior and the inviting interior. The addition itself takes the form of a folded polygon crafted from Thermo-modified wood, with its sharp corners cleverly integrated into the building's perimeter. This irregular wooden geometry introduces an engaging contrast to the otherwise concrete surroundings, imbuing the structure with a unique aesthetic.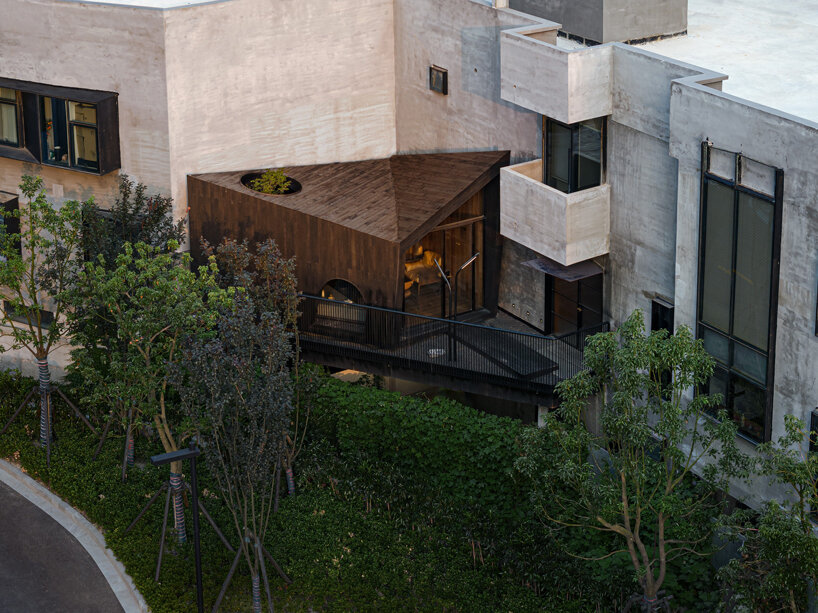 The top and eastern sides of the polygon feature circular openings and arched windows that control the entry of sunlight, creating a dynamic interplay of light and shadow in the interior. The building's external facade harmoniously combines black Thermo-modified wood with ultra-clear glass. Inside, brown Thermo-modified wood flooring contributes to a straightforward and unified design. The entire structure is elevated above the trapezoidal balcony, providing protection against moisture and water damage and enabling potential disassembly and reuse. In the early hours of a summer morning, the building receives a gentle touch of sunlight, providing a serene atmosphere. This design aims to offer a calm and peaceful space, even in the face of the challenging external environment.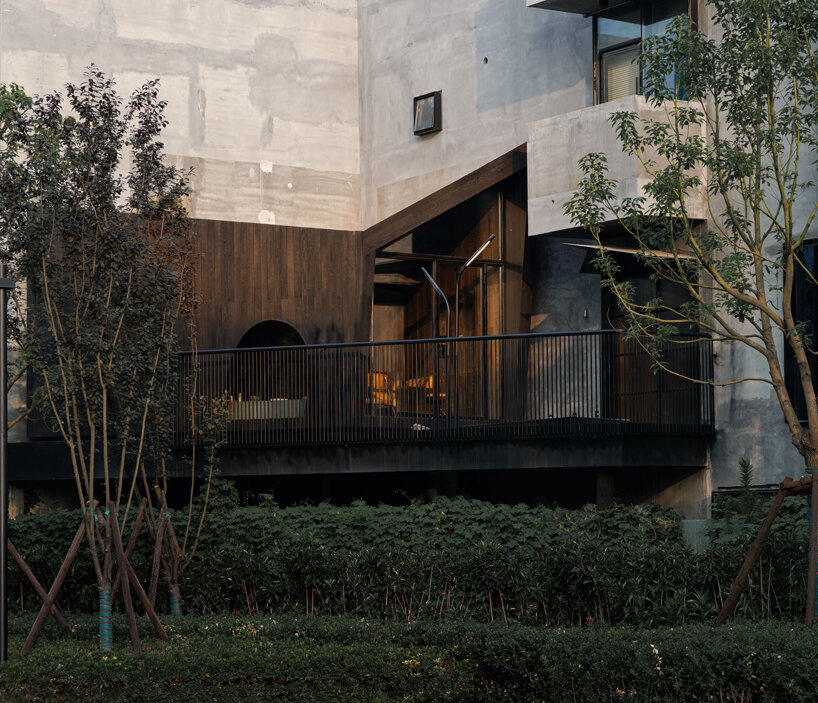 a folded polygon made of Thermo-modified wood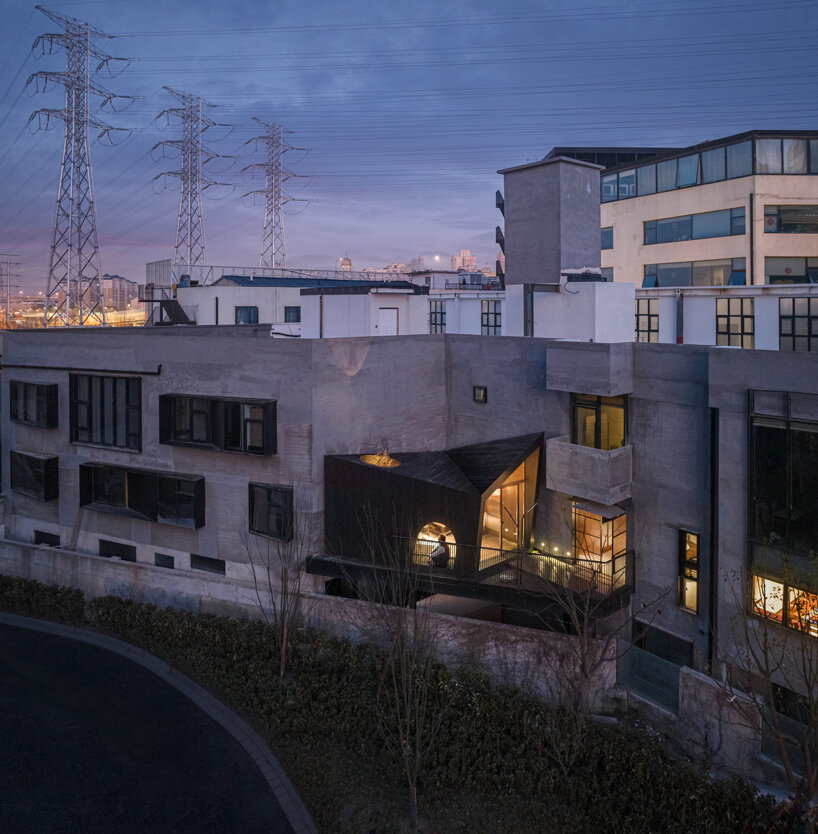 the structure embraces serenity in urban life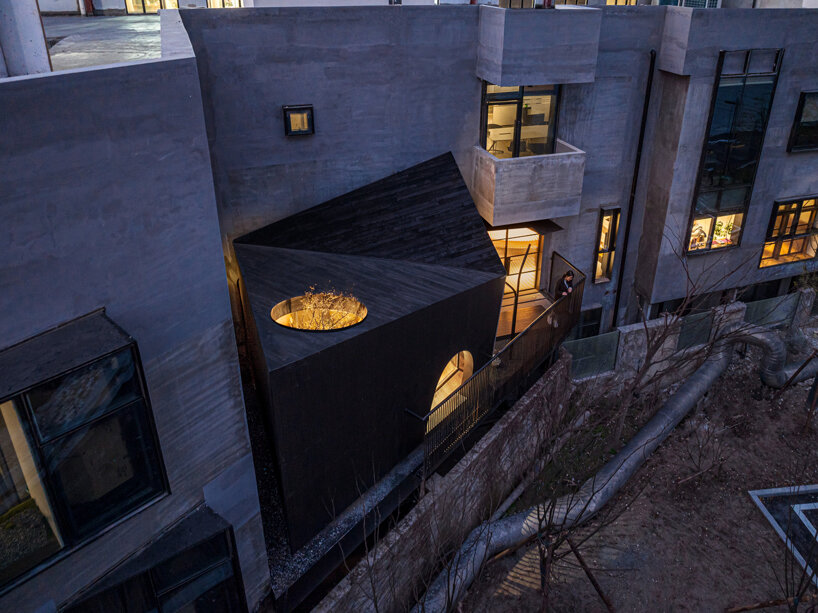 the design provides privacy while offering a sense of space and lightness inside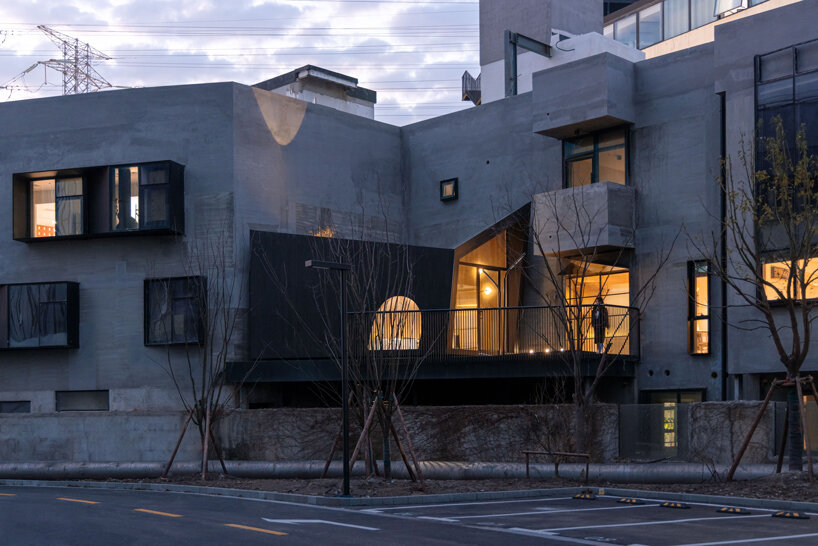 round holes and arched windows avoid direct sunlight and let the light enter from different angles and directions
link