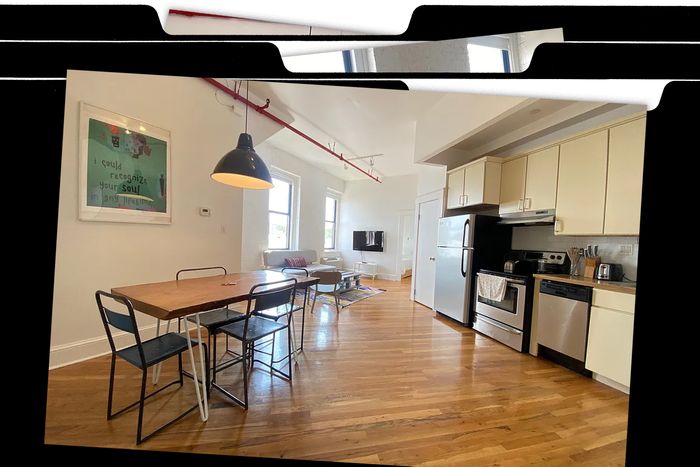 Photo-Illustration: Curbed; Photos: Dreamspace Realty LLC/StreetEasy
Listen, it's not like getting an apartment in New York has ever been easy. But one could probably argue that it's never been harder than it is right now. The most god-awful studios are regularly renting for thousands and thousands of dollars, with lines of interested tenants out the door. (Meanwhile, the average price of a one-bedroom has shot up to $5,100.) So we're rebooting a weekly series that's been on hiatus for a little while to help out — Listings Edit. Here, we'll find the actually-worth-looking-ats, actually-worth-the-costs, and surprisingly-affordable-for-those-parquet-floors from all around the internet. 
Things were truly not looking good this week. However, we have unearthed some not traditionally attractive spots that could be improved with minor fixes, like area rugs and paint. And one genuinely cool place in Chinatown with excellent cherry built-ins.
$3,895, three-bedroom: Slim pickings on the rental-market front in Chinatown, but this three-bedroom isn't terrible — with vaulted wood-beam ceilings, an updated bathroom, and modern kitchen amenities. No living area to speak of, however.
$3,395, one-bedroom: What the previous listing lacked in living-room space, this listing makes up for with a living area that boasts a wall of mirrors and a washer-dryer! Red flag: lots of stock photos of unrelated ephemera like macarons and a cappuccino from Joe's Coffee.
$7,210, four-bedroom: Yes, you read that right. Four bedrooms (though there is only photographic evidence of one, which is highly doctored), right in the heart of Little Italy. The listing also notes Caesarstone countertops, which we can't really account for.
$5,000, two-bedroom: Okay, this one is weird — in a good way! Idiosyncratic details include rounded archways painted in light brown with a cherry built-in to match, an acrylic storing system, and a kitchen with an oddball sky panel.
$3,200, studio: Ugh, please don't kill the messenger here. It's a lot of money for what it is, but it's sort of romantic! Think: dinner on the hardwood floor (because you don't really have room for a table); trips down to the basement to do your laundry. All jokes aside, though, it's a great prewar building in the best location with lots of natural light and an entire separate room for the kitchen!
$9,800, four-bedroom: Let's get funky! With a powder-pink laundry room, flower-power-painted stairwell, and a turquoise bathroom, you can either lean in or grab some paint. Besides those superficial details, this is a very nice triplex in a good location.
$5,000, two-bedroom: Blocks from the park, with parquet floors and lots of natural light — this could be the unusual $5,000 two-bedroom you've been longing for …
$4,800, two-bedroom: Okay, half of this we love, and the other half needs work. The half we love has beautiful original details and hardwood floors; the other half has some questionable vinyl flooring, and that gets progressively worse as you click through the slideshow.
$3,795, two-bedroom: Speaking of questionable flooring … the marble facsimile is blinding, but the rest is great! And the price is right. So blur your eyes or prepare to buy an area rug. Or two.
$2,499,000, five-bedroom: The listing calls it a renovator's dream! Could be a nightmare, though. (On the subject of renovator's nightmare: Look at this place.)
$3,600, two-bedroom: Not much going on in Ridgewood this week, but this railroad-style apartment is perfectly nice — with bay windows, "handcrafted doorknobs," according to the listing, and what seems like tons of storage, this is a good deal for the amount of space.
$3,150, three-bedroom: Odd but intriguing and cheapish apartment in the heart of Ridgewood. We don't usually trust the term "sun-drenched," but this one really does appear that way … also, call us crazy, but the lime-green accent wall looks sort of chic.
$620,000, two-bedroom: This on-the-market, off-the-market duplex seems like a steal. No one said she was perfect, but at that price, she'll do. An upstairs, a downstairs, a backyard — the whole nine yards!
$3,600, one-bedroom: Converted cork-factory alert! This loft is quite beautiful, we think. A bit pricey, but the high ceilings, natural white, and odd-shaped living room are all calling our name.
$5,000, two-bedroom: We might just be suckers for stairs, any kind of stairs, but there's something more to this duplex on Kingsland Avenue. The layout is bad, but holy smokes, that outdoor space is lovely.
$3,350, studio: Something about this plywood, roomwide headboard is calling our name. Hopefully they leave it for you!
$4,995, one-bedroom: Did someone say stairs?
$5,500, one-bedroom: Okay, the photos are awful, so it's time to put our imagination caps on and clear this apartment of all the stuff, put a log on the wood-burning fireplace, and sink into the outdoor (??) hot tub.
link