We're willing to bet that these adorable (and efficient) small home office ideas will make you the talk of the Slack channel. 
Whether you're moving into your own studio apartment or heading back to campus, we've got your work/study station on lock. (These are our favorite places to buy dorm supplies, JSYK.) 
Between clever styling tips and multifunctional furniture, you'll look forward to spending time in these creative corners, whether it's 9 to 5 or an all-nighter. All that's left to do is pour a cup of Joe.
11 ADORABLE SMALL HOME OFFICE IDEAS
Find a comfy office chair and get ready to wow at the staff meeting, not just for your skills, but for your impeccable style. Talk about an upgrade from the cubicle, huh?!
The prices below were correct at the time of publishing this article. 
1. Style Vertically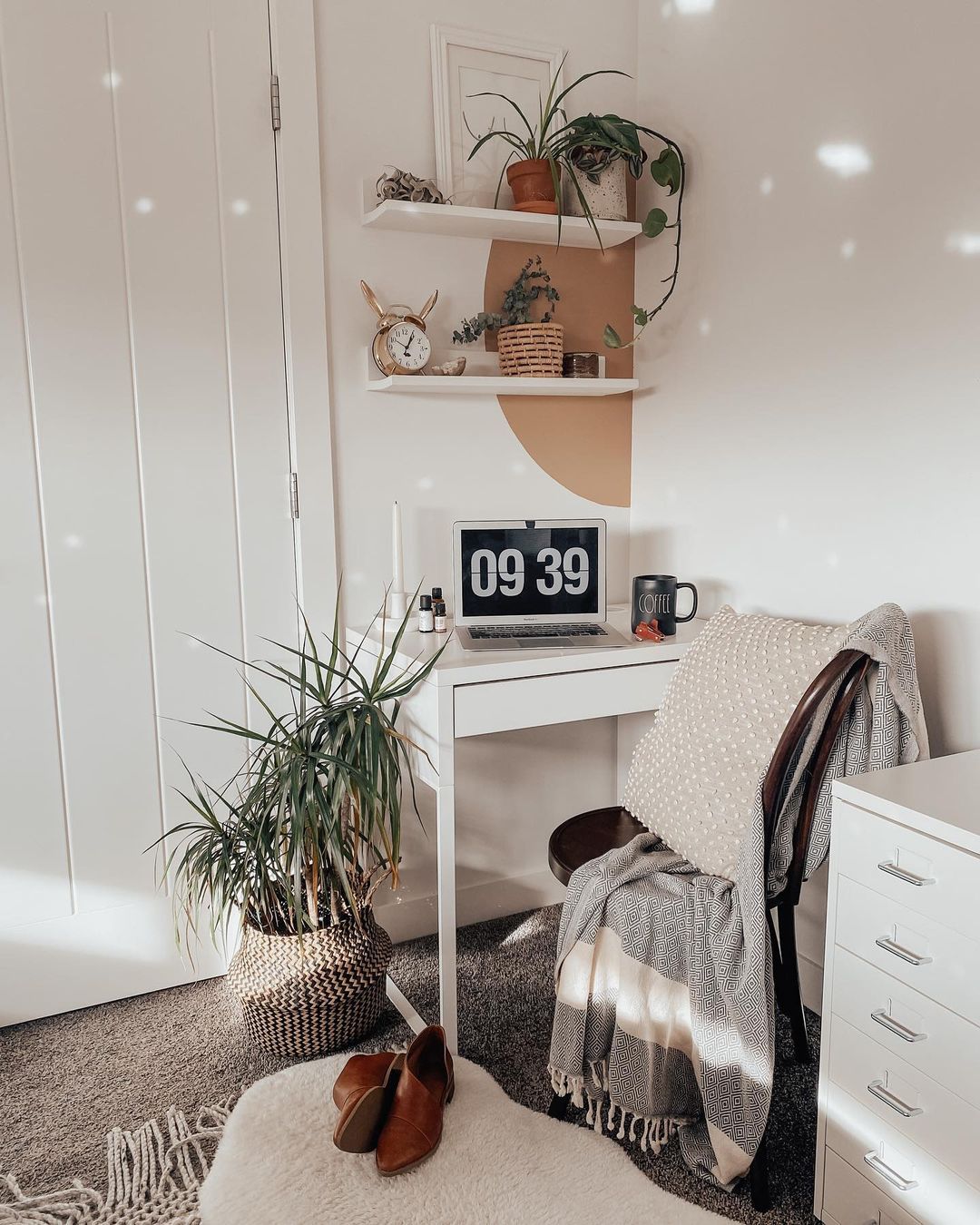 When styling a  little nook, sometimes we're so busy looking around us that we forget to look up. Utilize the walls above your desk for cute shelving ideas (renter-friendly wall decor, at your service) and/or statement paint ideas à la Megan McLeod of The Blush Home, who topped her office alcove with some greenery. 
2. Utilize an Empty Closet
If you have plenty of bedroom storage furniture abounds in your abode, why not get creative with your closet space? An office closet is not only unique, but it gives you an opportunity to shut out work stress when you're not on call. Plus, this space practically begs for bold wallpaper patterns, and who are we to refuse?  
3. Invest in a foldable desk
Think Murphy Beds but for your home office. They save space and make for a fun DIY if you're in the mood to get crafty. Take it from Nneka Mosley, a.k.a. One Handy Momma.
4. Set up shop under your bed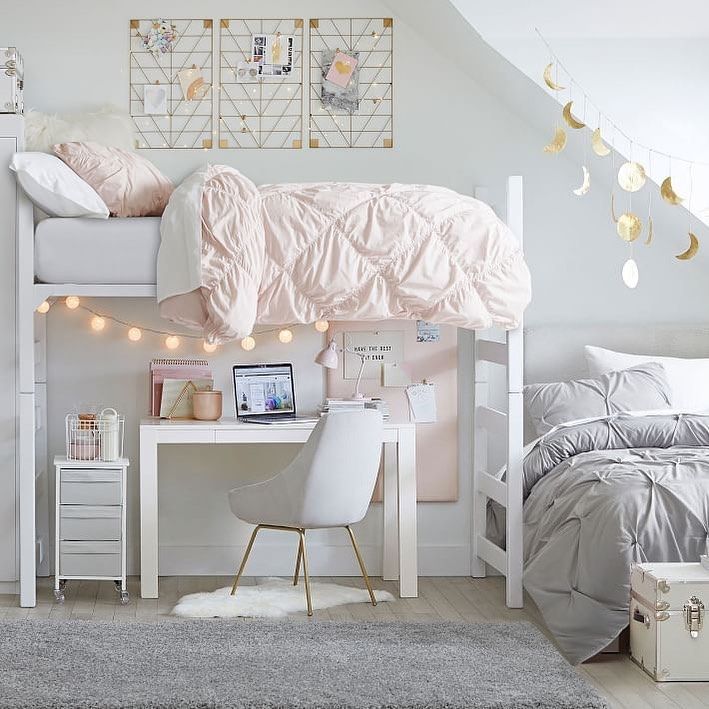 Dorm rooms and tiny studios are famous for their lack of space, so when real estate is in low supply but in high demand, try opting for a desk area that can fit under your bed. Needless to say, the typical bed risers won't do for this one. Once you've secured all furniture in the proper place, have a look at our expert tips for creating a good study space, no matter how chaotic your dorm might be. Do we sense an incoming 4.0?  
5. Go for the corner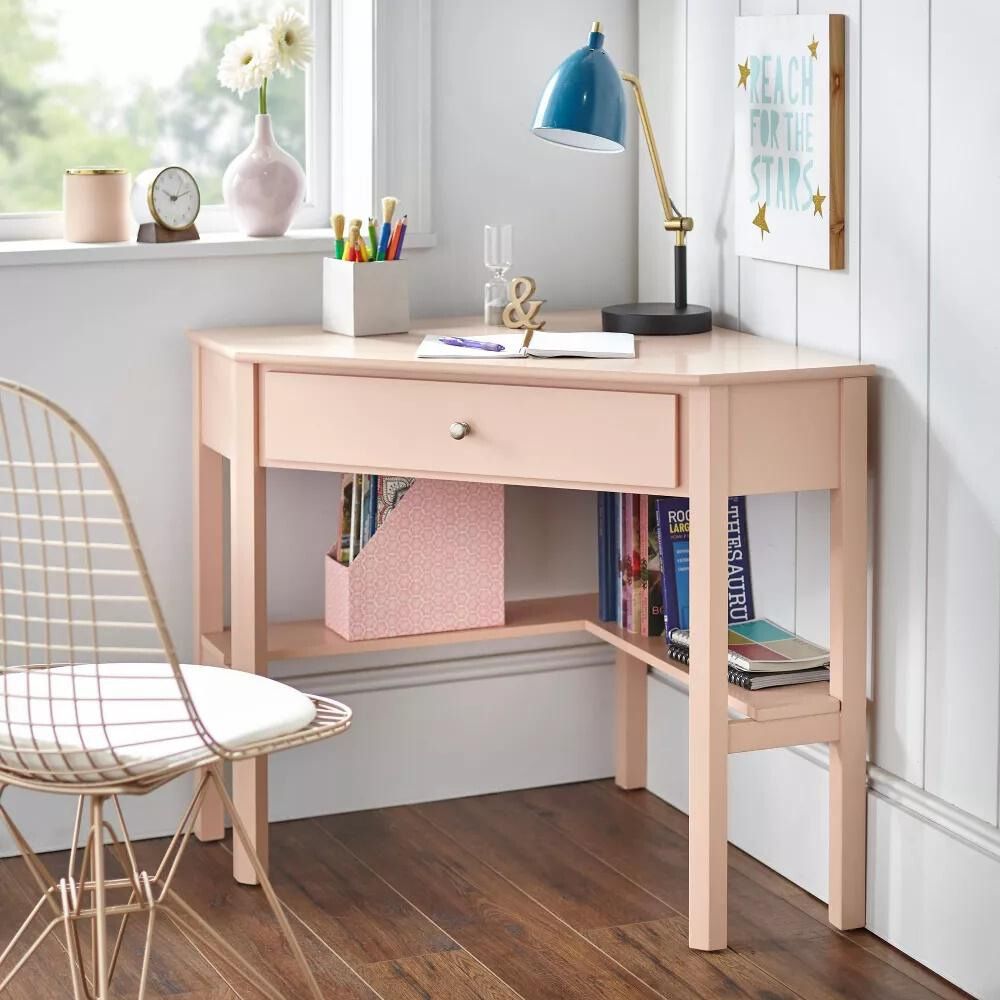 The L-shape isn't reserved for sofas. You can combine your desk and a vanity to set up a small study compartment or opt for a savvy corner desk. 
6. Go Mobile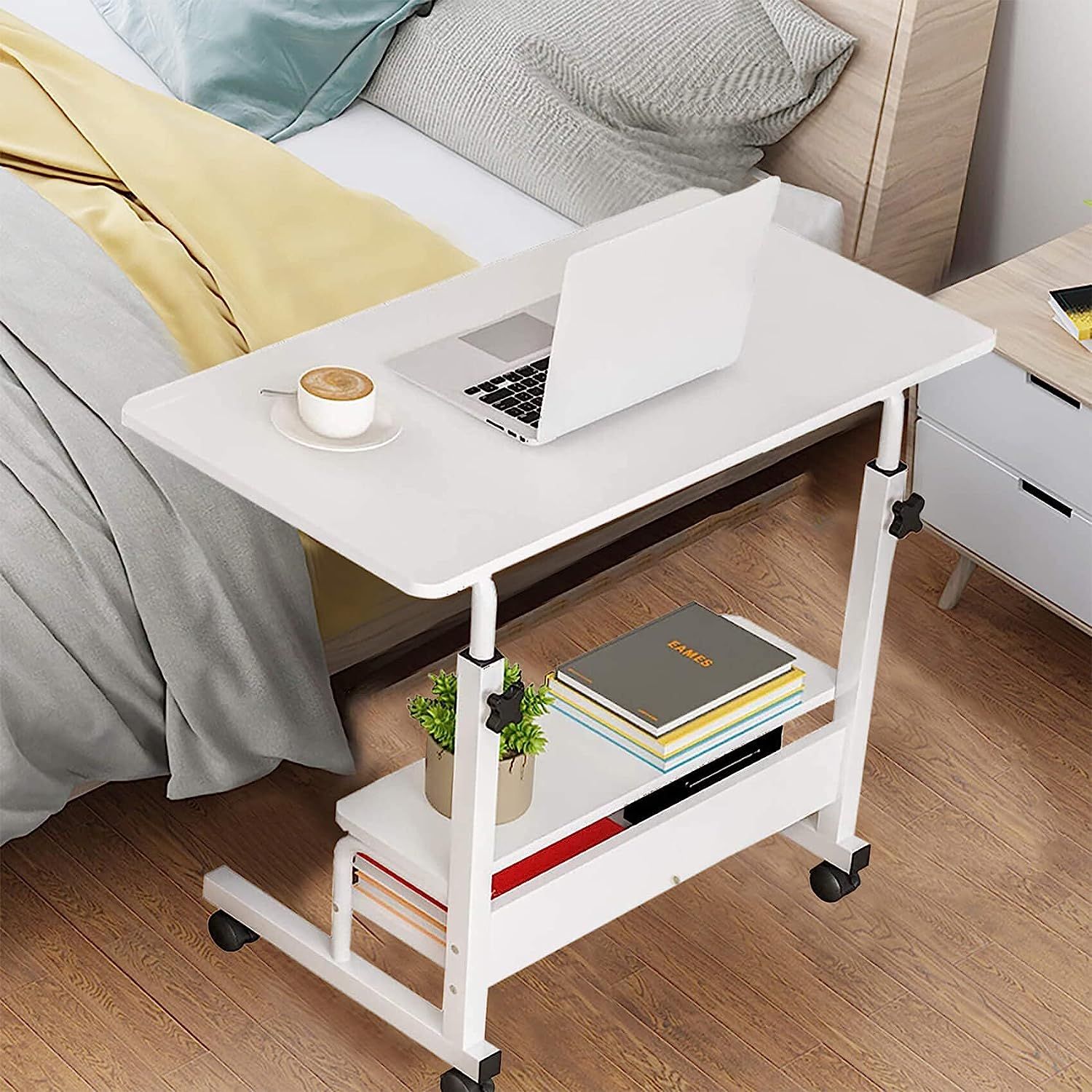 No place for a desk? No problem. Compact mobile desks give you flexibility and allow you to take your work from spot to spot. 
7. Grab a ladder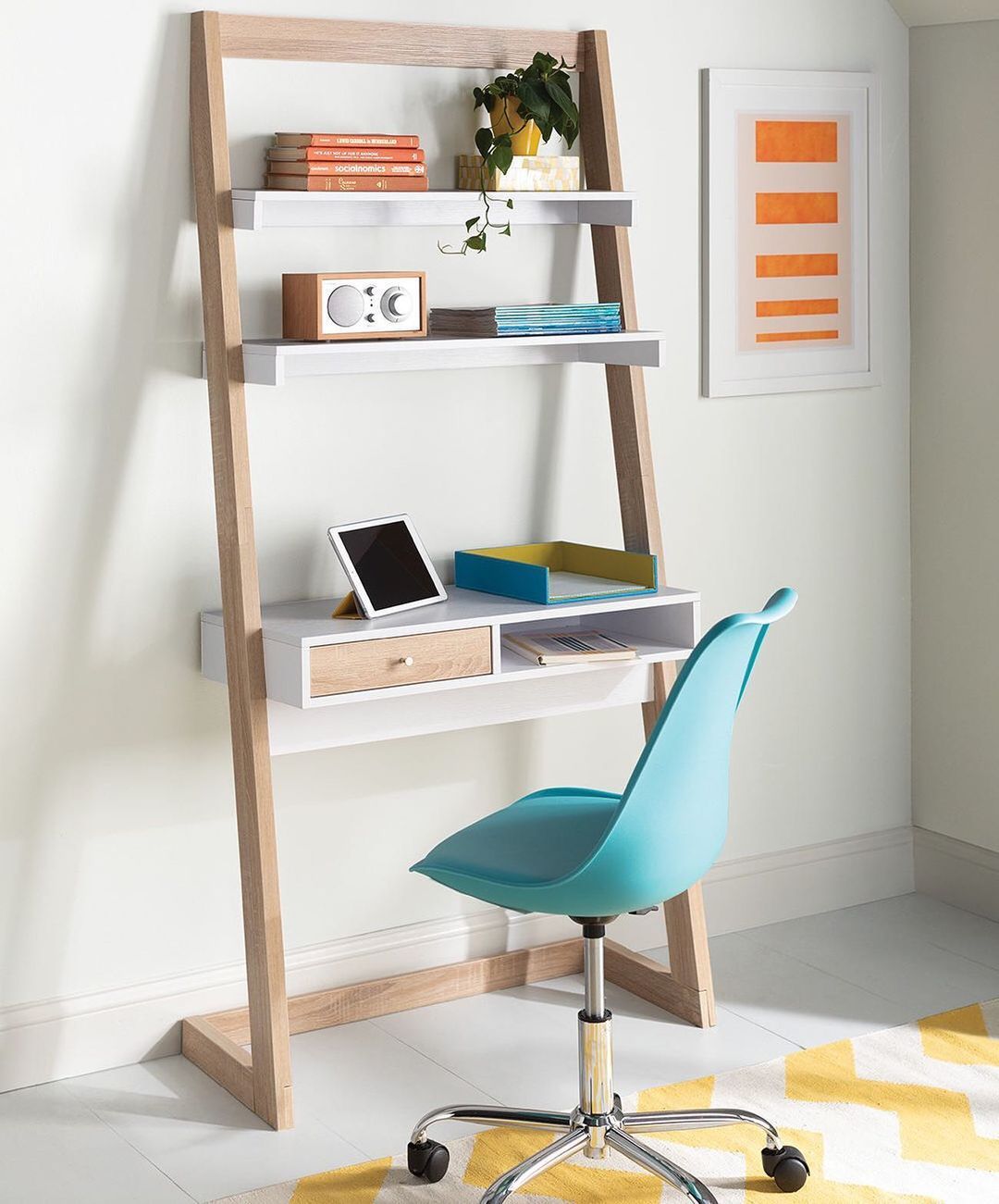 We told you we're big fans of styling vertically! A ladder/shelf desk is multifunctional and cute to boot. 
8. Set up a workstation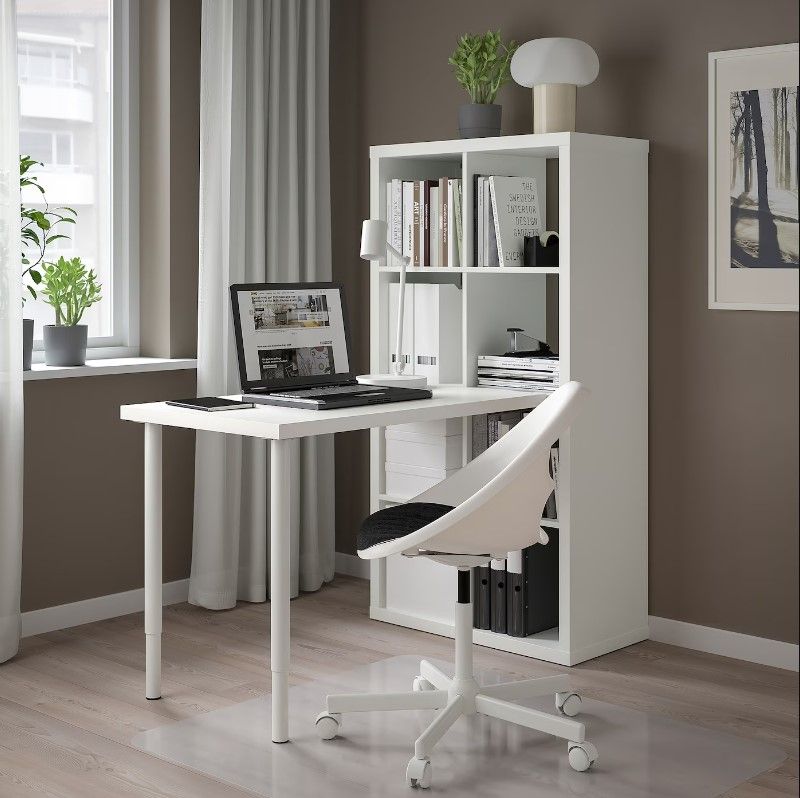 Utilize every possible inch of your space for storage and studying with a workstation. If you couldn't fit the bookshelf and a desk, voila! Now they're one and the same. 
9. Hide your office in a wardrobe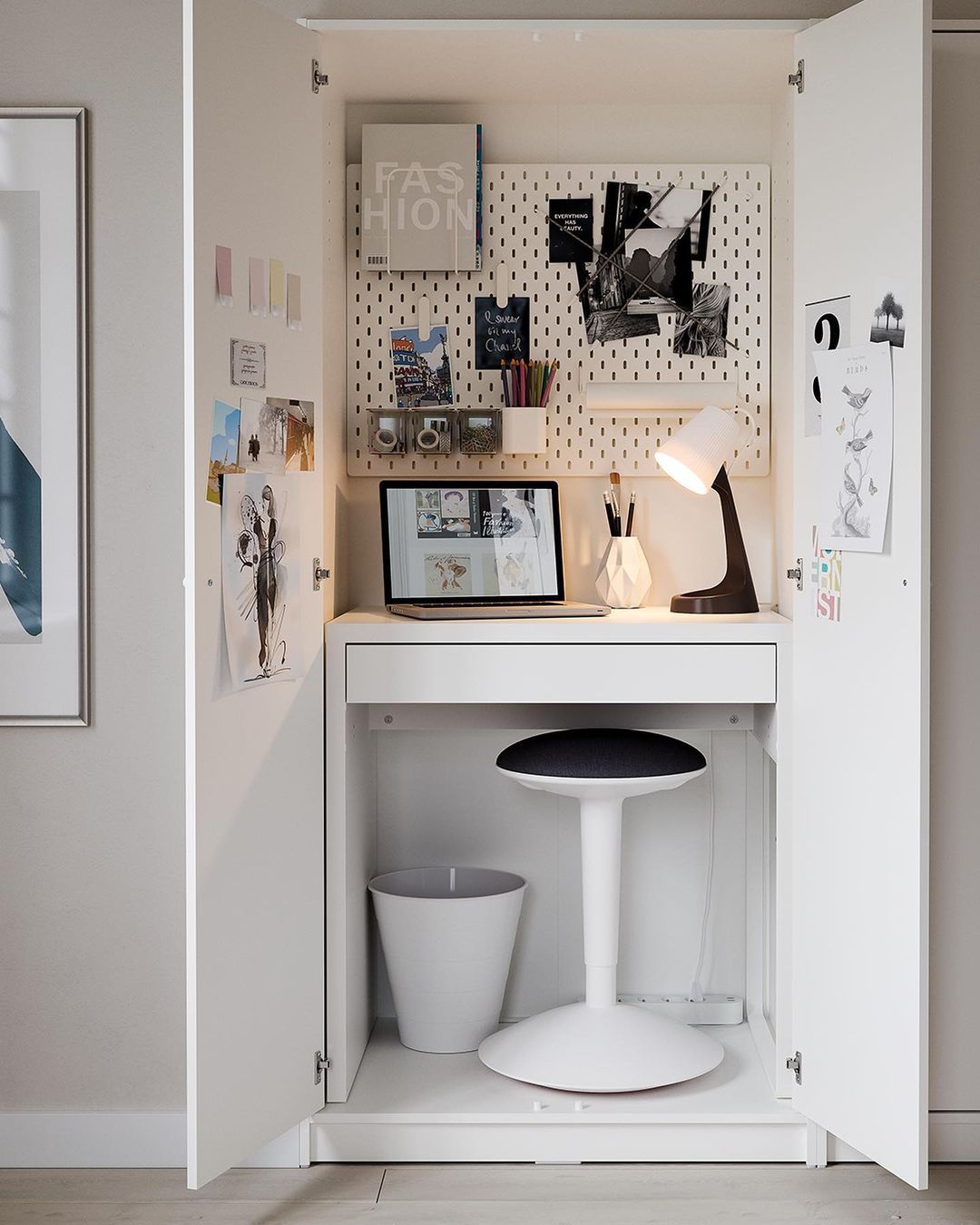 Who would've thought that small home office ideas and shoe storage ideas go hand in hand (or should that be foot in foot)? When showing off your apartment or house to guests, close the drawer to hide away this remote working space. Carrie Bradshaw would love it.
WHAT'S THE BEST COLOR TO PAINT A SMALL HOME OFFICE?
"If you have a small, dark office, why not embrace it, and play to its strengths," suggests Helen Shawm UK marketing director at Benjamin Moore. "Incorporating a rich, bold paint color is a fool-proof way to create instant character, taking a small space from  drab  to stylish."
But if you're working with a space that's too small for a bold splash of color, Danetti's Jess Contomichalos suggests going for zen vibes. 
"Choose soothing colors for the walls," she says. "Pale warm neutrals or grays are the perfect backdrops for a working environment that doesn't jar with your home."
TIPS FOR FOR A SMALL OFFICE SPACE  
Measure your space: You will need to fit in a desk that's high enough that your forearms rest horizontally across the surface, and that is wide enough to fit a screen or laptop an arm's length away from you when you are sitting comfortably back in your chair.
Choose a chair with support: Lumbar support is crucial when sitting for long periods. If you can only fit a small stool, you should rethink where your workspace is situated.
Aim for a view: Ideally, you should put your desk next to or near a window. The view and natural light are proven to up productivity. If that's not possible, create an inspiration wall in front of you, covered in photographs, motivational phrases, plants, or whatever pumps you up!
Shut it all away: It's important to be able to close the door on your working day, metaphorically or physically.

link