Saved from demolition by soaring construction costs, a historic downtown building will open in January 2024 as a hotel-apartment hybrid that developers say is a first for downtown Madison. 
Blocks from the Capitol, the property on the 300 block of East Wilson Street includes the four-story red brick building built in 1907 to house the Madison Saddlery Company, which manufactured harnesses and other hardware in demand in a horse-driven world. The company closed in 1930 as horses and carriages gave way to tractors and cars, and in 1931, the building became the home of Rubin's Furniture.
Middleton-based developer NCG Hospitality has had the property under contract since 2019, after Rubin's Furniture announced plans to move to a larger space. NCG, which manages more than 25 hotels in four states, planned to tear down much of the four-story building and its two newer two-story additions, said Andy Inman, NCG's chief development officer. The company planned to build a 45-room boutique hotel called the Wilson Street Hotel in its place.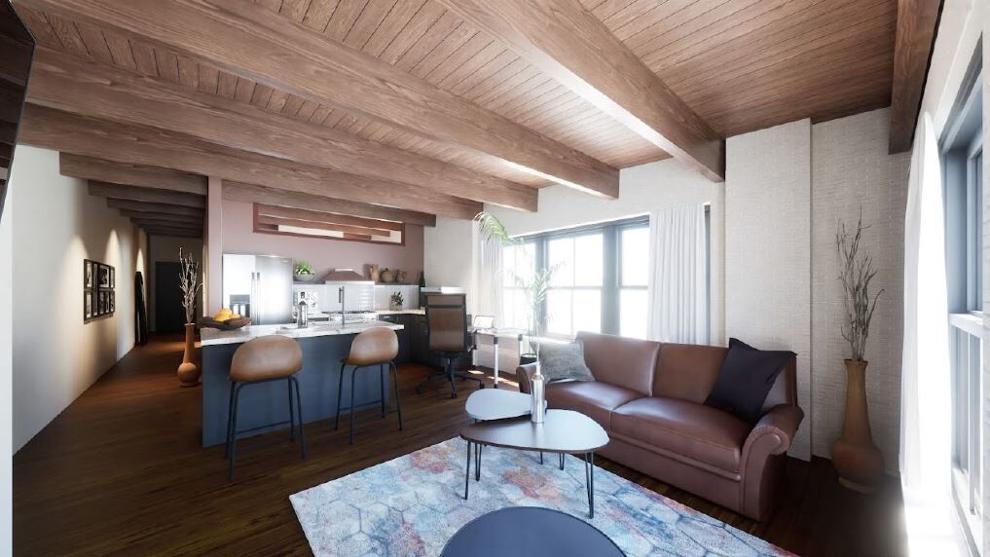 But the company struggled to find a way to fit those plans onto the small plot, and the COVID-19 pandemic soon set construction costs soaring. The depth of the existing structure lent itself to apartment-style rooms, not traditional hotel rooms.
"It just wasn't coming together. It was a very expensive project to try to make work in the new environment after 2020," Inman said. "It had really beautiful bones. It was tired and needed some updating and refreshing, but … we thought, 'Why not preserve what's there?'" 
So NCG scrapped its plans and opted to save the building, financing the project with historic tax credits. In September, the original portion of the building was added to the State Register of Historic Places. The project marks the first time the company has used historic tax credits, and it's come with some additional costs, Inman said. 
The project, named The Saddlery for the building's origins, is a first in other ways too. It's the first fully independent hotel for the company, whose portfolio currently consists of franchised hotels belonging to national brands like Marriott and Hilton.  
And as far as Inman knows, no building in downtown Madison currently offers the same rooms for both short-term stays and long-term rentals of weeks or months. The company has dubbed it an "aparthotel" for its dual purpose as an apartment building and hotel.
"Those models exist in other markets but there's nothing like it in Madison," Inman said.
By the time The Saddlery opens, however, it won't be the only one. In fall, apartment building The Wilson, located a block away at 126 E. Wilson St., plans to rebrand as Voyageur Extended Stays after it completes the city's process to be fully approved as a hotel. Since 2020, the 25 furnished apartments in that historic building have been available for stays of a month or longer. Beginning in fall, 15 of those units will also be available for nightly rentals when not rented to longer-term guests, co-owner Julia Steege-Reimann said in an email.
With the rise of Airbnb and other vacation rental websites, combined with the social distancing prompted by the pandemic, some travelers have gotten used to renting whole homes rather than bare-bones hotel rooms. The Saddlery will include 46 units, including studios, one-bedrooms with and without dens, and two-bedrooms.
All will include a full kitchen with full-size refrigerator, stove, oven and eating area. One-bedroom and two-bedroom suites will have a separate living room. Most suites will have a washing machine and dryer, in addition to shared on-site laundry facilities.
That, Inman said, means that those who come to town for a weekend Badgers game or graduation would have enough space for their whole family or crew. Meanwhile, those staying longer to work at the Capitol or the university, for example, "could enjoy all of the benefits of home in their hotel room," including enough space for remote workers to work from home without working from the bedroom. 
"There are a number of other brands that are out there that are doing similar concepts in the larger markets," Inman said, pointing to examples in Chicago and Minneapolis. On a visit to Phoenix, he and a colleague stayed in a similar place, where they ate pizza and each watched their own kid play simultaneous hockey games from separate parts of the suite. "It was no different than if you were at home watching those games," he said. 
Though the business will blend features of hotels and apartments, it will be licensed as a hotel and collect the required room tax. The company anticipates that it will see more short-term guests in the peak tourism season of summer and fall, with more long-term guests in the winter and spring. 
The company hasn't yet set its rates, but nightly rates will likely be similar to those of other downtown hotels, Inman said. Rates for longer stays will be similar to those of other furnished, month-to-month apartments, which are more expensive than unfurnished apartments with 12-month leases.
The property will include some traditional hotel amenities, including fitness facilities and housekeeping. Housekeeping services will be included in the nightly room rate, while those staying for longer can pay extra to have their suites cleaned on the schedule they choose.
Currently, Inman said, the closest extended stay hotel to the downtown area is the Home2 Suites on Rimrock Road, also operated by NCG. In 2026, downtown Madison will get another, as NCG announced earlier this month that it's redeveloping the former Madison College building and the surrounding Wisconsin Avenue block into 126 loft-style apartments, commercial space and a Residence Inn Hotel.
link