ANNAPOLIS, MD
 – Governor Wes Moore today celebrated the ribbon cutting for the upcoming opening of the new ROOST apartment hotel in Baltimore Peninsula. The governor joined U.S. Senator Ben Cardin, Baltimore City leadership, Sagamore Ventures CEO Kevin Plank, and Baltimore Peninsula development team led by MAG Partners, MacFarlane Partners, and Method Co., to tour the site and meet the project's new residents, and business owners.
"The ROOST model isn't just about improving life for residents, but actually lifting communities. This new community is part of the larger effort we're in to change the narrative of what Baltimore is and what Baltimore can be," said Gov. Moore. "It is going to take many more projects just like this one to move the needle, but we are already making real progress. We are moving fast and we are moving together—in partnership, in collaboration, and in unity."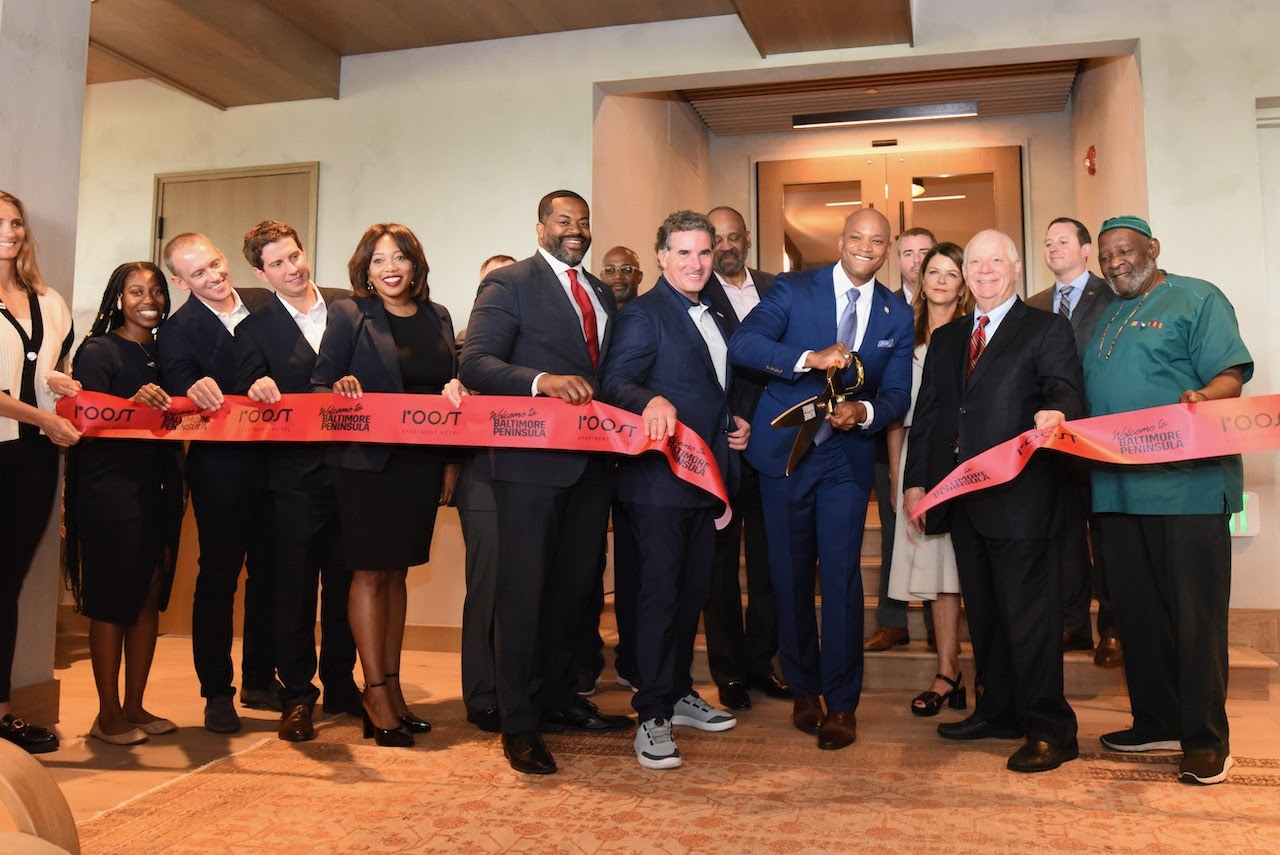 Baltimore Peninsula, a 235 acre waterfront community, is one of the most ambitious development projects in the United States; and is home to ROOST Baltimore, an 81-room extended stay concept known for bridging the boutique hotel experience with apartment-style living. When completed later this year, the first phase of vertical construction will include more than 1.1 million square feet of new office, retail, and mixed-income residentials opening in 2023.
The development will contribute to the ongoing revitalization of the Baltimore waterfront area, incorporating 40 acres of parks and green space, more than 10,000 square feet of new retail space, and additional housing units. To date, Baltimore Peninsula has committed more than $134 million in contracts to Baltimore City-certified Minority and Women Business Enterprise firms, exceeding its initial goals with 35% participation for MBE and 13% for WBE.
Businesses like ROOST Baltimore will play a vital role in laying the foundation for future investments as Maryland continues to diversify its economy. The opening of ROOST Baltimore brings new jobs to Baltimore, furthering the development team's commitment to local jobs in partnership with the Mayor's Office of Employment Development.
Governor Moore recently signed an executive order creating the Maryland Economic Council to promote economic growth and bring new innovative industries into the state. The council will convene experts with unique experience to help build an economy that uplifts everyone, helping make this Maryland's decade.
To learn more about ROOST Baltimore, visit: https://www.myroost.com/extended-stay-hotel-baltimore.
link