Imani Keal doesn't let her 490-square-foot studio apartment stifle her creativity. The Washington, DC-based content creator behind Imani at Home is constantly sharing ideas for upgrading rental spaces like her own, whether that means painting, installing peel-and-stick wallpaper, or even swapping out the sink and faucet (yes, she did that, too!). 
"There's a misconception that renting is for the under-30, unmarried, or childless and that it's a lesser option than buying a home," Keal says. "And I just disagree so hard. Renting is a form of housing that works for a lot of people for a number of reasons. There's no need to create this hierarchy because we all need housing that works for our lives!" 
Keep reading for a glimpse into Keal's chic, customized space and to learn more about her favorite DIY projects, best secondhand finds, and tips for those looking to make the most of a small studio. 
Imani Keal's Washington, DC Home Tour
The details:
Name: Imani Keal
Location: Washington, DC
Square Footage: 490
Rent/Own: Rent
You've based your Instagram account around rental-friendly hacks and tips for small-space living. What inspired you to start your page, and what have you enjoyed most about watching your community grow over the years? 
I started the account in June 2020 during the pandemic because I was sad and struggling with my claustrophobia. I know we were all alone in our homes, but I really just couldn't take it anymore, so I had to do something to connect with people. At the time, the only store open was Ace Hardware, and I found myself there several times a week thinking of new things I could do to take up my time. I started posting a few projects on my old Instagram, and after a while, my friend convinced me to start a separate account and call it Imani At Home! 
I started making videos and sharing tips on apartment living and design, and people just flocked to the account. I never really thought I would be able to turn this into my full-time job, but after two years, I quit my job and haven't looked back since. The messages and DMs I've received over the years have shown that many people just don't know where to start or even how to talk to their landlord [about making upgrades]. I feel honored that something I created during a time when I needed to connect with others has become a resource for so many. 
How would you describe your personal style? In what ways has it evolved over time? 
I call it neutral maximalism. I like things to be warm and have a cozy feeling. Developing your style is really about starting with a small thing, gaining confidence, and doing it over and over again. So if I want to try something out, I'll buy a small mirror or something that's not too expensive to get my feet wet, and then when I decide I like it, I'll commit hardcore! 
Are there any design trends you regret getting into?
Minimalism. When I first moved into this apartment, I tried so hard to make my space look like the ones I saw on Instagram and Pinterest. I had white walls and a gray couch, and every knickknack was hidden away in a closet. I got tired of trying to hide everything I loved and wanted to see my stuff, so maximalism came out and has taken over my entire apartment. 
How do you differentiate various living areas (living room, bedroom, dining area, etc.) when working with a studio?  
Rugs, paint, and wallpaper can do a great job of creating separate spaces in an open space like a studio. In the living area, I set out a large 8 by 10-foot rug to separate my living room from the walkway and my bedroom. In the dining room/kitchen area, my apartment already has two built-in bookshelves between the spaces, but I made some further separation by painting the entire kitchen pink and using a brown Scalamandre zebra print peel-and-stick wallpaper in the dining room. I found the wallpaper on Amazon on sale for $22 per roll. I took that as a sign to complete this project, and my friend and I spent two days working on the space. 
You often emphasize that a home should be aesthetically pleasing while still being functional and personal. What are some ways that you've combined form and function in your own space? 
My IKEA GJÖRA bed is a great example of marrying form and function. When I bought the bed, I had the taller end of the frame up against the wall but decided to switch it around to help create a demarcation between the bedroom area and the hallway. Now, I get to use the higher end of the bed frame to hang all of my laundry. When I bought this bed, it was a very light wood, so I used Minwax stain to make it darker, and now I have the perfect bed for a studio apartment. It's too bad IKEA discontinued this style.
What is your all-time favorite DIY in your apartment? 
I added black casings to the entryway of my dining room and it looks fantastic. This part of my house has always been boring and I wasn't sure what to do with it until I saw a post by content creator Marienne Sides. I was in love with her NYC apartment and immediately went to The Home Depot. I picked up some MDF boards, nails, and paint (I used Black by Behr). This is by far my favorite project I've done because I was sure that I would mess it up! 
You've incorporated pieces passed down from family into your space. Can you share a bit about how you've done this? 
My grandma passed away in October 2020, and I really wanted to have pieces of her in my space. I inherited her china cabinet, some vintage canisters, and two of her lamps. Something that really helps me as I go through the grieving process is being surrounded by her things. I never imagined a world without her in it, but it is nice to have a little bit of her in my home. Right next to my grandma's china cabinet is my grandpa's cane that I had custom-framed at Michaels. I'm always looking for ways to upgrade and elevate the special things in my apartment, and framing is such a great way to do that. 
You use Facebook Marketplace a lot—what is your favorite FB find in your home? 
My coffee table, which I ended up getting for free. On a very, very rainy day, my friend and I went to pick up this glass and brass table from a family. The table belonged to the seller's father, and she was selling it to clear out her home. It's such a heavy table even when you take the glass top out, so with the rain, I was really scared it was going to break. She didn't accept my payment and I got a free table!  
Another one of my favorite finds was a gold articulated lamp. It belonged to a lawyer—apparently, her mom bought it for her when she was studying for the bar exam and paid about $250. She sold it to me for $25 because they were renovating and going with a more modern style. I love this lamp.
Your kitchen is beautiful! Tell us how you decided to revamp that space. Do you cook in there a lot? What is your favorite dish to make at home? 
I'm a non-cooking woman. I don't have to use my kitchen much, but my favorite thing to make when I'm forced to cook is pancakes and eggs. 
Still, I decided to redo my kitchen. My initial project in there was a peel-and-stick tile project that I didn't love to look at anymore. I woke up one day, went to Ace Hardware, bought Monticello Rose by Benjamin Moore and some poplar shelves from The Home Depot, and got to work on upgrading my kitchen. 
It was such a fun project—my landlord helped out by installing the sink and new faucet from Waterworks. (I used to work at Waterworks, and the perks were pretty fun!) I love the Easton Classic Two-Hole Bridge Faucet with Oak Lever Handles and Spray. I presented [the landlord] with an email explaining everything I wanted to do in the kitchen, and we came to an agreement that they would keep the sink when I moved out, and I would take the faucet. That email became the basis of my landlord email template that over 4,000 people have downloaded and used to create their dream apartments. 
In a couple of sentences, what design tips do you have for other studio dwellers?
Run things by your landlord and read your lease. DIYing your rental is fun—I love it—but nothing is worth the annoyance of arguing with your landlord. 
Whatever your budget is for a couch, add $500 and get something extra comfy that will last a while. 
It's okay to paint your apartment black—300 square feet will never feel like 900 square feet, so stop worrying about making a space feel bigger and just make it feel special. 
Tell us about your dog, Salazar Slytherin the Second. How long have you had him and what type of dog is he? 
Salazar Slytherin the Second is the highlight of my life. Over the pandemic, my cousins' dogs had puppies, so my mom, sister, and I all decided to get dogs. He's incredibly needy and doesn't like to be separated from me (I'm working on it), but overall I just love him so much. He's a two-year-old Yorkie. 
You've lived in Washington, DC, since college—wow! What is your favorite way to spend a Saturday in the city?
I've been working on creating a better work-life balance, so I try to limit work to Monday through Friday. But I tend to stay up really late, so I like to sleep in until 9 or so. I get up, walk Salazar and either go to Orange Theory or watch hours and hours of YouTube. I love vlogs from Jenee of High Low Luxxe or Lydia Elise Millen. While I'm doing that, I scroll TikTok and call my family on FaceTime, just to see what they're doing. I'm nosy and I love being up in people's business. 
After that, I'm most likely going to work. Content creation is my full-time job, but I love the restaurant industry, so I pick up shifts at my favorite places and usually go there for a family meal. Who doesn't want FREE food from a Michelin-starred restaurant for lunch?  After work, I head over to Reveler's Hour for a Julia Child's martini and head home to Salazar. Sometimes, I convince my friend to come over and make me dinner and we end up sitting on the couch laughing at very silly things for hours on end.
What is it like living in DC as a creative? 
Living in DC is great as a creative person. There's always a show, opening, or something going on, and I love it. Most of my friends are chefs, photographers, and artists, so I'm constantly surrounded by people to bounce ideas off of.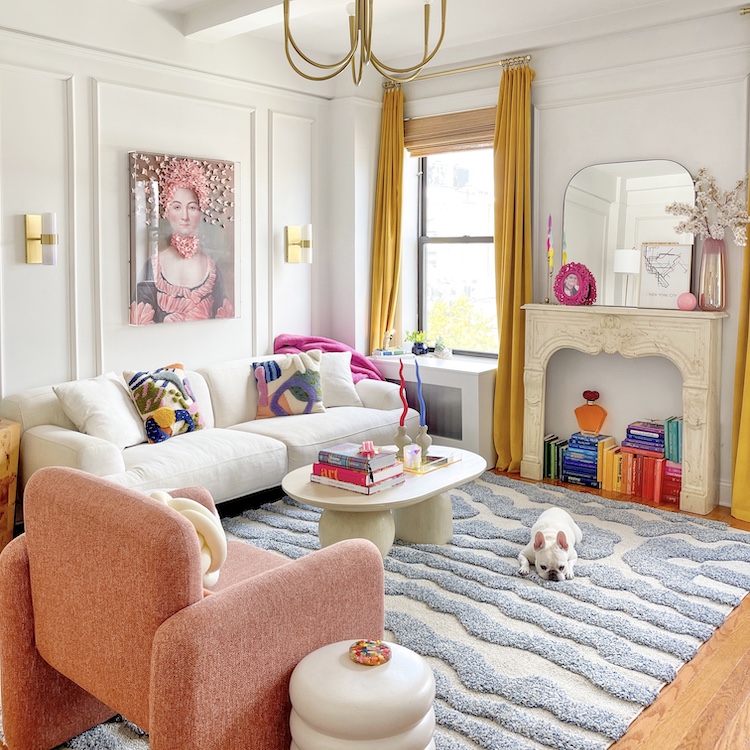 This NYC Apartment is Bursting With Color and Renter-Friendly DIYs

link