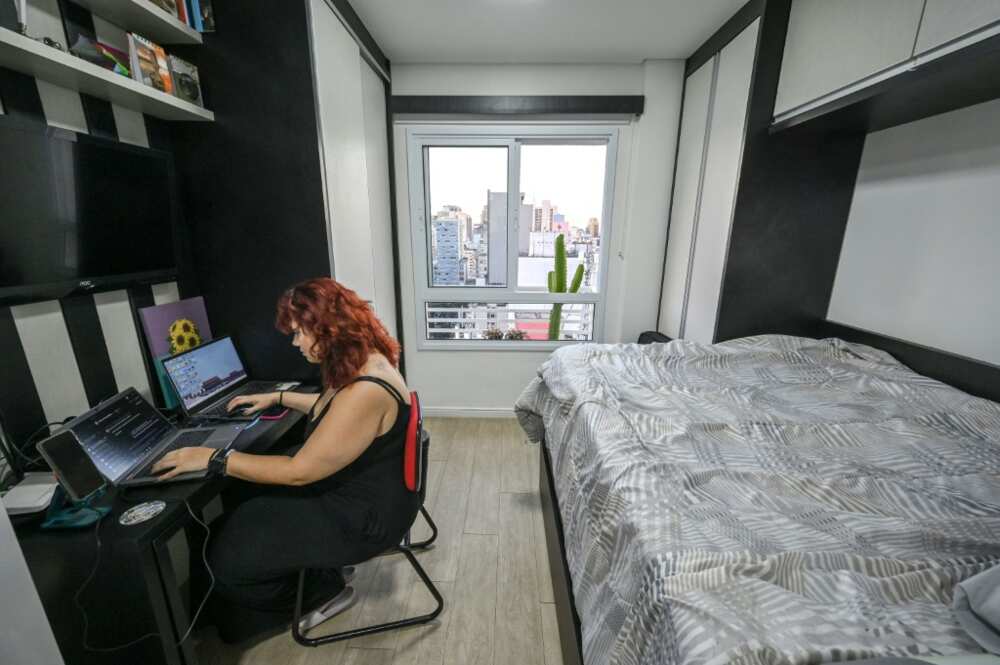 Lara Maia types on her laptop perched on a small desk occupying a gap between the fridge and wardrobe in her micro-apartment in Sao Paulo, Latin America's most populated city.
Behind her, the bed also serves as the couch.
"I don't need any more: I'm close to everything and I feel free to leave whenever I want with a few bags," the 34-year-old computer scientist told AFP of the 16-square-meter (172-square-foot) apartment near downtown Sao Paulo.
Maia's space on the 16th floor that serves as her home and occasional office is an example of a growing trend of apartments the size of hotel rooms.
Long a way of life in other large cities of the world, in Sao Paulo, Brazil's economic capital, the boom has been a recent one.
From 2016 to 2022, available units up to 30 m2 soared from 461 units to 16,261, according to the state housing association Secovi-SP.
The number represents a fifth of all apartments in the city of 11.5 million residents.
Some, with furniture squeezed in as in a game of Tetris, or with the kitchen just inches from the bathroom, have become the subject of jokes on social media.
But this has done nothing to dampen demand, mainly among adults aged 20 to 39, according to a survey by real estate firm Quinto Andar.
"They are young professionals; middle and upper-middle class, at the start of their careers, mostly single, attracted by modern and well-located properties close to jobs or public transport," said Secovi-SP CEO Ely Wertheim.
Scaling down
Raised in a large house outside Sao Paulo, Maia told AFP she could get a bigger apartment in another neighborhood for the same 2,300 reais (about $475) she pays in monthly rent.
But she is gladly giving up space to be closer to family and her job, presential part of the time.
At the end of a day working from home, Maia closes her laptop and prepares tea with toast in her only pan on an electric stove plate.
Then she wheels a small table from under her work desk and sits down to eat.
"In such a small space you learn to get rid of many things and to change your perception about what you need," she said.
Meetings with friends take place on the terrace — a shared area that has become common in new apartment buildings and offers laundry and games rooms, coworking spaces and even areas for bathing pets.
Oscar Borghi, a 39-year-old engineer, has lived with his girlfriend since last year in a 28 m2 apartment with two rooms in the south of Sao Paulo, also near his work and a train station.
"We thought it would be small, but we are comfortable with the layout and spaces of the building," he told AFP.
"When we are both working from home at the same time, one of us goes to the coworking space" in the building.
Not cheap
Rodger Campos, an economist with estate agency Loft, said Sao Paulo, the fifth largest city in the world, was similar to other giant metropoles like New York or Tokyo, where micro-apartments abound: "It has a high population density, global connection, and is a center of work, health and education."
The trend was further helped by a sharp drop in interest rates from 6.75 percent in 2018 to about 2.0 percent in 2021 due to the Covid-19 pandemic, said Jose Armenio, who works in the city's urbanism secretariat.
This meant it was easier to buy small apartments for letting purposes.
Another boost came from the city reducing tariff fees in 2014 for the construction of small apartments.
The aim was accessible housing for less affluent people, in areas served by public transport. But the result has been the opposite.
"Apartments of up to 30 m2 have the most expensive square meterage in the city", said Campos.
The municipal council recently agreed to revise Sao Paulo's city planning, making micro-apartment construction more expensive in a bid to create more social family housing
Source: AFP

link