Commission member Claire Durio said that while she likes the idea of a hotel on the lake, the 108,000-square-foot hotel seems incompatible with the rest of the community. The proposed events venue would be popular, she said, but it would bring as many as 200 people onto the property at the same time.
She offered a motion to reduce the hotel size to 100,000 square feet, but that amendment failed.
Compatible?
Commission member Mike Pierce said that the project seems out of scale, and member Brian Rhinehart agreed, calling Sucette Harbor an anomaly that doesn't fit with the older surrounding neighborhoods and fails on compatibility.
But Paul Harrison, an attorney for the developers, said the commission "has not given one element of clarity" to the developers. Instead, he told the panel, members have said things like "paint within the lines" without acknowledging that a planned development is supposed to have flexibility.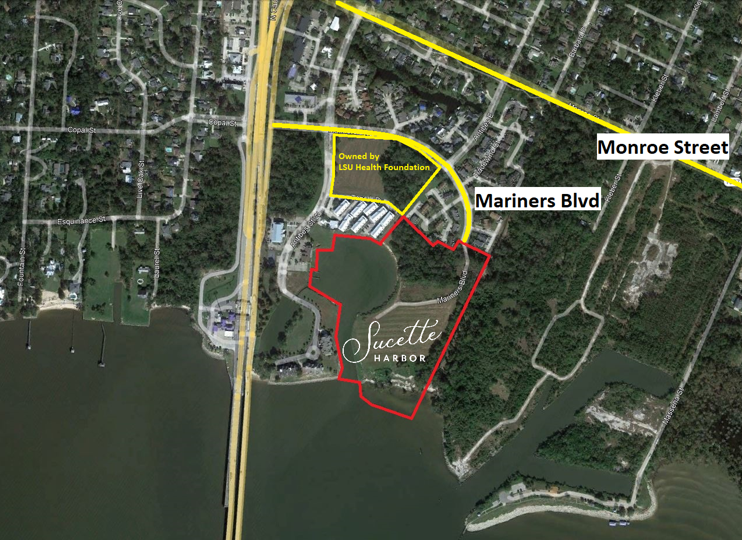 The word "compatibility" had never come up during previous meetings, Harrison said.
Commission member Nixon Adams said that the panel needs to look at the project as a whole, calling it an asset to the city compared with leaving the land vacant. Anything that's put on the land will generate traffic, he said. As for the hotel, Adams said there isn't one in that area and it's a use that is needed.
Adams asked for a walking and biking path to open up the lakefront, an annual review of landscaping by the city's arborist and a review of the plans by the city's Design Review Committee. The commission adopted an amendment calling for those changes.
The commission then voted 4-3 to recommend approval of the project to the City Council, with Adams, Karen Gautreaux, Scott Quillin and Simmie Fairley voting in favor. Rhinehart, Pierce and Durio voted against it.
Changes approved 
Bill Hoffman of Woodward Interests said after the meeting that the design review is already part of the city's process and that the company itself has a financial stake in making sure that the landscaping does well. But the company doesn't control the easement where a bike path might go, he said, and that will require negotiating with the owner.

link