These eight properties will add 638 rooms to take Quest's total tally in Australia to about 9500 rooms – one of the biggest accommodation portfolios in the country – as it rides the resurgent tourism and travel wave.
"We're doing numbers we've never done before," Mr Mansfield told The Australian Financial Review.
"Year to date we're averaging $207 a night. Pre-pandemic we averaged $180-$185 a night," he said.
For the first quarter of the year, revenues are up 14 per cent on a year ago, driven by a 20 per cent increase in leisure travellers staying in a Quest property and a 10 per cent rise in business travellers.
These performance numbers mark a stark turnaround from the dark days of the pandemic, when occupancy rates dwindled to single digits and many Quest franchisees stopped paying rents, prompting a backlash from its pool of retiree investors. In total Quest de-branded around 16 properties during the pandemic. It has since stopped selling individual apartments to investors.
Mr Mansfield said the group had taken on board all the lessons of the pandemic and had "tripled down on making the Quest operating model better and tighter".
"We're more clearly targeting our customer with a focus on the extended corporate stay offering. But we also know we need to fill our hotels on Friday, Saturday and Sunday through an appropriate leisure offering," he said.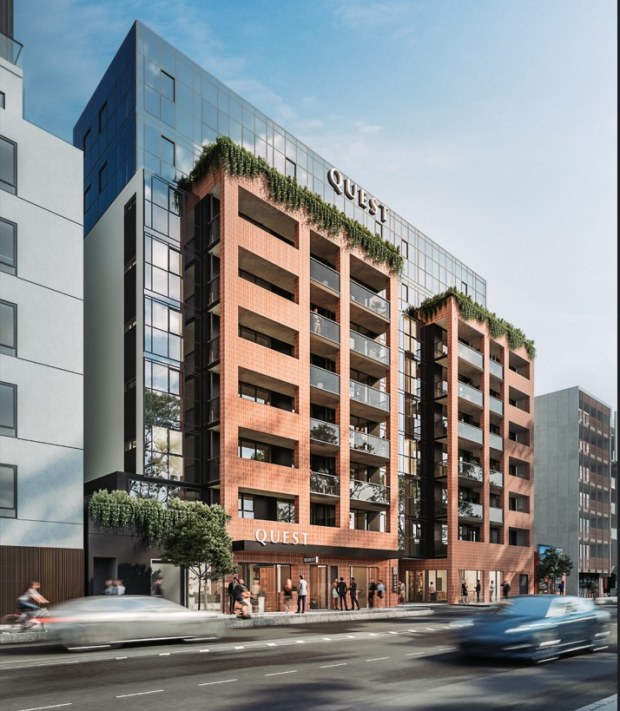 The latest Collingwood hotel includes more expansive common areas, touchless technology, balconies on all apartments and a more sophisticated design that ties into the area's architecture.
Mr Mansfield said the inner city, suburban and regional growth corridors were the focus of new Quest developments rather than the CBD.
"There will be fewer Quest properties in the middle of CBDs, 70-90 room apartments hotels don't really stack up in those locations," he said.
Instead, he said, The Ascott's other brands such as Citadine, Lyf and Oakwood (businesses which are also managed by Quest) were better suited to CBDs.
Tying into this shift to the inner suburbs, Quest will move its corporate head office from a St Kilda Road office tower to office space within the Collingwood hotel development, when its lease expires.
"It doesn't serve our future plans to be in the top floors of a high rise. We want to get down among the neighbourhood and businesses we operate and be local," he said.
link