Circa 1910 home went from a tired apartment complex to a stunning single-family dwelling, dripping in period character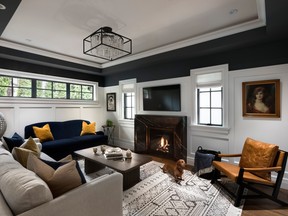 Article content
Renovating an old home brings all kinds of surprises—many with headaches and permits attached. But every so often, there's a lucky find too.
Homeowners Jane and Christopher Lemon got the luckiest of breaks during the renovation of their three-storey 1910 Craftsman-style house in Kitsilano: original, inlaid oak floors. Hidden beneath layers of concrete and laminate—and first discovered during demolition—the floors are now a centrepiece of the family's renovated space.
Article content
"Unbeknownst to everyone, this beautiful floor had levelling concrete on top of it, and flooring stuck on top of that," Jane says. "We weren't sure we'd be able to rescue it."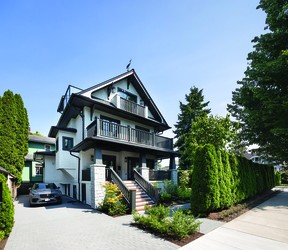 "That was a huge jackpot during demo," recalls Madeleine Sloback, owner and principal of Madeleine Design Group. "I remember getting a text message from the clients at nine o'clock one night saying, 'hey, we found this, should we keep it?'" The answer was an unequivocal yes.
And then a whole lot of work.
"The original hardwood went through quite extensive restoration to bring it back to life," Sloback says. "But [the construction team] did a really nice job of uncovering it and salvaging it."
Originally Vancouverites, the Lemons had bought the home after living in the U.K. for a few years. It had been converted into apartments, but the couple planned on returning it to a single-family dwelling with a basement suite, making space to host guests and adult children.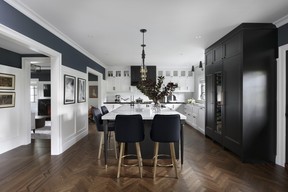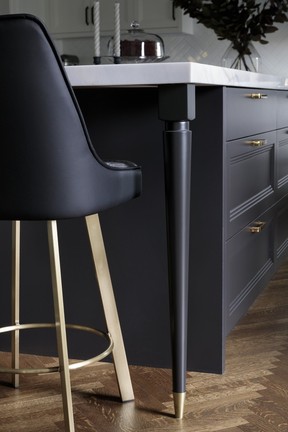 The couple enlisted Sloback and Madeleine Design Group lead designer Tyler Bouchard to preserve the home's heritage look and feel, marrying modern elements with their collection of antiques and art, amassed over years of collecting. They also wanted to bring in some art deco flavour. "We came from a very old house in the U.K., so we had that esthetic," Jane says. She also drew inspiration from Soho Houses, a collection of luxury private members' clubs around the world known for their distinctively high-character interiors.
Article content
"Their esthetic is very interesting because they go to existing buildings often and create their own home-away-from-home there, but they maintain the integrity of the era and the style in which the building originated. And there's always a really interesting combination of textiles and art."
Though the initial design came together fairly quickly, permits proved time consuming, due to the extensive nature of the project. Most of the interior walls needed to move to open the floor plan—plus there was the uncommon-in-Vancouver step of going from a multi-unit conversion back to single-family. Planning began in January 2019, and the family moved during fall of 2022.
But the biggest challenge was "coming up with a space plan that really worked for the house and still paid homage to the original architectural elements," Sloback says. This meant opening the floor plan, but also leaving delineation between rooms as a nod to the original, more separated spaces.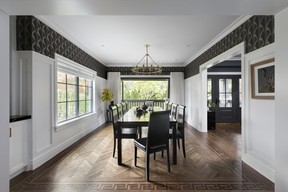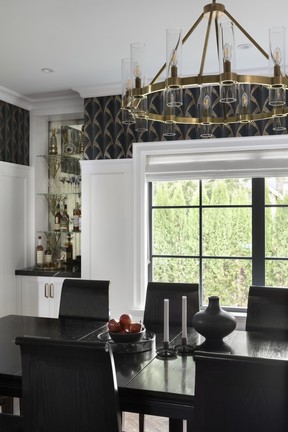 The kitchen was an exception, moved from where the original would have been in a closed-off room—now the living room—to a central location with an open configuration.
Article content
"Having that kitchen open was important in creating it as the focal point, because in the original era of a 1910 house, the kitchen is generally tucked away," Sloback says.
To do the space and the desired design style justice, the team went with a regal black and white palette, juxtaposing traditional panelled walls and Shaker cabinets with straight-lined mouldings, modern fixtures and warm brass touches, all balanced beautifully by the texture and warmth of the restored hardwood floors.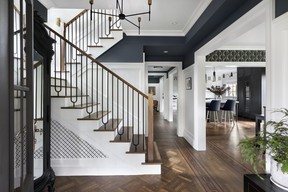 In the adjacent dining room, a corner bar picks up the black marble from the kitchen, set against an antique mirror and ornate brass shelf brackets. Roman window shades add softness, while art deco-inspired wallpaper brings texture atop wall panelling.
The design of the kitchen-dining area is "exquisite," says Jane, but her favourite aspect is the ample entertaining space. "Our favourite thing is that we can all be here together," she says. "We've had Christmas here and birthdays; it's been really nice to have family around. You realize how much you miss that when you don't have the space for it."
Article content
The modern-heritage balance carries seamlessly through the rest of the home, from the living room appointed with a mix of modern furniture and antique decor pieces, to the sweeping entryway flanked by an antique wardrobe and cabinet, and the powder room, designed with eclectic-modern tile and an antique table made into a vanity.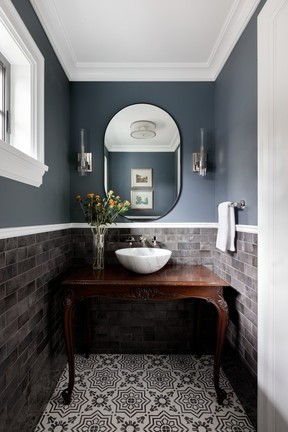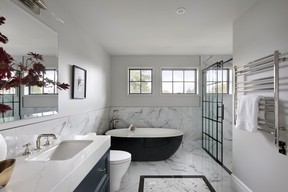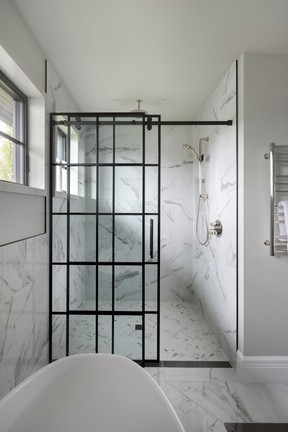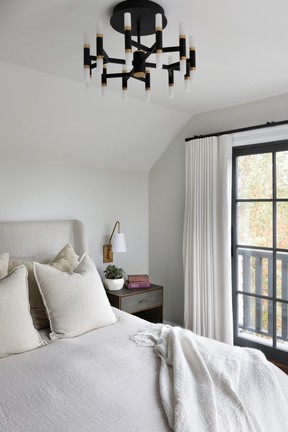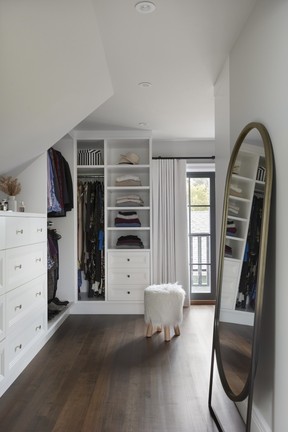 Outside, red stucco came off the exterior in favour of a white and black true-to- heritage look. Here, general contractor John Quinton, of Quinton Construction, came in handy—thanks to his background of a decade serving on the Vancouver Heritage Foundation Board, and vast knowledge of period-specific architectural details and materials.
"He actually took us around the neighbourhood," Sloback says. "He pointed out which houses had the correct period detailing." Then incorporated those details from the wood shingles to the stonework and exterior knee braces.
Sloback is "floored" by how the home came together. "I would be very happy to move into it myself," she says. "I love all of our projects, but some are more specific to my own personal style. And this is definitely one of them."
Design: Madeleine Design Group
Furnishings: CF Interiors
Construction: Quinton Construction
Related Stories
Classic 1970s post-and-beam home revitalized for ultimate indoor-outdoor living

A custom home in Nanoose Bay connects to the coastal wilderness
link