If you are looking for small apartment living room ideas, then you'll be more than aware of the tricky task of making a room look wider, taller or brighter than it actually is, while also trying to make every corner look cozy. 
These small apartment living room ideas will help inspire you to achieve the space of your dreams.
Though it can be challenging to find the right apartment living room ideas for a particularly small space, there are several benefits to compact living. A well-designed scheme can feel just as comfortable as a larger space, with all the coziness and comfort associated with family living. One of the main advantages of small living room ideas is also the convenient accessibility of everything that's needed. Easy maintenance is another bonus.
All you have to do now is to find the perfect color scheme, layout and furniture style to suit your space – and that's where our apartment decor ideas come into play.
Small apartment living room ideas
If your apartment has a small living room, there are ways you can enhance it so it feels larger and thoughtfully designed, the majority focus around good organizing in a small apartment. Don't forget, too, that if you are looking for small apartment patio ideas, you can combine them with your search for small apartment living room ideas; creating a cohesive indoor-outdoor space is vital to enhancing a small space.
1. Be considered with design choices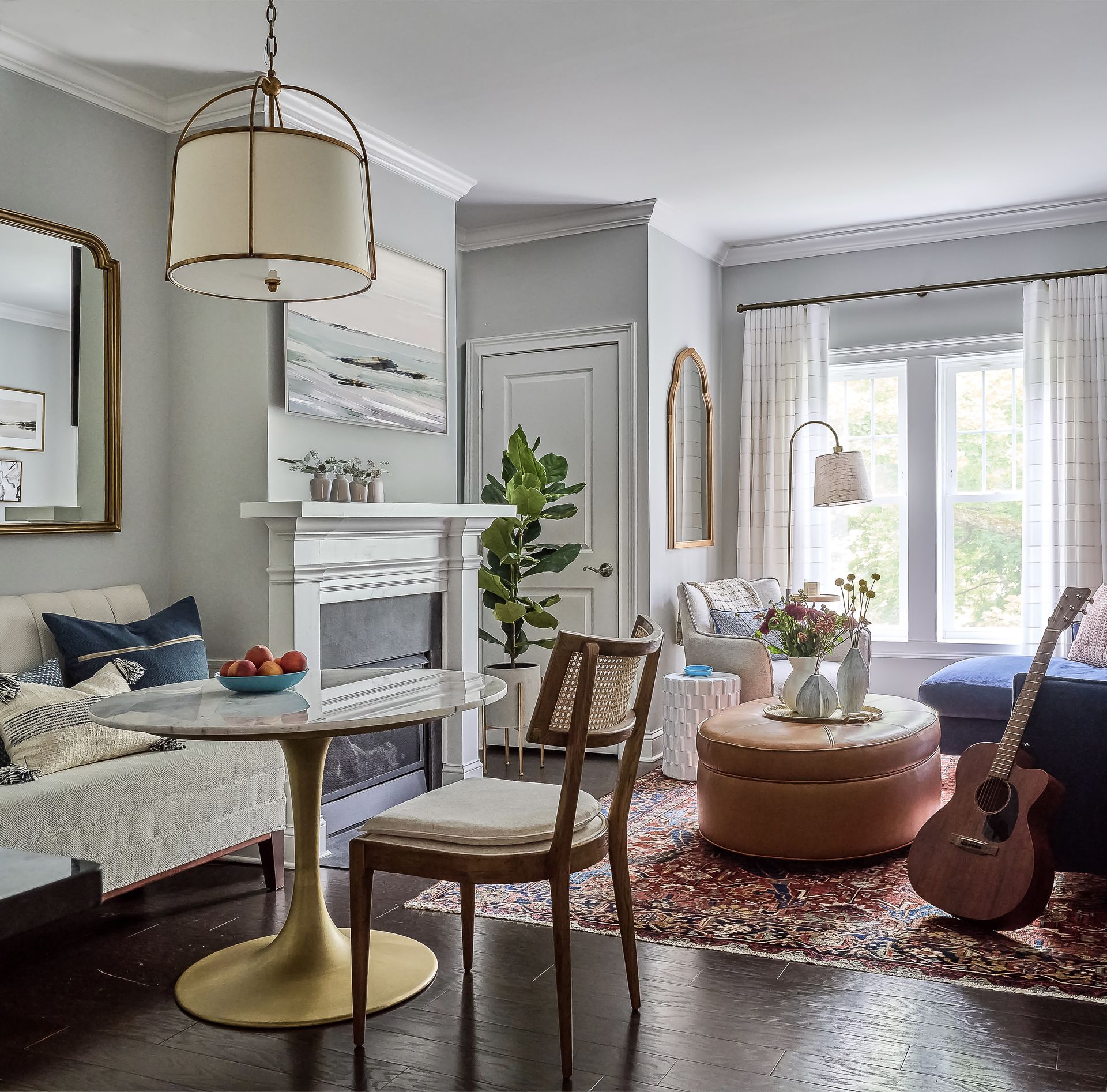 Approach apartment layout ideas with focus, thinking how you can create a space with great flow that still packs in everything you want in your life.
'Multipurpose design offers functionality when you're dealing with a small footprint. Clever, well thought out design can make a room work hard and serve as a dining nook, a bar, a living room and a study / work area. 
'In moments like these, good design is critical in maximizing the functionality of a smaller space,' says Georgia Zikas, founder and principal designer at Georgia Zikas Design (opens in new tab). 
2. Create intimacy with pattern and color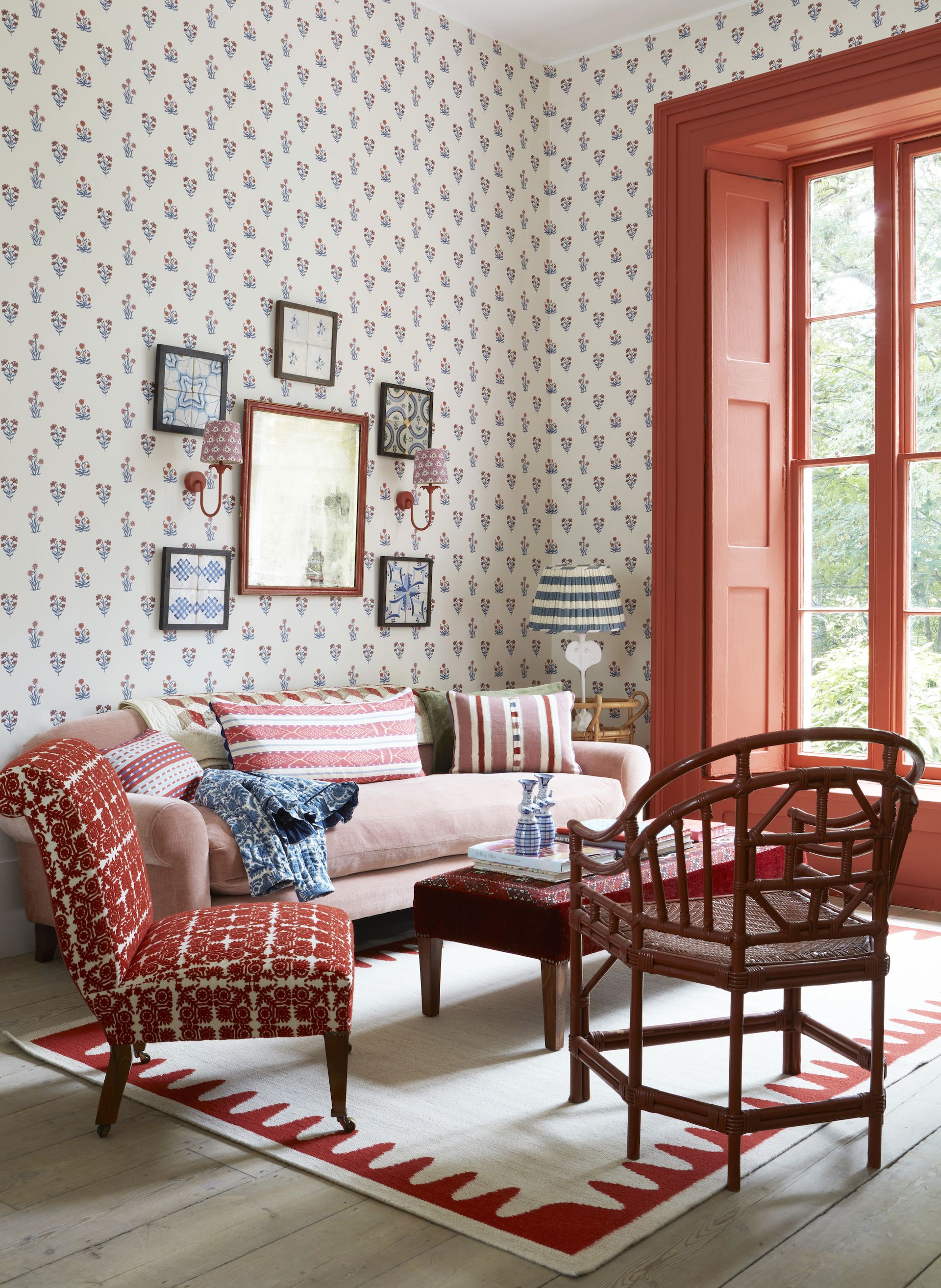 'Small apartment living rooms don't need to be neutral and minimalist, pattern and color are a fantastic way to zone a living area within an open plan space, or create an intimate and personality packed living room. When space is limited keep your color palette tight and focused, take your cue from a favorite wallpaper, picking out colors from your chosen pattern to create a considered and cohesive scheme. 
'As well as zoning a space with wallpaper, consider coordinating paint work and flooring too – a well placed rug with a bold edge detail is a fantastic way to further define your living area,' says Kate French, creative director at Dado (opens in new tab). 
3. A gold accent will give a luxury feel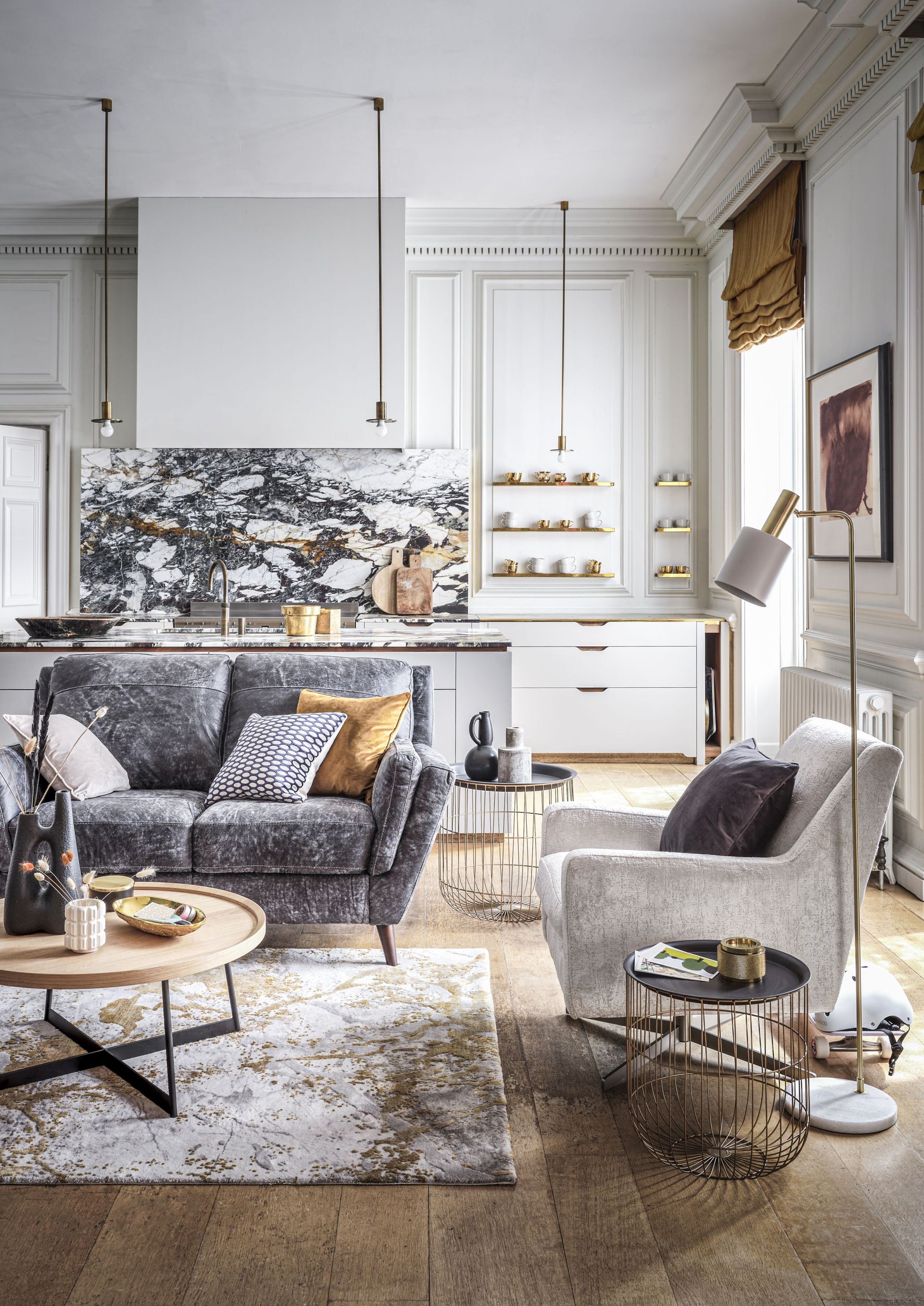 If you are looking for combined small living room and apartment kitchen ideas, ensure your space feels fabulous and not just functional. You can convey this with luxe-look materials, such as marble and metallics. 
'This white, gray and gold color scheme is contemporary and fresh, it's ideal for a small apartment living room and it works across the kitchen too. The white bounces the light and the wooden floorboards add warmth. The gold highlights link the two spaces and the marble adds texture,' says Jennifer Ebert, digital editor, Homes & Gardens 
4. Look for storage and seating opportunities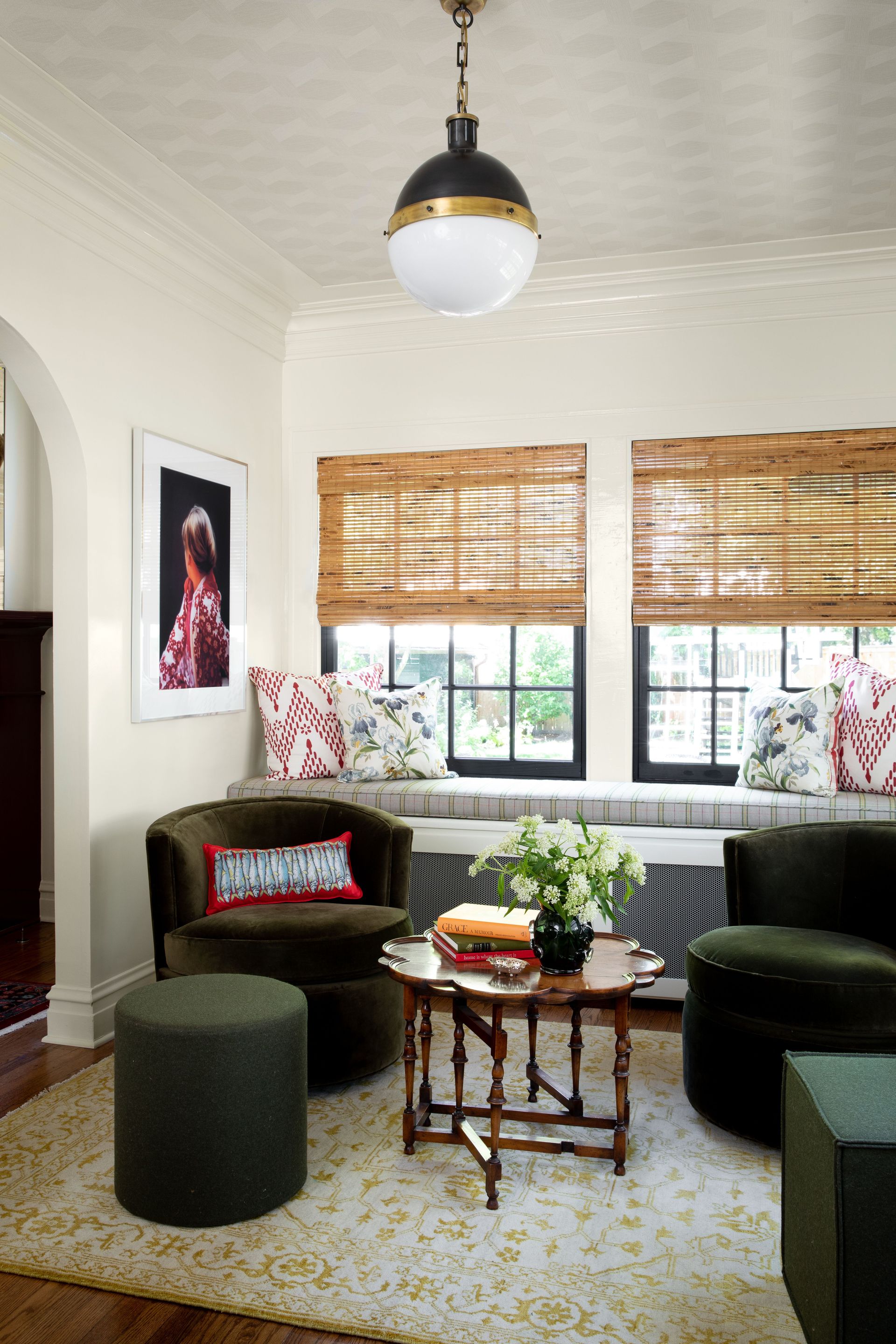 Window seat ideas are a fantastically space-wise way to create both seating and hidden storage. They can also be used to add interest with pattern, color and even the joinery. And, they are a great apartment bedroom idea, too, for exactly the same reasons.
However you furnish your small apartment living room, think: light colors for space enhancement.
'I love the lightness of this room and the use of different textures in similar colorways to create drama. From the textured wallpaper on the ceiling to the high gloss finish on the trim, it is a great and interesting space even in a compact area. 
'We went with light, happy colors with shades of green and yellow. These shades were punctuated with more vibrant colors consistent with the rest of the home,' says Mark Lavender, principal designer of M. Lavender Interiors (opens in new tab). 
5. Emphasize vertical lines to cheat the eye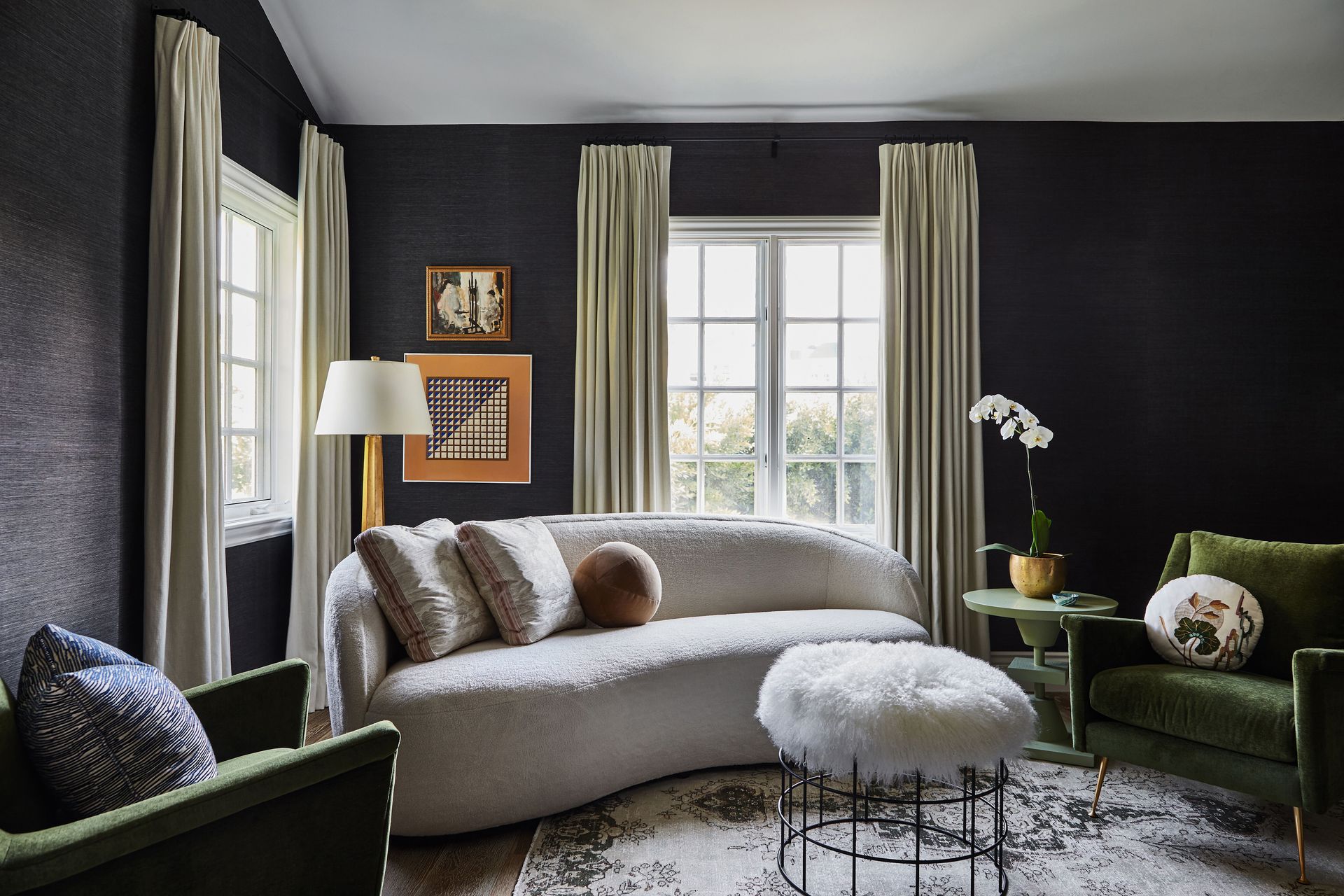 Clever living room curtain ideas can be used to play with the proportions of your space, visually at least. And it needn't be limited to curtains: whether you choose striped wallpaper or floor-to-ceiling hung drapes, you are creating a visual trick, drawing the eye up and down a wall rather than across it, which dupes the brain into seeing a small apartment living room as taller than it is. When used in long living room ideas too, this trick can help rebalance a room's narrow proportions. 
So, if your apartment living room has low ceilings, use this interior designer's trick – but soften the effect with curvaceous furniture.
6. Have apartment living rooms fitted for storage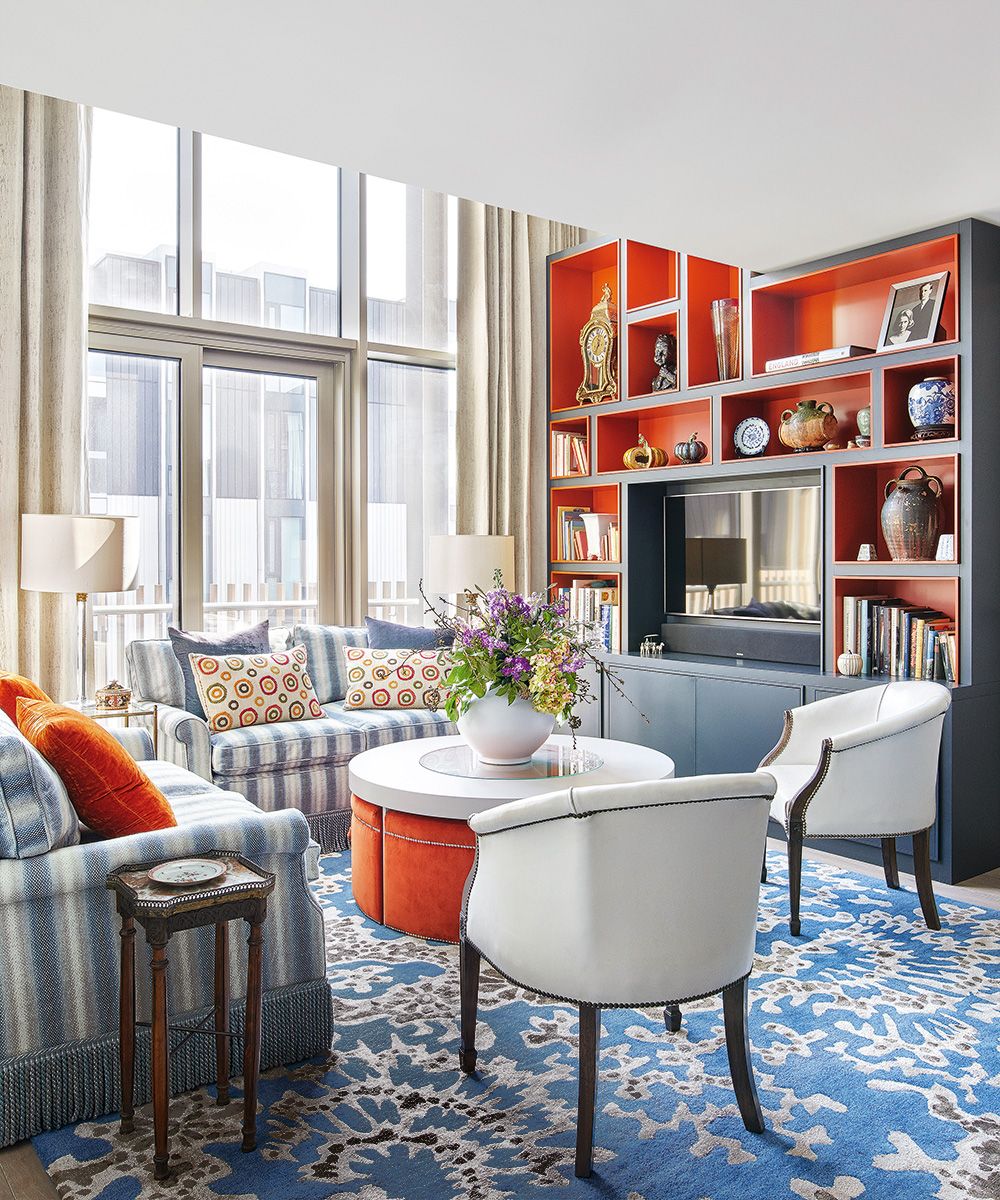 Studio or small apartment living rooms cry out for fitted furniture that can not only hold (and hide) everything they need to, but also make use of every inch of space in a way that feels calm and uncluttered – so opt for built-in small living room storage ideas wherever you can.
Here, the storage wall has been cleverly brought into the room through the use of the orange accent color. The orange backdrop offers a dramatic contrast to the accessories displayed, further heightening its effect.
If you love a movie night, it's worth investigating space-clever small living room TV ideas like this one, too.
7. Decorate with a monochromatic color scheme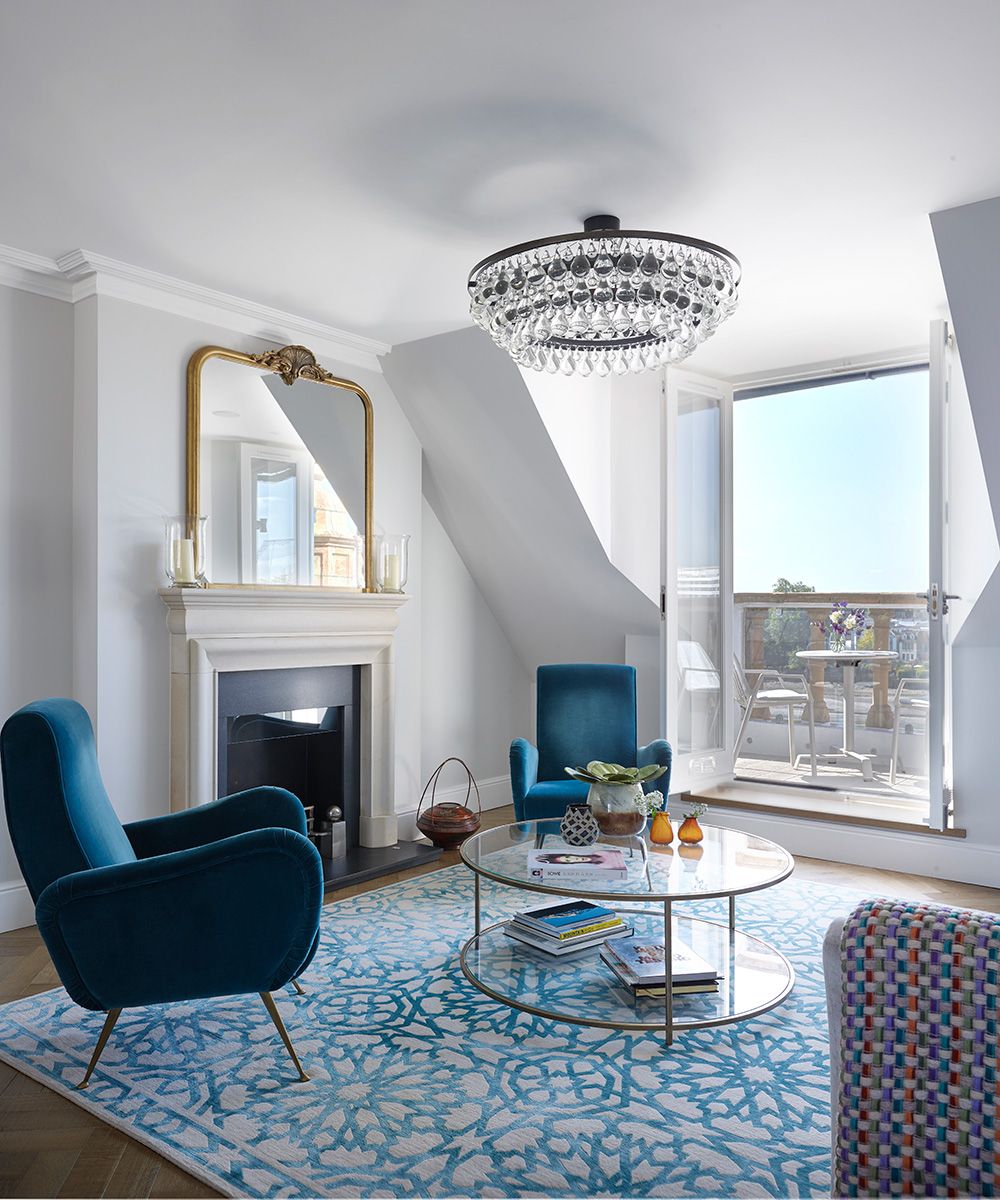 Living room color schemes can make or break a small space, and using different tones of the same color – the so-called monochromatic scheme – will help to make the furniture and other features recede and appear to take up less space when factored into apartment living room ideas. 
Soften the palette by adding a warm gray or blue, like in this white and blue living room, rather than a harsh black or white.
8. Keep small apartment flooring simple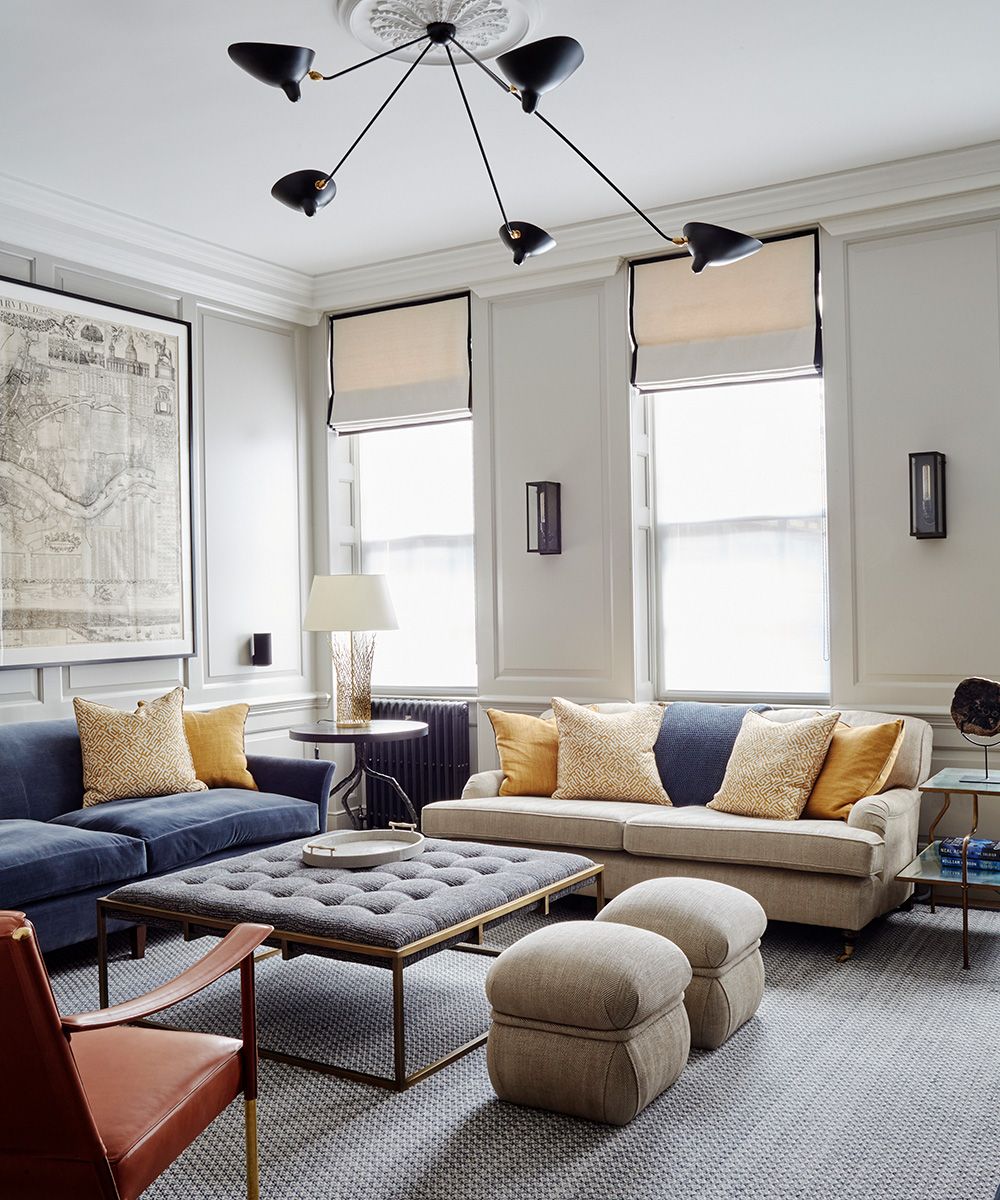 Flooring should be unfussy so it blends into the background. Plain, neutral carpet works well in most small apartment living room ideas. Going without a rug will also open up the floor space, 'though if you have an open-plan kitchen, living space and diner, the use of rugs will create distinct zones that can make even a small apartment living room feel more purposefully designed,' says Lucy Searle, Editor in Chief, Homes & Gardens.
9. Use the same color palette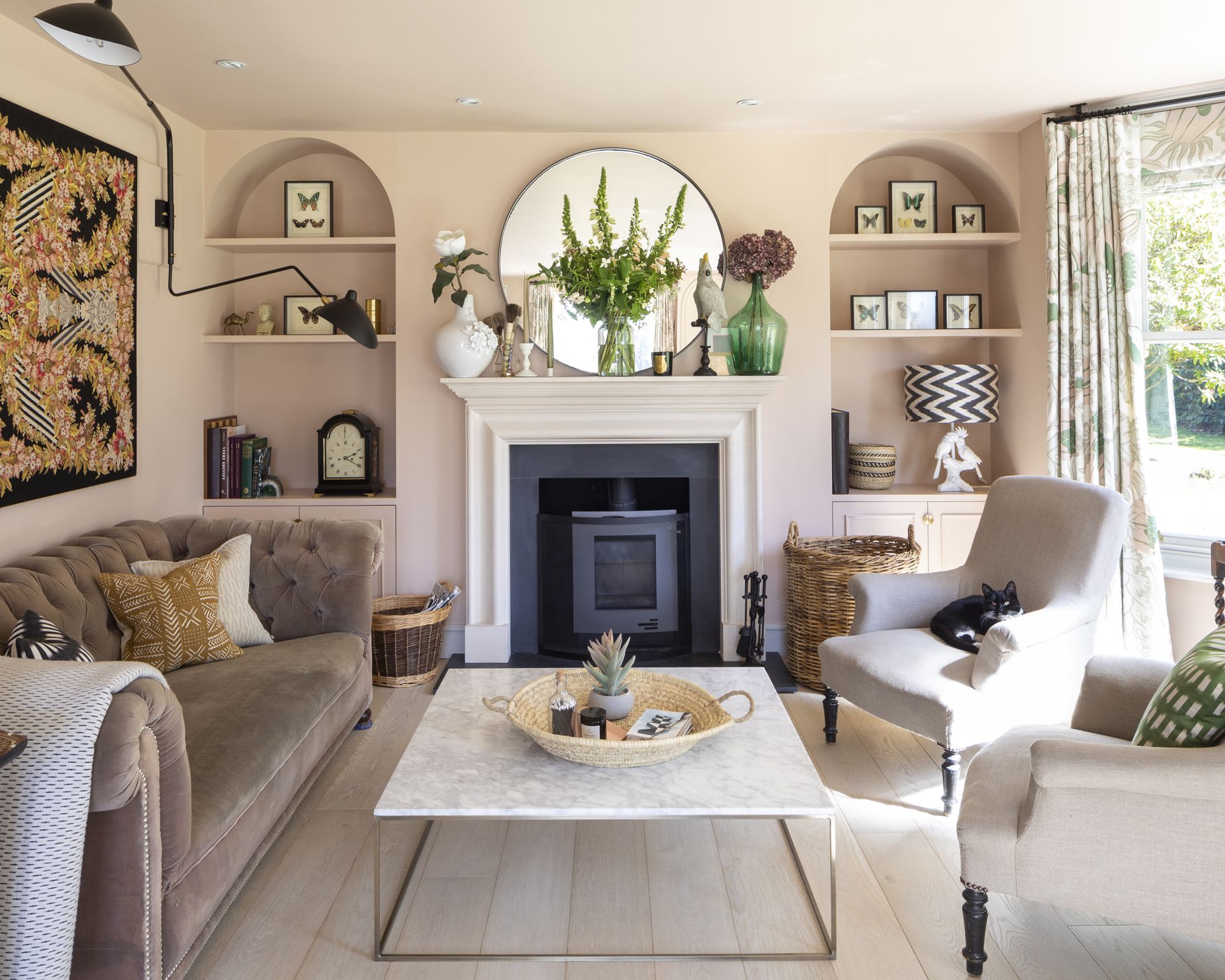 When decorating small spaces, create the illusion of higher ceilings by painting walls, floors, woodwork and even fireplaces all the same color. This provides a seamless look, where your eyes are not stopped by a change in color, thus giving the illusion of a larger space. 
Paint low ceilings brilliant white, or a lighter tone of the same color that's used on the walls, to create the illusion of height. You can add color with soft furnishings and accessories.
In this entirely cream and white living room scheme, low-slung furniture has been used effectively to make the room look taller, too.
10. Play with scale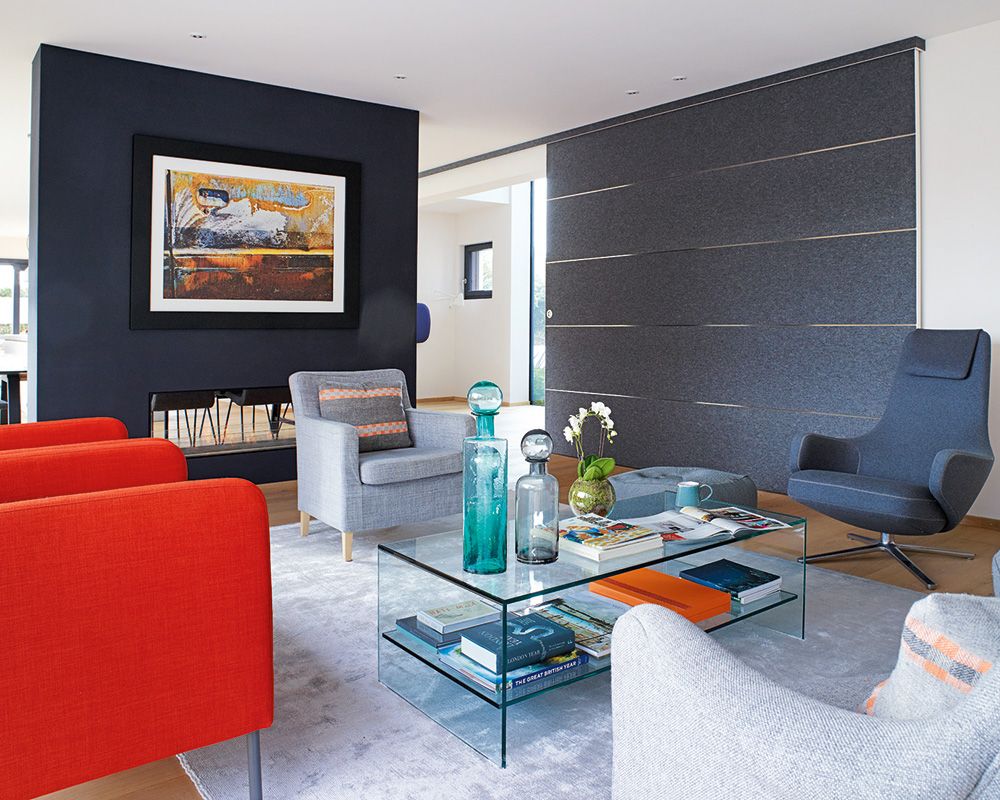 Carefully consider which furniture would work best when planning small apartment living room ideas. 
Adding clear or high-shine perspex chairs or a glass coffee table will give the room the feeling of more air and space. Light will bounce around glass furniture and glossy surfaces, so plenty of shiny and mirrored furniture and accessories will make a small living room feel bigger.
11. Invest in space-saving furniture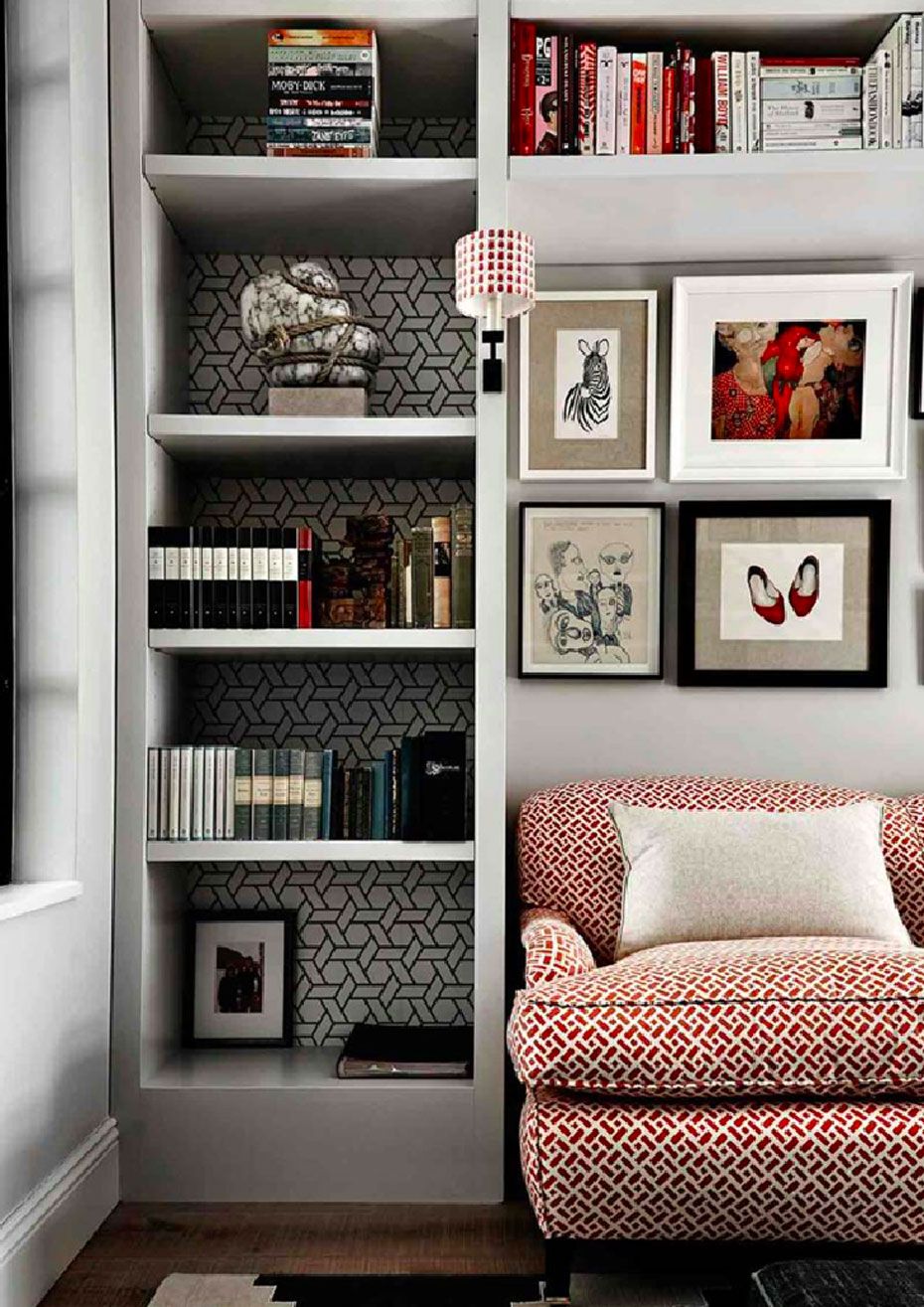 Use shelves for items you really want to display. Floor-to-ceiling shelving will make good use of all the space you have at your disposal, and keep everything off the floor.
To make the room feel as large as possible, don't over-stuff the shelves – instead, decorate their interiors to complement the rest of your scheme, like in this sophisticated grey living room with red accents, and keep them under-populated.
12. Consider armless furniture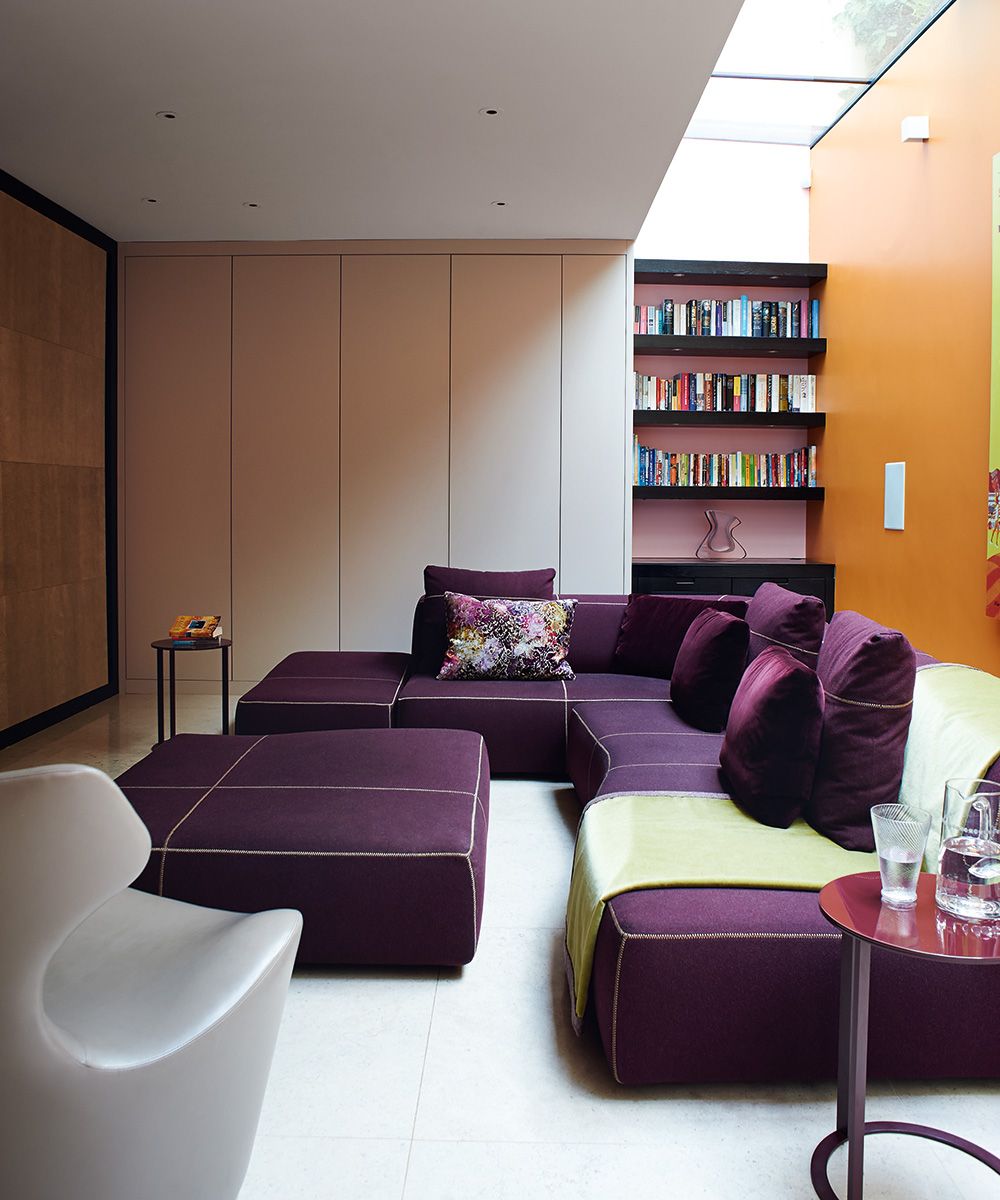 Opt for armless chairs and sofas for space-enhancing small apartment living room ideas, and consider a corner unit sofa to create a more open feel. 
Not only space-saving, armless pieces will also give you the opportunity to reposition your furniture more frequently in a variety of combinations. An arm may not seem bulky, but when it is not there, the room appears cleaner, sleeker and less cluttered.
13. Use open storage to divide the space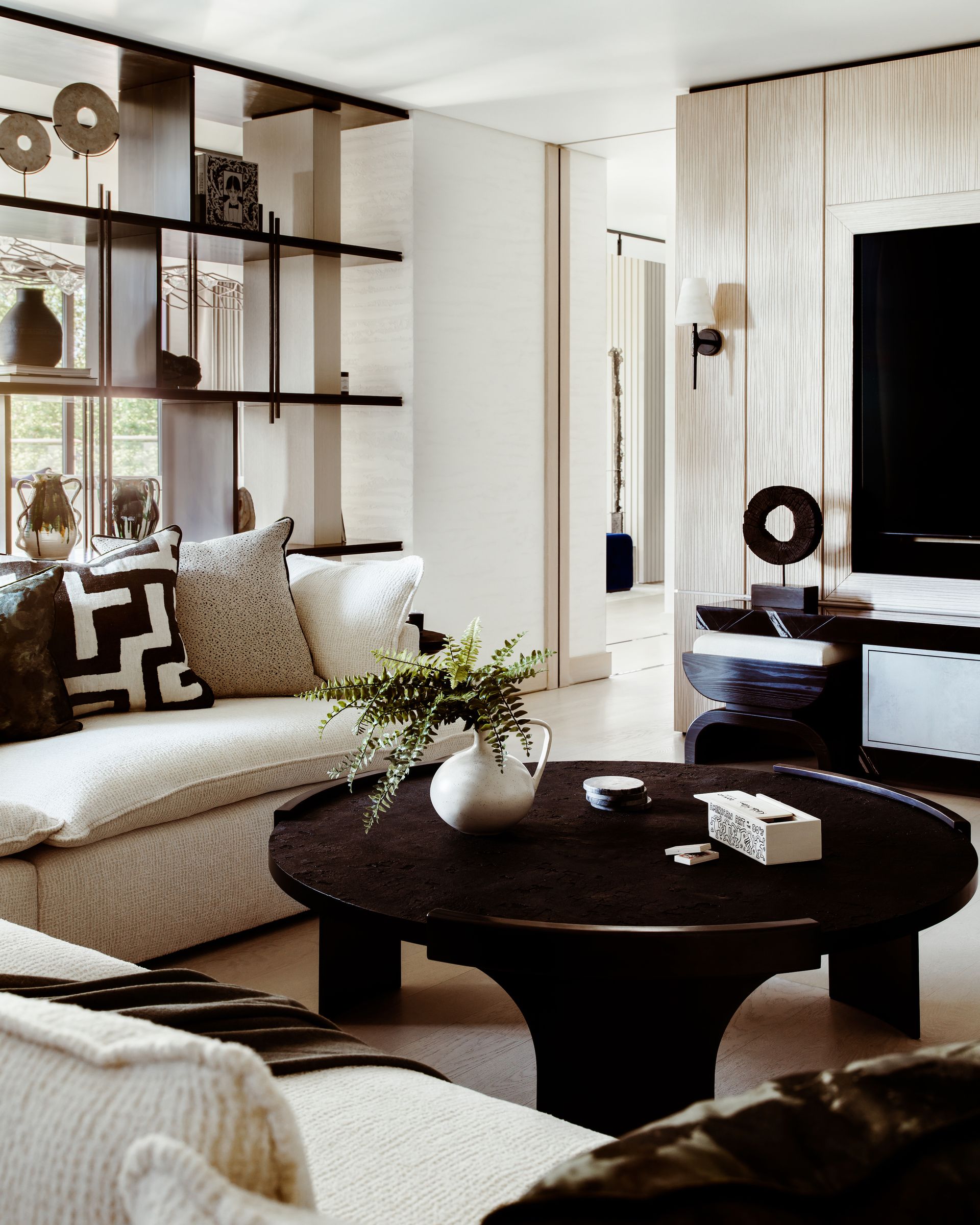 If your small apartment living room is part of a larger space, one clever way to divide it is with open shelves, as in the apartment designed by Charu Gandhi of London-based design consultancy Elicyon, above.
'If you are looking to separate small living and dining room ideas for apartments, for example, this is an excellent way to do so,' says Sarah Spiteri, Editorial Director of Homes & Gardens. 'It can also solve layout problems caused by a limited footprint; here, the small apartment living room still gets lots of light, though it is physically separated from the window.' 
14. Match walls to woodwork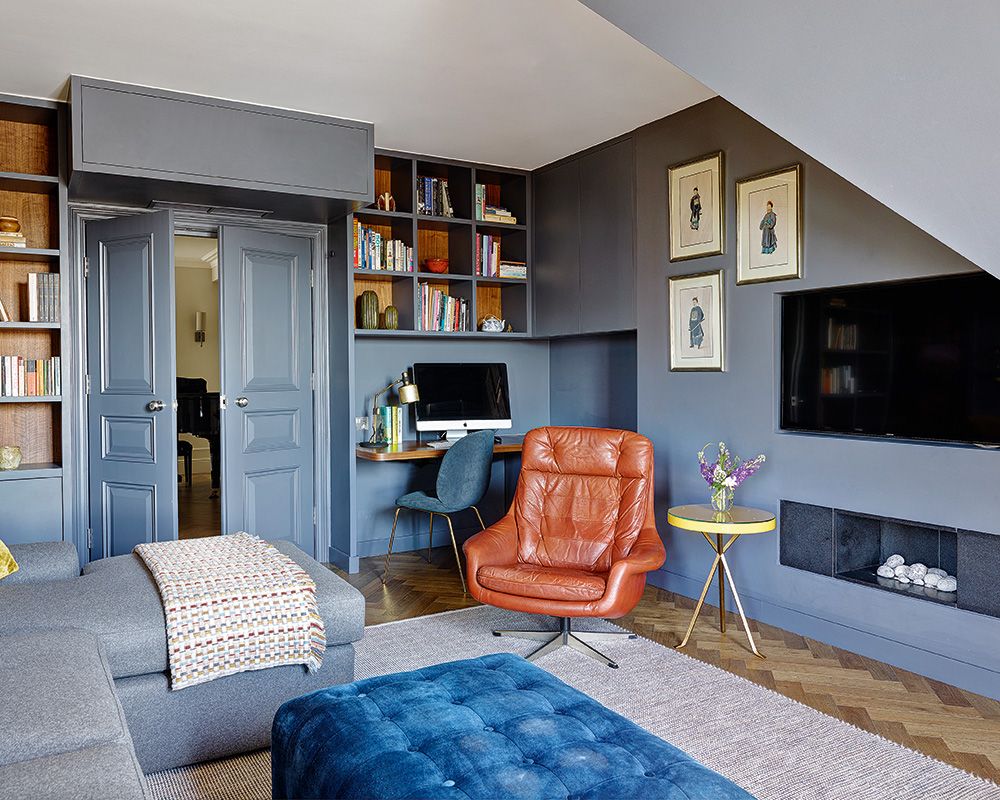 Make a small apartment living room feel larger by painting the walls and woodwork in the same shade. 
If you're brave enough, paint the ceiling in a brighter shade as well, to make the room feel taller. As long as your ceiling is painted in a paler color than your walls, no matter what the color, your ceilings will feel higher.
15. Hang a tall mirror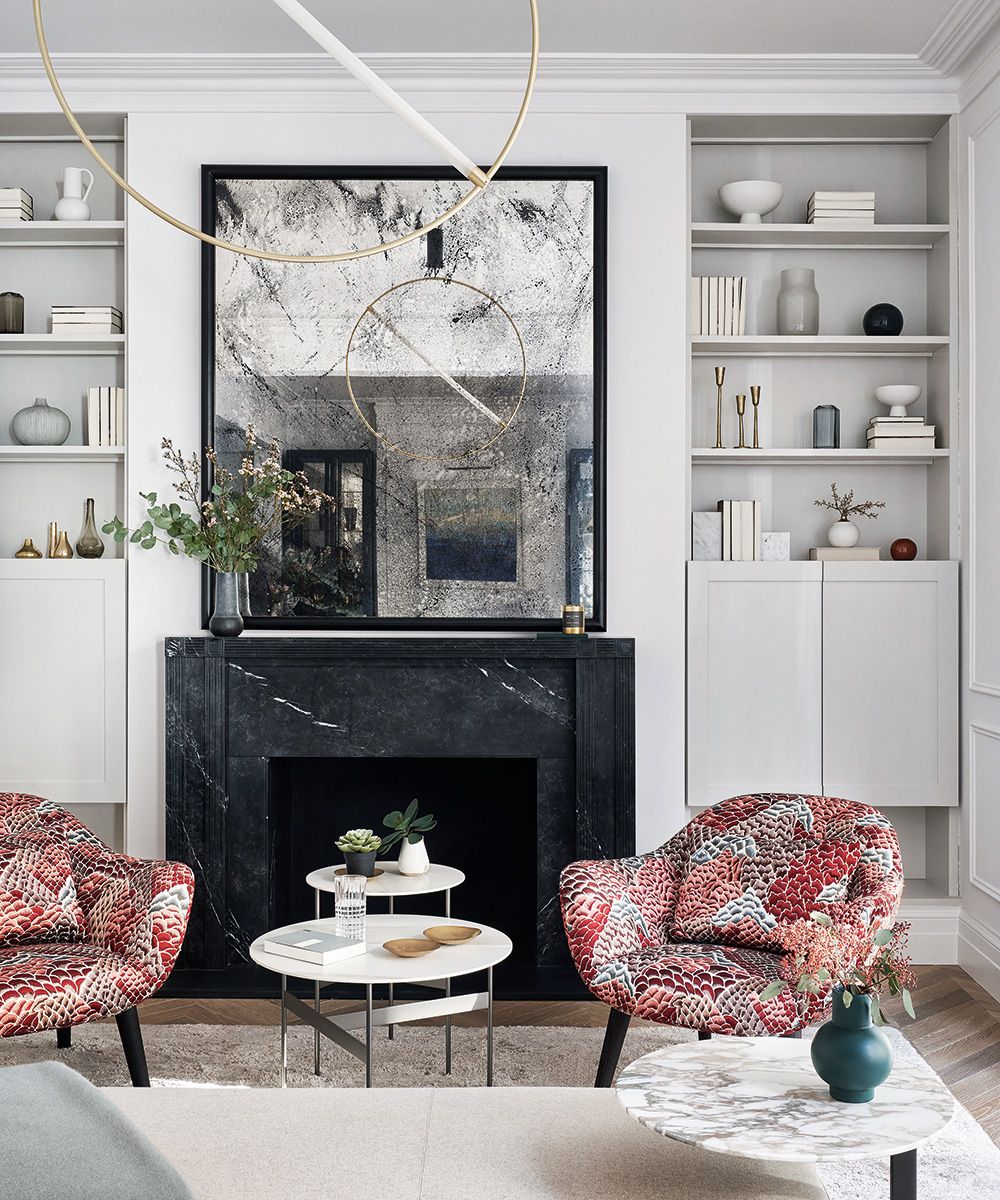 Not surprisingly, decorating with mirrors can make a room look larger. Hang a large mirror on a wall opposite a window or very near one to reflect the outdoors, broadening the feel of your room. 
Mirrors reflect both natural and artificial light to make a room brighter during the day and night and they bounce light deep into the room, making it appear larger.
16. Use color to define a space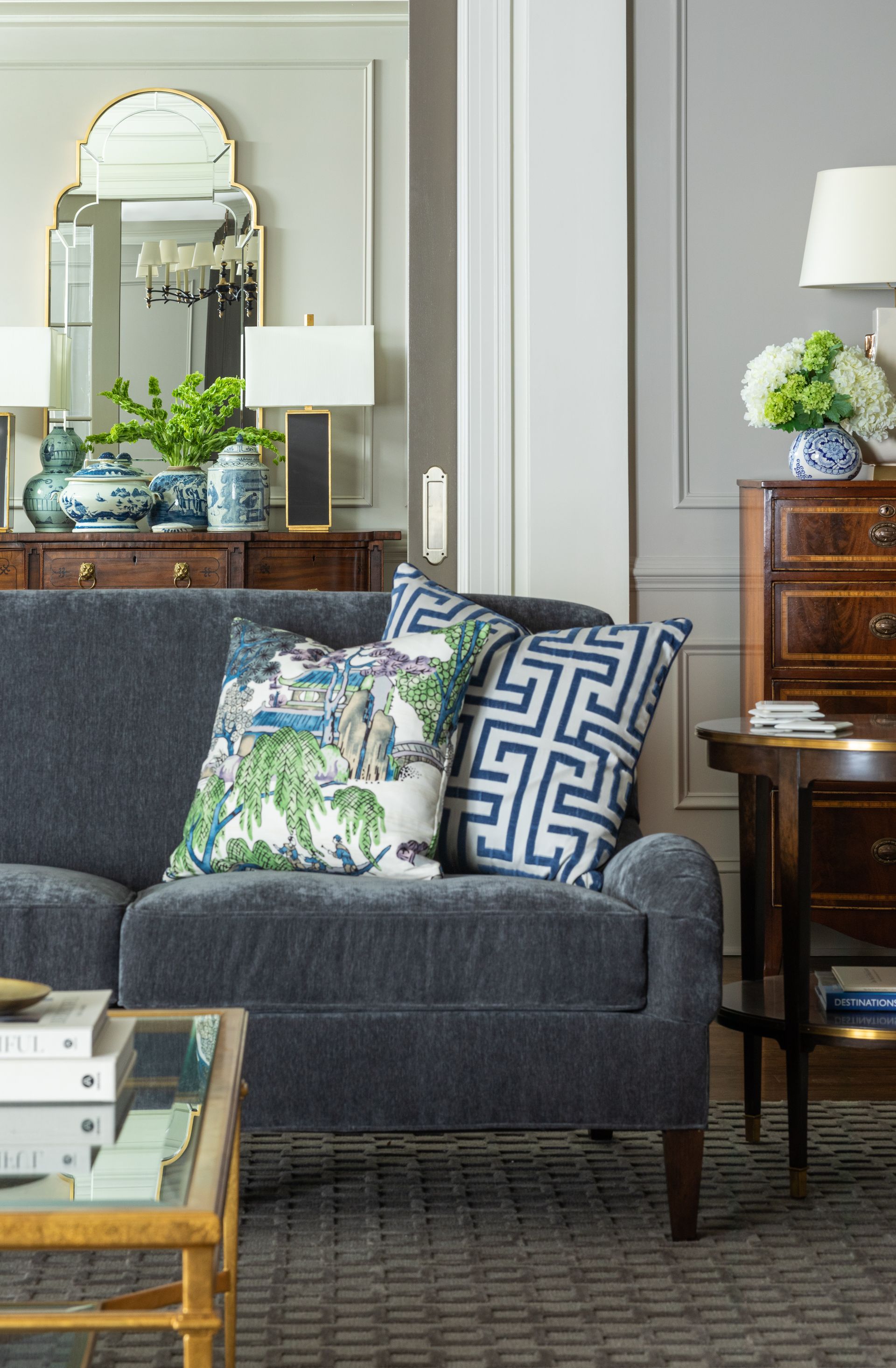 'Adding collected pieces and pops of color throughout a small living space is a great way to elevate the room and add interest and detail to even the smallest corner. You want the space to feel familiar and relaxed and color is a great way to do that,' says Judy Pickett, founder and principal designer at Design Lines Signature (opens in new tab). 
Ensuring you carry these colors through to your apartment entryway will also help your whole space feel larger and more cohesive.
17. Match your drapes to your couch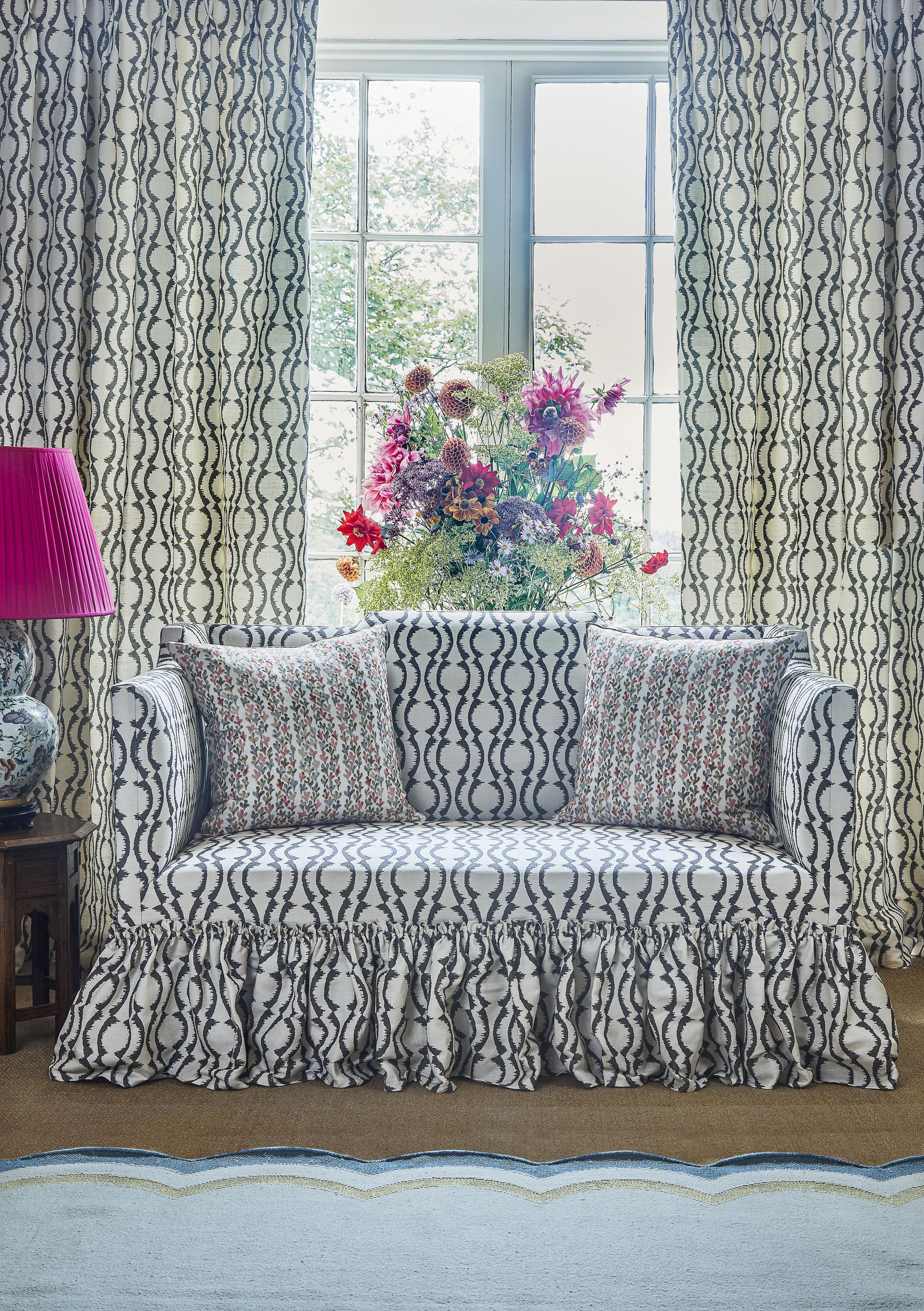 'When embracing pattern within a smaller living room, one way to introduce it easily can be to use the same motif across different elements, such as the curtains and the upholstery. This will allow the space to be in harmony without a conflict in scale or color, ensuring the room is celebrated with personality and depth, without becoming overwhelming. 
'It's a good idea to consider the type of pattern when you are using it across different pieces. Here the 'Zogee' design with its geometric vertical repeat cleverly creates a trompe l'oeil, drawing the eye and elongating the proportions of the room, whilst the monochromatic colour combination further enhances this effect,' says Richard Smith, founder of Madeaux Home (opens in new tab).
18. Choose darker shades for coziness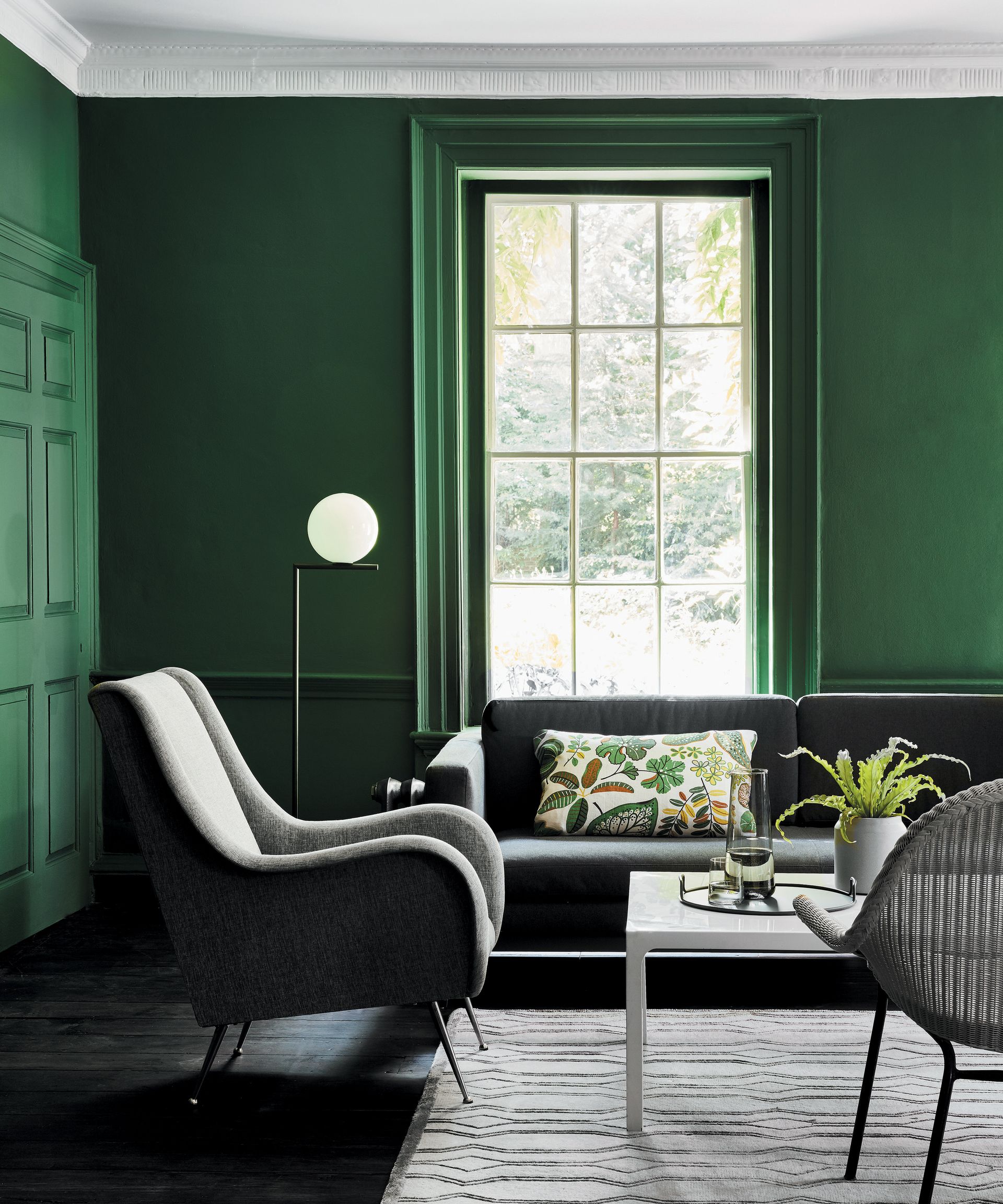 Small apartment living room ideas aren't just about creating light, airy spaces – they can be dark and cozy if that's the mood you want to create, particularly if you only really inhabit them in the evening. However, when choosing paint colors, pick warm shades for an inviting appeal.
'When creating a scheme that will feel comfortable and intimate, consider shades that have an inherent warmth to them. Stronger, jewel tones such as Puck or Hicks' Blue can be used in an all-over scheme to create coziness and warmth in a small living space,' says Ruth Mottershead, creative director at Little Greene (opens in new tab). 
19. Layer print and pattern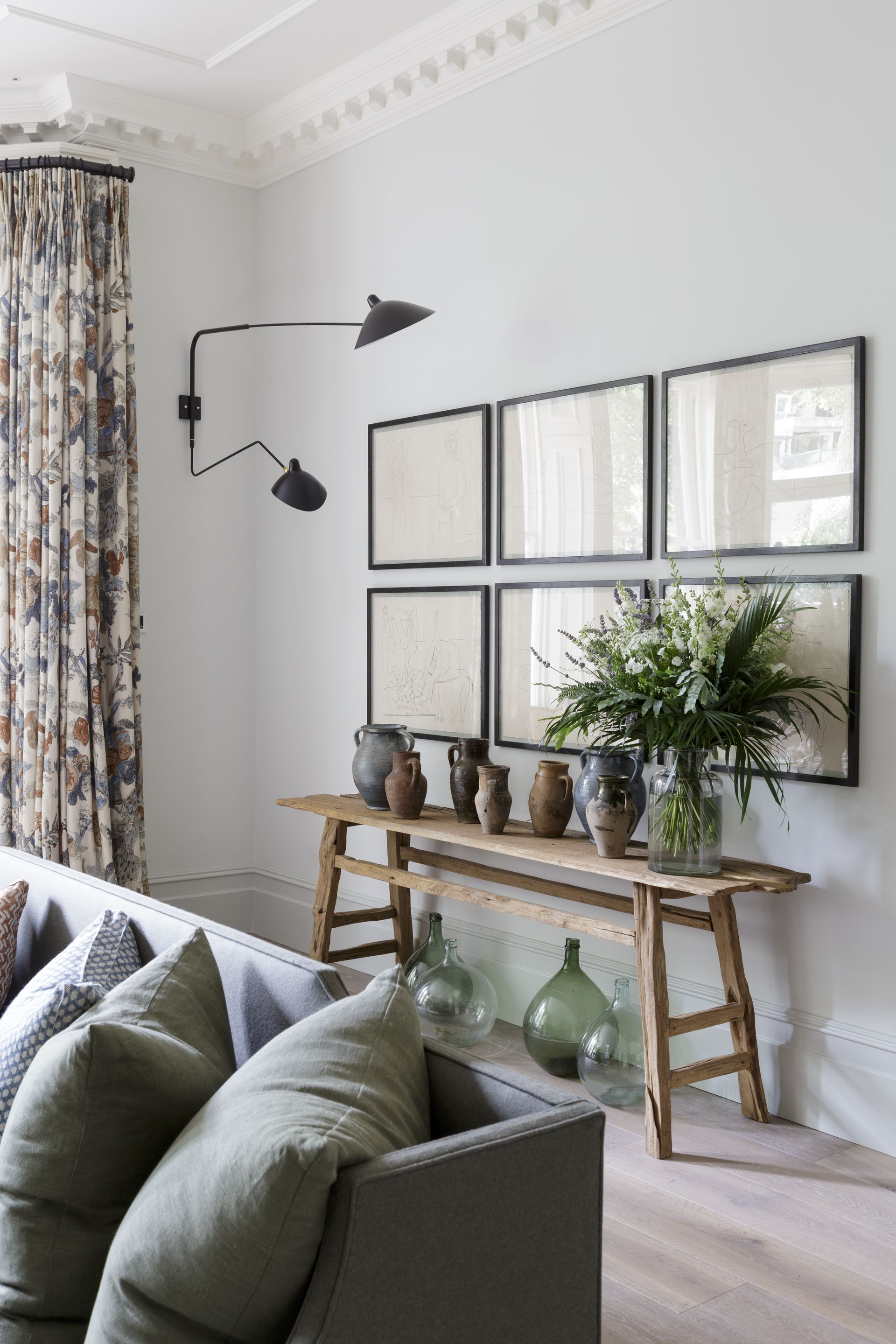 It's likely that small apartment living rooms have little space for you to express your creativity and add comfort with layers. But you can achieve this with a narrow console and artwork above it.
'Making a home feel comfortable is always a priority when designing a space, as is creating something that feels unique to each individual. Incorporating a mix of pattern, print and texture creates a space that feels layered and nuanced, allowing key pieces and features of the room to come to foreground,' says Katie Lion, senior interior designer at Kitesgrove (opens in new tab). 
20. Layer textures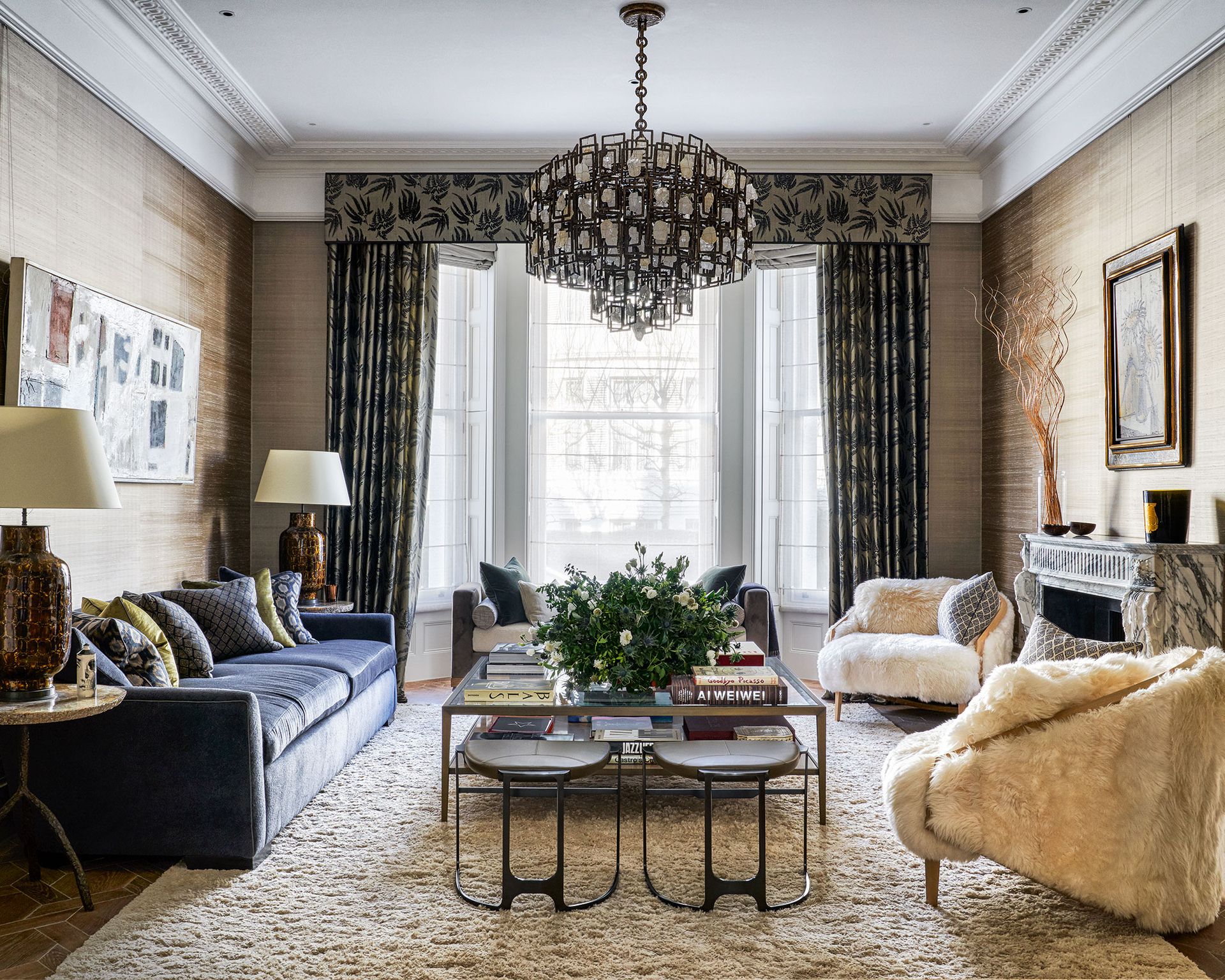 'There are several textures at work in this small apartment living room – a mixture of velvet upholstery and woven pillows, faux fur armchairs, a combination of footstools and coffee table in different materials, and a deep pile rug. 
'Then, there's the texture of the wallpaper, the curtain pattern and the flooring beneath the area rug, each element being key to keeping this space contemporary, stylish and uncluttered,' says Lucy Searle, global editor in chief, Homes & Gardens.
21. Create a reading nook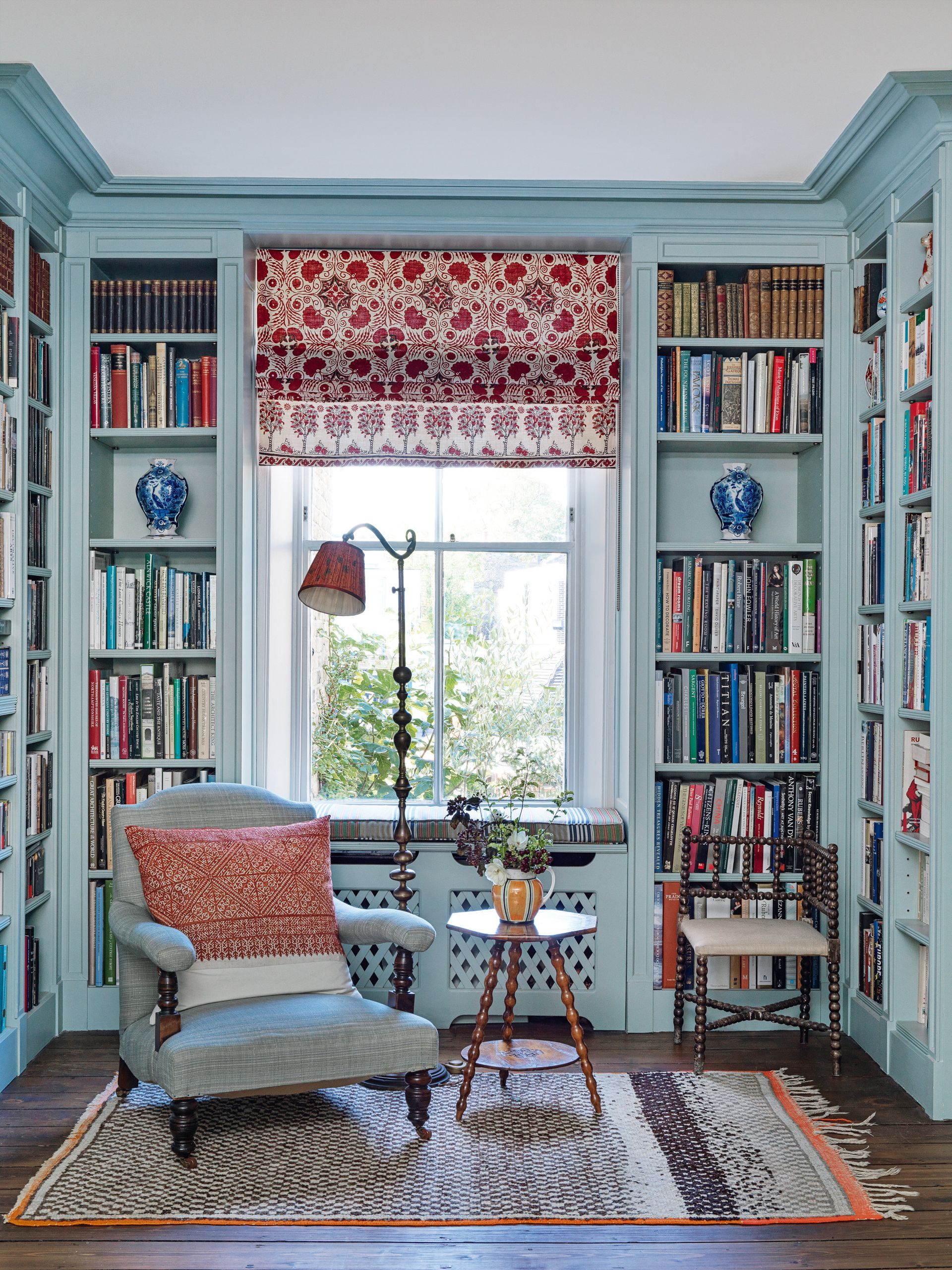 Reading nooks needn't be reserved for larger homes; you can create one in a small apartment living room.
'Maximizing all areas of a smaller apartment living room is an excellent way to ensure you get the most from the space but also the best way to create an interior with personality. Creating new places to enjoy within the room, such as celebrating little corners such as these, by adding a favorite armchair, side table and lamp will make the most of every nook and cranny. 
'People can often be nervous of adding pattern and color into smaller rooms, but on the contrary, it can add character and authentic, bringing interest and depth. A small room devoid of color and pattern can feel forgotten and overlooked, whereas a room filled with it, tells a story and will bring a smile,' says Stefan Ormenisan, creative director and founder of MindTheGap (opens in new tab). 
22. Choose the right couch for the space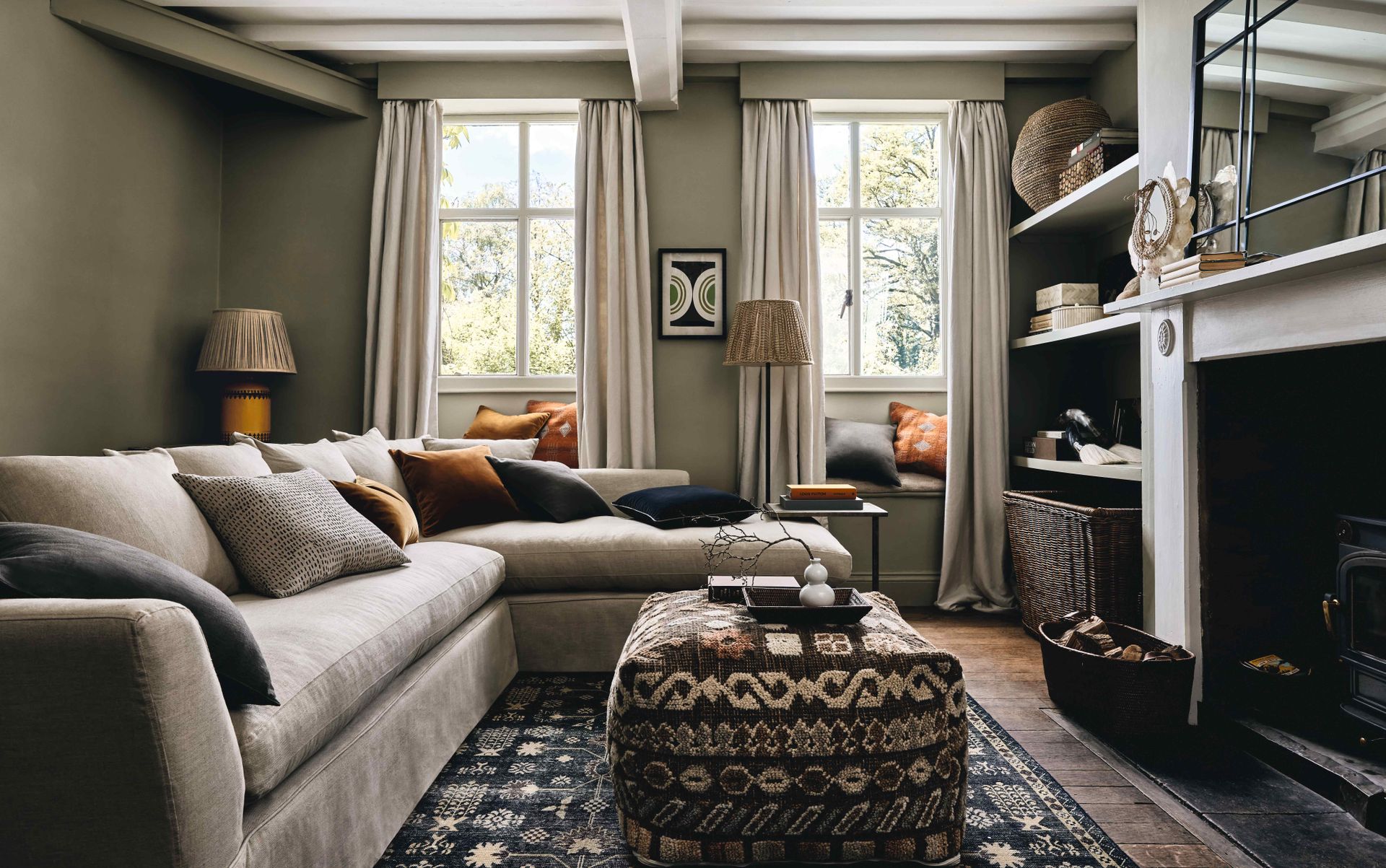 Ideally, you want lots of floor space in a small apartment living room, but if your priority is seating for family and guests, look to sectional living room ideas to give you a catch-all solution. 
'If you are going for a sectional, ensure the couch itself is low-slung; doing this will make it feel smaller and won't block any light coming in via the windows,' says Lucy Searle, Homes & Gardens' Editor in Chief. 'One that is in a light color will also help the room feel larger.'
23. Use a barely there wall color as a background for art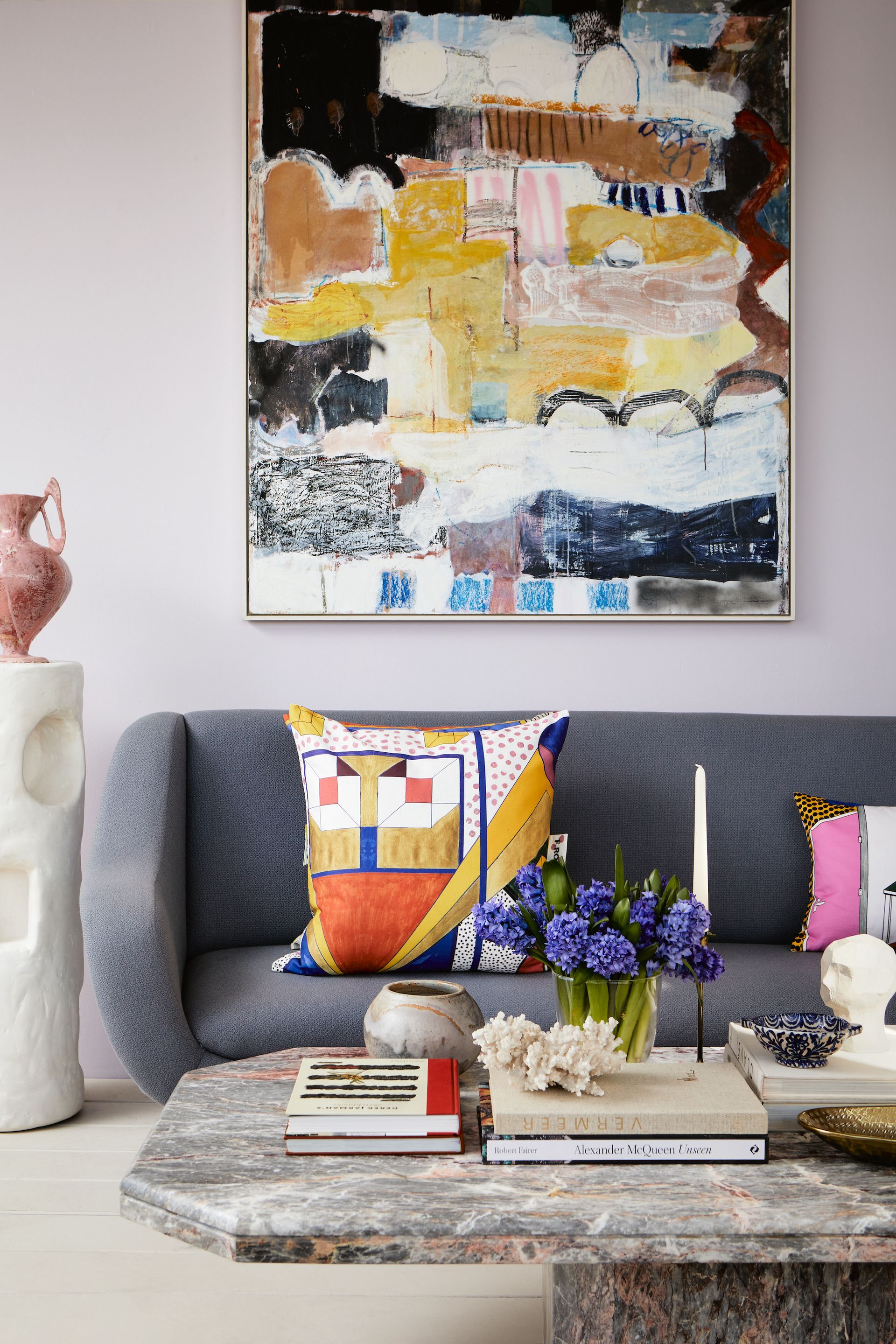 'Light shades with glossy finishes will make the most of a small room, giving the illusion of space and openness. Pale purple shades like Early Lavender™ No. 260 are proving increasingly popular, creating a soft and refreshing background when used as the main tone,' says Dominic Myland, CEO of Mylands (opens in new tab). 
How do you decorate a small apartment living room?
Small living rooms in apartments may be short of space but can still be big on style. A carefully designed studio apartment that incorporates plenty of concealed storage and furniture that is tailored to the space can achieve a sense of comfort and convenience that belies a modest square footage.
Select furniture pieces that are in proportion to the size of your room – oversized cabinets, sofas and chairs can make a small room feel narrow. Furniture that is the same color as your walls tends to blend into the wall, making it look wider, and make sure you arrange your furniture at an angle to create a sense of depth to the room.
Consider finishing the walls in polished plaster, a material that reflects light and increases visual perception of space. Any other reflective decorative surfaces, such as patinated mirrors, silver leaf or lacquer, will make the space seem bigger too.
When decorating a small room, create a focal point – one area or feature that will draw the eye so there's less emphasis on the room's layout. In apartment living room ideas this will most likely be the sofa or coffee table, so make sure that focal point is the star of the room.
link