Cyclists who live in small spaces know the conundrum: You want your bike easily accessible but hate tripping over it all the time.
After spending some 30 hours researching dozens of indoor bike-storage stands, we assembled and tested the 10 most viable options, leaving our bikes at their mercy for days—and sometimes weeks—on end.
Ultimately, we decided that for most people, the Delta Cycle Michelangelo Gravity Stand is the best way to store your bike indoors.
The stand takes minimal effort and expertise to install, it's lightweight and strong, and it can accommodate one or two bikes of any variety—mountain, road, hybrid, and even step-through cruisers.
The Michelangelo was easier to assemble than all the other options we tested, requiring only a Phillips screwdriver and a drill. It's also low-impact, requiring a grand total of one screw to attach it to the wall. Plus, its ladderlike frame is made of slender but tough steel tubing that keeps the stand from dominating your interior-decorating scheme. The arms that hold up the bikes on the Michelangelo are movable, allowing the stand to handle bikes with sloping top tubes or complex full-suspension frames. Repositioning the arms (don't do this while a bike is on the rack!) is simply a matter of twisting them until they move freely—you'll need no tools at all, which means that this rack is also easier than all the others to adjust once assembled. The Michelangelo has a couple of extra hooks for accessories, so you have somewhere other than your handlebars to hang your helmet.
Runner-up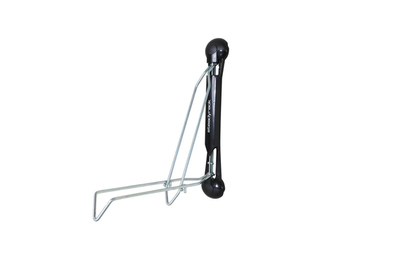 Steadyrack Classic Rack
A wide range of tires can fit in this fold-down rack, which is also the easiest vertical rack to get a bike into and out of.
Hanging your bike vertically (that is, from its front wheel) lets you fit it in the wall space behind a door, or in a corner. Unlike some of the other vertical-storage options we tried, which require you to lift your bike well off the ground while simultaneously twisting its wheel to get it into a hook, the Steadyrack Classic Rack unfolds from the wall like an old-fashioned ironing board. To get your bike on this rack, you tip it back on its rear wheel and roll it forward until the front wheel sits in the rack, which is wide enough to accommodate even mountain-bike tires. If the Michelangelo, our main pick, is out of stock, this is a nearly-as-good alternative.
Also great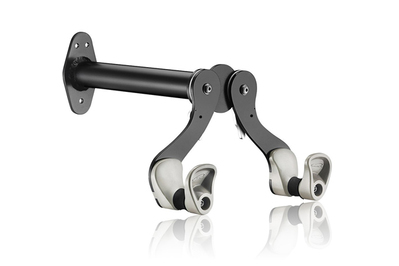 If a gravity stand won't work but you still want to hang your bike parallel to a wall, the Ibera Adjustable Bicycle Wall Hanger is your best bet. It's highly customizable: You can change the height and width of the support arms via simple ratcheting mechanisms, and the arms are easy to lock into the right configuration. The rack itself is attached to the wall with telescoping tubes so you can also adjust how far it sticks out into the room—another handy feature for small spaces.
Also great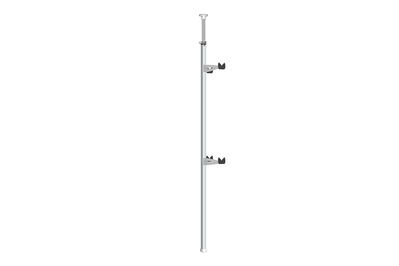 Feedback Sports Velo Column
Although it's expensive, this tension-mounted column lets you store two bikes anywhere in a room, without drilling a single hole into a wall or ceiling.
If your wall space is entirely occupied by windows, doors, bookcases, or artwork, the Feedback Sports Velo Column, which holds up to two bikes, is likely the best option for you. It can be wedged into place between the floor and ceiling. You don't need to nail it or screw it into place, so it's easily moveable if you decide to rearrange the furniture. This column is also solidly constructed, and the support arms adjust to fit different kinds of bike frames.
link