The perfect air conditioner slides gracefully in and out of your window, cooling you quickly, efficiently, and silently.
In other words, the perfect AC doesn't exist.
The closest thing we've found to that ideal is the Midea U MAW08V1QWT. We've been researching window ACs since 2012, and this Midea model is quieter and more energy-efficient than any window AC we've ever tested.
Our pick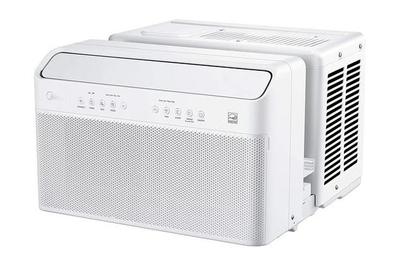 This U-shaped Midea air conditioner is the quietest model we've ever tested, and it's designed in a way that still allows you to open your window. But the installation process isn't fun.
The Midea U MAW08V1QWT is simply the quietest air conditioner we've ever tested, but that's not the only reason it stands out. The smart-home-compatible, Energy Star–certified unit has an inverter compressor, so it uses about half as much energy as a non-inverter AC. And this model has a unique, U-shaped design that allows you to continue opening and closing your window (by contrast, traditional air conditioners typically lock your whole window in a closed position). But there's a catch: The installation process is notably frustrating compared with that of other air conditioners.
Runner-up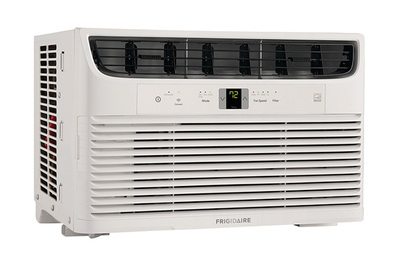 This Frigidaire unit is easy to install, and it cools a room about as well as our top pick for a slightly lower price. However, the sound is a little more grating, especially at lower fan speeds.
Since 2014, we've recommended the Frigidaire FHWW083WBE (or one of its nearly identical predecessors) as a reliable and affordable option for a basic window air conditioner. It's quieter than most other non-inverter ACs, and it cools the room quickly and efficiently. Also, it typically costs less than our other picks while offering comparable performance and smart-home capabilities.
Also great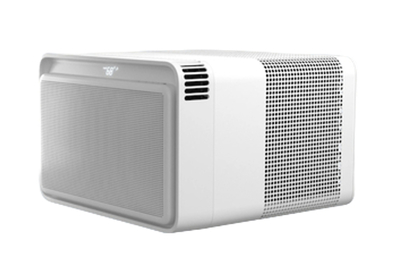 This Windmill model was easier to install than any other AC we've tested. It has an inverter compressor and other thoughtful details that make it pleasant to live with overall.
The Windmill AC with WhisperTech is one of the nicest-looking air conditioners we've ever tested, with rounded corners and subtle indicator lights that won't keep you up at night. It was also the easiest to install, with a pre-installed frame that fits right in the window and a stylish plastic cover over the back (so you don't cut your hands on those razor-sharp exhaust fins). You can even add a custom color panel to the front grille. And it has an inverter compressor, which means it's just as efficient as our top pick and almost as quiet.
Also great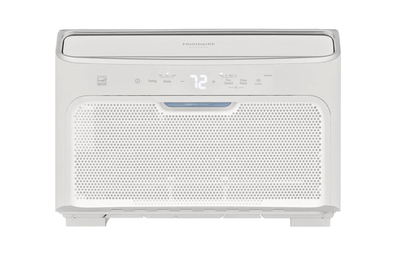 This inverter-style Frigidaire Gallery model is one of the most energy-efficient ACs we've ever tested, with lights and sounds that basically blend into the background.
The Frigidaire Gallery GHWQ083WC1 is an inverter-style AC that's slightly louder than our top pick, but it's still essentially unnoticeable in a room, unless the fan is on high. Compared with other air conditioners we've tested, this one provides more-impressive cooling consistency across the room. The LED display on the control panel shuts off automatically after a few seconds (that's good when you're sleeping but annoying when you want to check the settings). And the smart-home app can be a little glitchy at times. But in spite of the flaws, this AC is among the best models available.
Upgrade pick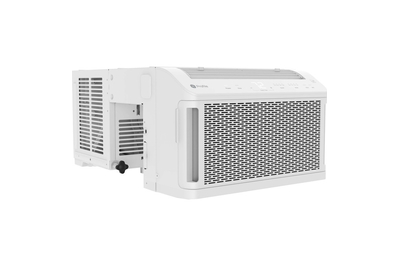 This uniquely shaped AC hangs down over the windowsill, delivering quiet, efficient cooling without hogging the window.
The 10,000-Btu GE Profile Clearview PHNT10CC is an Energy Star–certified inverter AC that's big enough to fill a room up to 450 square feet—and it takes up only about 4 inches of window space. Instead of balancing precariously on top of the sill, this N-shaped model hangs down over the wall, leaving the window above it completely free to use. The AC does stick out into the room (about 9 inches), and you might need help lifting it over the windowsill.
Budget pick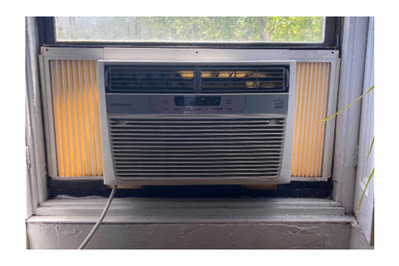 In the interest of value, practicality, and waste reduction, your buddy's old AC may be your best bet, as long as it meets some basic modern standards.
After testing dozens of air conditioners over the years, we've dismissed a lot of low-cost options that are louder, less efficient, and harder to live with than our picks. But on a hot day, they can get the job done—and sometimes that's all you really need. So rather than recommending a specific low-priced new model that we couldn't in good conscience call a strong value, we're offering some detailed but flexible advice on how we'd shop for whatever used air conditioner is available. As long as the unit was made within the past decade, it should be about as efficient as a new one.
This guide also includes recommendations for through-the-wall units, casement-window models, and the newer U-shaped or saddle-style units. We outline our portable air conditioner recommendations in a separate guide.
link