Designing the apartment for Meryl Streep's character on season three of Only Murders in the Building was a dream come true for set decorator Rich Murray. "The story I told myself was that she had lived in this apartment for thirty five, forty years," Murray says of Streep's character, Loretta Durkin, a long-struggling theater actress who seems to have finally gotten her big break after being cast in disgraced Broadway director Oliver Putnam's (Martin Short) comeback show. That is, until the star of the production, Ben Glenroy (Paul Rudd), dies onstage on opening night, and an investigation commences—because this is Only Murders in the Building, of course.
In the fifth episode, "Ah, Love!" (aired on August 29), we finally see inside Loretta's apartment. "Welcome to my slice of New York," she says to Oliver when he comes over for their first date, an at-home pork chop dinner prepared in her rarely used oven. "It's itty bitty." The cluttered but homey studio evokes that of your slightly frazzled grandma or great aunt; there's a reading alcove adorned in fairy lights overlooking the kitchen and living room, scarves hanging from the back of a Murphy bed that drops directly onto an upholstered sofa, built-in bookshelves with belongings stuffed into every nook and cranny, and mismatched wallpaper and antique lamps throughout. "There's a place for everything," Murray says of the setup. "Every drawer opens and everything in there is practical."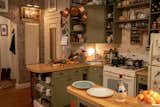 Murray decorated Loretta's apartment with items he imagined the character would've kept from her plethora of hobbies over the years, such as paper swans from her origami phase, which are strewn across the crowded unit—and says there are also plenty of star motifs as an homage to Loretta's day job at Macy's, though the show couldn't get the clearances to include the actual department store's logo. "That was the joy of that place. There was no edginess, snark, or sarcasm. It's all face value," Murray says, explaining that he envisioned Loretta as the vice mayor of her block—she's not the first person everyone consults, but she's someone everyone knows.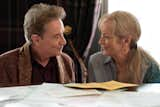 "She lives her values in a New York-y way," Murray continues. The set decorator imagined Streep's character tries to be as zero waste as possible and have minimal plastic in her apartment. To show this, he placed glass jars filled with beans and oats on the kitchen's wooden countertops and green-painted open cabinets. Murray also conceived that Loretta would decorate her walls with thrifted works by women artists—a far cry from Ben's macho, egotistical penthouse we saw in the third episode.
Murray and his team didn't just build out Loretta's apartment with details that speak to Streep's character, they also peppered the space with nods to the real actress's storied career. Among the Easter eggs in the apartment are a Margaret Thatcher teacup, a nod to The Iron Lady; an ottoman made from a burlap sack used to carry Kenyan coffee beans, hinting at Streep's role in Out of Africa; a framed tea towel printed with a pamphlet written by the real-life activist Streep plays in Suffragette; an armoire painting of the Irish countryside in honor of Dancing at Lughnasa; and a watercolor of a Broadway theater with a Prom marquee. There are also scripts on the walls from movies Streep has acted in, and all of the titles in Loretta's wooden bookshelves are adaptations Streep has starred in. "There's a lot of stuff going on," he laughs. "It is chock-full."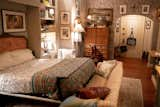 link