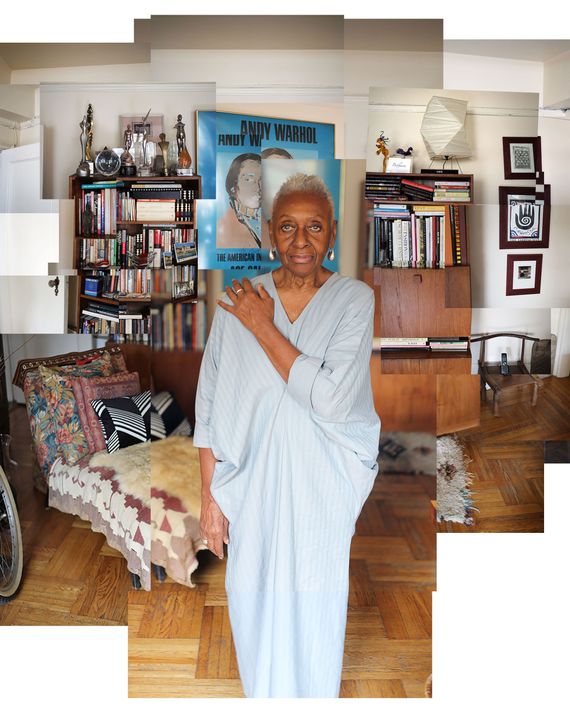 Bethann Hardison with her awards and art.
Photo: Lucas Michael
Bethann Hardison has lived in her two-bedroom apartment near Gramercy Park for 47 years. Her walls are covered with gifts from friends, including Keith Haring, Jean-Michel Basquiat, and Andy Warhol. But the majority of her paintings are from Haiti, collected when she was living part time in Anguilla and ran a shop called Caribbean Style.
That's one of the less-well-known chapters of her storied life. She grew up in Brooklyn, where, she says, "I realized I was successful by the age of 12." She was the first Black cheerleader at Wingate High School and took up tap dancing. "All I wanted to do was entertain: cheerleading, tap dancing, being on the runway — it's the same."
Starting in the late '60s, she worked as a model, at first for Willi Smith. In 1973, she participated in the "Battle of Versailles," from which American fashion designers (and their models) emerged victorious. Hardison continued to model while managing both the showroom and sales of an Italian swimwear company as well as raising her son.
In 1984, she founded Bethann Management. "I had no interest in starting a modeling agency," Hardison says. "I had no interest in ever having my own business." But the agency where she'd been working, Click, never offered her a partnership. "I realized as life went on that people come to Earth to do certain things, and I was meant to do that." Her many friends in the industry — Calvin Klein, Perry Ellis, Steven Meisel, and Bruce Weber among them — supported her venture. The talent she represented included Tyson Beckford, Bonnie Berman, Veronica Webb, Kimora Lee Simons, and Roshumba Williams. She ran the agency until 1996.
Hardison is finishing up her memoir, but in the meantime, there is a documentary about her, Invisible Beauty, which premieres at Sundance on January 21. She directed it with Frédéric Tcheng, who made Dior & I and Halston. And Hardison is still modeling. She is in an ad for Victoria's Secret and, soon, the Gap. "There's no time clock on Bethann, that's for sure!" she says and laughs heartily.
link