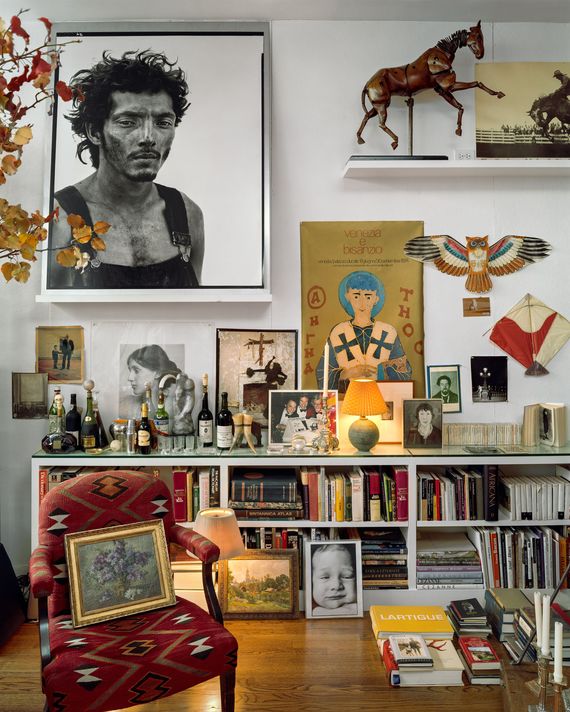 All of the apartment's wall's surfaces are homosote, so Richard Avedon could use them as tackboards, constantly pinning new things up. "Dick really wanted a backup," says architect Harris Feinn, "not architecture that dominated the space visually." On one side of the living room, a portrait of Avedon's "In the American West" series and an Amy Arbus picture of a baby.
Photo: Andrew Moore, Yancey Richardson Gallery
This year, Richard Avedon would have been 100 years old. In celebration of him (and a big show at Gagosian opening this week), we take a look back at his home, photographed by Andrew Moore for New York Magazine in 2004, the year Avedon died.
For the past 34 years, on a quiet block on the Upper East Side, many of the most important figures of our time — and some of its greatest beauties — passed through the arched entrance to Richard Avedon's studio. Elizabeth Taylor, Truman Capote, Allen Ginsberg, Hillary Clinton, and Nastassja Kinski would all be greeted by the studio manager and head to the waiting area: a couple of black director's chairs under a giant print of Dovima With Elephants, the most famous of Avedon's fashion photographs.
It was easy to miss the door opposite the studio manager's desk, which led to a steep, narrow staircase that went up to Avedon's apartment. Extremely guarded about his personal life, the photographer, who died in October at the age of 81, invited only a small group of family and friends to make the climb.
At the top, where he'd always be waiting to say hello effusively, was a floor-through one-bedroom, in which any semblance of decorating was merely a by-product of Avedon's desire to have the things he loved close at hand. The place was an exercise in creative juxtaposition: Navajo blankets and a Vuillard, ivory animal-head bottle stoppers next to brass-plated sculptures of cameras, an homage to Giacometti above the toaster oven. It was theatrical in the best sense of the word: a 2,000-square-foot cabinet of curiosities.
Avedon purchased the former carriage house in 1970. (It's now up for sale, and an auction of much of its contents is being planned at Sotheby's.) Architect Harris Feinn's initial renovation included building out a terrace garden on the second floor and putting a skylight over the kitchen. The photographer approached the apartment as if he were directing a shoot: Marla Weinhoff, who'd produced sets for Avedon, found antiques like the red Oushak carpet in the living room. Lighting designer William Riegel (who'd worked for Studio 54) devised a system whereby, at the touch of one button, every light would go on simultaneously. Avedon often placed lights in unusual places, like a table lamp on the floor. "He wanted areas of light and dark," says Riegel. "The shadows were just as important to him."
The apartment was a series of still-lifes — seen here as they existed — but still-lifes that almost always had a certain functionality: stacks of books he wanted to consult, a set of magnifying glasses. There was nothing overtly decorative about the arrangements. And the photographs of his own that Avedon put up tended not to be his beautiful fashion shots, but tougher portraits, like the one in the living room, from his book that effectively de-romanticized the American West.
But the house also had a sense of humor. Peering out from the plants in the terrace garden by the kitchen is Avedon's glass-covered portrait of Charlie Chaplin, taken on the eve of the actor's flight from America. It's another unexpected yet perfectly logical juxtaposition — the picture goes beautifully with the bird-feeder.
On the other side of the living-room walls, an old press card, a "Shakespeare in the Park" stub, and a picture of Avedon on the Met's steps during one of his shows.
Photo: Andrew Moore, Yancey Richardson Gallery
A view from the middle of the living room, looking toward a side room in which Avedon kept an extra bed with books on top of it. The mirror in that room reflects back the kitchen and garden on the other end of the apartment. To the right of the mirror, in the background, is a hallway leading to Avedon's bedroom; the hall is also where he had his desk. In the living room, an August Sander photograph hangs above a small dining table, right, that was inspired by photographs Avedon took in Butte, Montana. Meant to evoke mining equipment, the table has a I-beam-style base and a top inlaid with copper. It and the coffee table, built to hold as many books as possible, were designed by Brian Tolle. The English oak chairs around the dining table were made in the twenties by Robert Thompson, who signed each with a little carving of a mouse. A Jacques Henri Latigue photograph of Avedon sits on the floor behind one of the chairs.
Photo: Andrew Moore, Yancey Richardson Gallery
Avedon loved to serve meals at this dining table, and he liked the fact that you could see into the kitchen from the rest of the apartment. The dishes and pans all in full view. On the table is one of the architectural models of staircases that he collected.
Photo: Andrew Moore, Yancey Richardson Gallery
A view of Avedon's desk near his bedroom, with another staircase model and pictures taken from some of his recent shoots for the New Yorker, including his last project for the magazine, the "Democracy" series, which he was working on when he died.
Photo: Andrew Moore, Yancey Richardson Gallery
In the kitchen, a poster of Giacometti facing a Giacometti competes for attention with jars of tomatoes and bottles of vinegar.
Photo: Andrew Moore, Yancey Richardson Gallery
A Victorian oak bed, from Turbulence, served as both makeshift bookshelf and tie rack. The animal prints are by Audubon, and Avedon's 1972 portrait of Oscar Levant dominates a wall of pictures of women by various photographers. On the right is one of the small cactus lamps that Avedon liked to collect.
Photo: Andrew Moore, Yancey Richardson Gallery
Avedon's portrait of Charlie Chaplin bidding a less-than-fond farewell to America.
Photo: Andrew Moore, Yancey Richardson Gallery
For his bed, Avedon envisioned a system by which many books would be within arm's reach. The structure, designed by Brian Tolle and built by Jim Gratson, is mahogany. But Tolle got the idea for the containers from cleaning out a shed at his Catskills house: "I found an old Bear-Mountain water-cooler crate." Tolle first had 100 cardboard boxes made so that Avedon could play with that configuration. Avedon's book collection included a rare 34-volume set of Christian Zervos's Pablo Picasso catalogue raisonné (he was also fond of Proust). Avedon commissioned the artist Christoper Hewat to make cameras out of brass, as seen on the right. Other brass objects by Hewat, like the book, were gifts.
Photo: Andrew Moore, Yancey Richardson Gallery
link