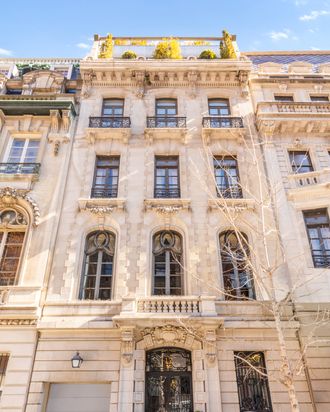 By complete coincidence, two apartments that make up three floors of a former Gilded Age mansion at 17 East 63rd Street went up for sale this week.
Photo: Allyson Lubow/Corcoran/Allyson Lubow
The five-story limestone mansion at 17 East 63rd Street was built in 1901 and was immediately occupied by a steady stream of big-name families, including the Brokaws (merchants), the Parks (dry goods), and, at one point, the Hubers (breweries). After World War II, it was chopped into apartments. Those still-palatial units — with their high, coffered ceilings; chandeliers; and French doors that open onto Juliet balconies — have very rarely gone on the market. For the past 35 years, Shirley Maytag King, the widow of the grandson of the founder of the Maytag appliance company, has occupied the suite on the second floor. And the combined third-and-fourth-floors unit has been continuously owned for over 20. Now, all of a sudden, both of those two units are for sale, listed this month within five days of each other with two different brokers, who ran into each other at the building a few weeks ago when one showed up to do a survey for a floor plan.
"Just a coincidence — a pure coincidence," says Paul Kolbusz, a Corcoran broker who represents the second floor. "I did meet him," says Elana Schoppmann, a Douglas Elliman broker who represents the duplex. "He's lovely."
A charming meet-cute with some competition. Kolbusz noted that the unit he is selling has higher, 15-foot ceilings since it's on the floor that once housed the ballroom. Schoppmann thinks buyers will be amazed by the sheer size of her unit: a 4,200-square-foot duplex, literally double the size of his. "The apartment is so grand scale," she says. "The dimensions of the bedrooms are bigger than most people's living rooms." (Or this writer's entire apartment: The primary bedroom is 22 feet by 26 feet and adjoins two separate bathrooms, including one with its own fireplace. A functional bathroom fireplace — in New York City.) "It's literally how royalty would live," Schoppmann says.
Not that downstairs is exactly small scale: The original ballroom ceilings are literally gilded. "When something like this comes up for sale, you're just so impressed," says Kolbusz. "You don't find these units on the market."
Could the two apartments be combined into a three-story 6,300-square-foot mansion? Both brokers say they are open to the idea. But if a buyer did want to make a change, it may be subject to board approval; the building is a co-op with two units on the first floor and a duplex penthouse on the fifth, whose owner just happens to be Neil Diamond, according to New York's article on the sale when the penthouse went on the market more than 20 years ago.
link