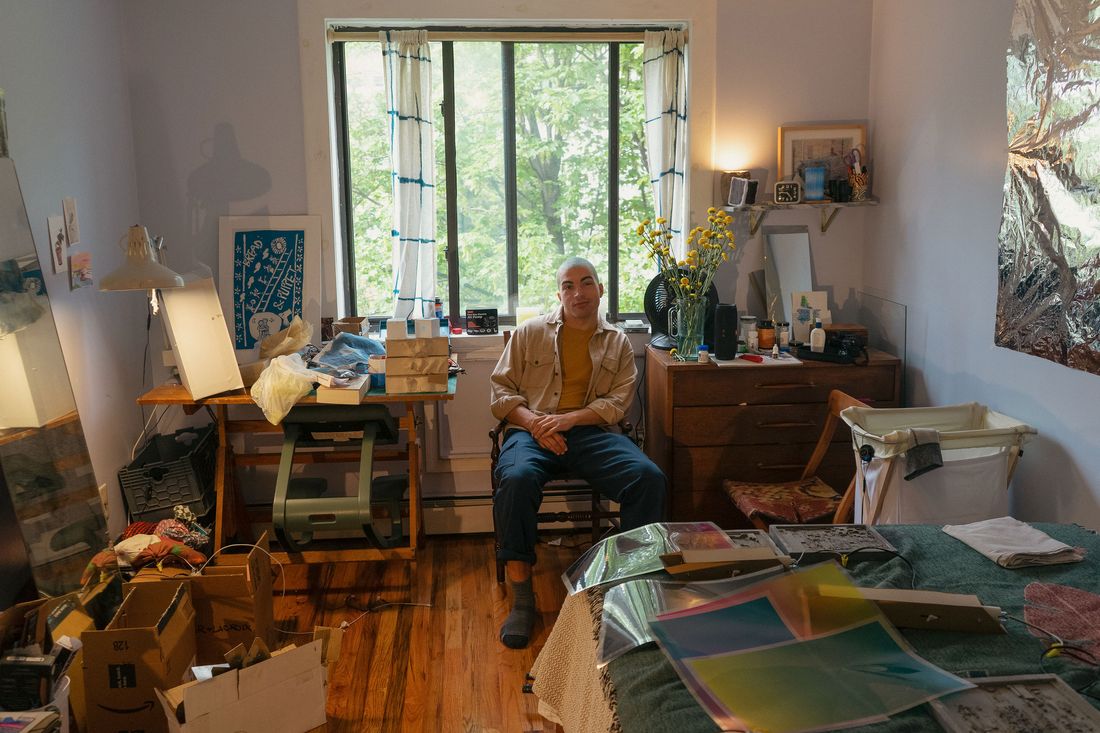 Adam Thompson's Bed Stuy bedroom doubles as his art studio. "I'm really lucky to have roommates who don't care very much."
Photo: Jesse Thompson
Like a lot of young artists I know in New York, I can't afford a studio, so I create my work at home. I live in a railroad apartment in Bushwick with my two rooms in the front and my roommate's in the back, a kitchen and bathroom in between. Fortunately, there are entrances at either end, so most of the time we never have to run into each other. It's a little bit like having my own place. The front room, with windows overlooking a bus stop, is never quiet. But the light is decent, reflecting off the only building above five stories on my block.
When I was growing up in Dayton, Ohio, space was not an issue. I had access to a basement, a barn, maybe a garage if it wasn't going to rain. I never considered how spray paint or varnish would affect anyone around me because I would simply go outside the house. As an undergraduate at the University of Dayton, I had studio space too.
The author's Bushwick apartment is also his art studio.
Photo: Jesse Thompson
I came to this city in 2018 to attend New York University's M.F.A. program. Attending meant I had access to an incredible studio space in the East Village, near where all of my artist heroes worked. Going to NYU made me feel invincible momentarily, to be submerged in such a culture where every artist who walks through the door is someone you had to write an essay about or mimic for an assignment. It's this glorious, hyped-up journey that for a second, just one second, feels as if the size of the work or the money spent on a piece (or education) doesn't matter. After all, I would mouth in the mirror, I am going to be just like my professors. My second year of graduate school, I worked in Lyle Ashton Harris's studio, learning how an active, successful artist manages their time. It was here that I could envision myself as the artist I so badly wanted to be.
But then I graduated in the midst of a pandemic and all sorts of economic problems; meanwhile, rents just kept going up. I finished school with my graduate show at 80WSE and made what felt like a symbolic walk of shame, towing my artworks from my East Village studio to my bedroom.
These days, like so many other artists before me, I work several jobs to support myself and pursue my dream, which means living — for now — with my art-making. I pinned sheets to the walls to protect them and have photo backdrops. I put plastic over my sofa and paint my canvases against the wall next to the front door. I keep my paints under my bed. I keep the canvases in the hallway by the bathroom. I clean my brushes in the shower. I have boxes of gloves next to my bed. When friends come over, I stack my work against the wall and fold up the plastic sheeting so we can hang out. I dig out my flat files to show them prints I'm working on.
I recently visited three other artists' home studios to see how they manage working from home and how it affects what they make.
I met Jessica through NYU. She had graduated from my program two years prior to me. I always felt she was a beautiful enigma, walking white corridors with baskets for purses, hair to her waist, and nails that could draw blood. I wanted to know more about her and her work.
She lives on a quaint block. Her front room faces the street, and there's a long desk next to a window. There are foam floor coverings everywhere and artworks stacked upon one another against the walls. The landslide of work fills the hallway back to her bedroom. The smell of oil paint competes with the scented candle she lit in the kitchen. Glass panels refract the afternoon sun.
Lancaster comes from Detroit and spent time in Canada growing up. Her parents are scientists. She completed her B.A. in photography at the Corcoran School in Washington, D.C., and moved to New York City for the Aperture Foundation's Work-Scholar Program. "During that time, I started making little paintings on wood panels with acrylic on weekends in my apartment as just something to do," she says. "It was a tiny little place in Chelsea. I mean, I slept on a sleeper sofa my first year here. I went on to work for Hank Willis Thomas after Aperture, which really opened my eyes to how a studio functions." Lancaster applied only to NYU and got in. Since graduating five years ago, she says, "I've had a studio in a cubicle in Astoria, shared a floor with garment workers in the Garment District, and spent a few years in a windowless warehouse that once produced plumbing pipes in Ridgewood." These days, she works exclusively from her apartment.
Lancaster's work at first seems like a photograph or digitally rendered, but further inspection reveals the delicate nature of her almost photorealistic style. "I paint in reverse on glass from snapshots, both from my family's albums and photographs I collect," she explains. Glass has its own limitations, though. "Since bringing the studio into my living space, I've noticed that I tend to stay away from making very large paintings. It's a question of knowing what I can get up and down three flights of stairs and where I can store things while they're in my apartment."
I ask how else she has had to adapt: "Most of the time, if I'm listening to music while working, I'll have headphones on, which means I won't hear my buzzer go off for deliveries. If I'm expecting a package now, I'll sit on the stoop until the FedEx guy rolls down the block." She continues on how she has changed her process: "I used to sand glass by hand and realized just how loud that can get, so I've figured out how to etch glass chemically, which I'll do in either my kitchen sink or bathtub, depending on the size of the piece. On occasion, if I'm working with an exceptionally noxious medium, I'll ask a friend if I can work on their roof in Murray Hill."
It's hard to keep work-life balance though. "I suppose being in such close proximity to my work and studio all the time means I'm never not working if I'm home, which can be intense at times but also really fruitful," she says.
I met Adam at a party, and after he found out I had attended NYU, we began to discuss sculpture and graduate school. He explained that he was in the process of applying to graduate schools for art, and I shared some of my experience. He has since gotten into UCLA, which is especially remarkable because his studio is his bedroom.
Thompson grew up in Massachusetts and moved to the city after studying architecture at Yale. "For a long time, I thought I was going to follow the architecture path, working in design illustration and on construction sites," he says. "The whole time, though, I was fantasizing about art, sketching sculptures and planning videos in the evenings. When I got laid off from one of these jobs, I had an opportunity to use the extra time to live off unemployment and savings and get some footing." A mentor lent him an exhibition space, a pop-up gallery named Rabbit Rabbit run by Davies Toews Architecture. "Putting on my first show there was the first time I actually saw my work as art," he says, "instead of architectural studies or design."
Thompson (we're not related, although we share a last name) lives in a three-bedroom apartment with roommates. They share a good-size living room full of plants and a comfy sofa and, on the day I visit, a piece of chocolate babka sitting on the table for the taking. His pale-blue bedroom is in the back.
A bed, a cello, a dresser, and a few cluttered tables fill the space. When I ask about working out of his bedroom, he makes a point to mention that when working in confines this small, he has to be disciplined. We each have had to limit our research to maintain an order of space and production at some capacity and not be overwhelmed by chaos. Thompson says it all with a smile, though: "I have to get very creative to be able to make work in my apartment. Because I can't make a huge mess in my bedroom, I have to work methodically, as opposed to explorationally. My process almost always starts with digital mock-ups. From there, I can decide how to move forward, building a workflow that works with my resources at hand. I avoid anything toxic, any powders or synthetic liquids. Anything I do, I have to be willing to breathe it in at night."
During my visit, Thompson is bouncing from one side of the room to the other, unearthing different projects from past and current work. The entire space looks like a laboratory with tools alongside his folded laundry and tiny handcrafted trinkets everywhere. "The sculptures can look like anything from a gizmo to an artifact, and materially they are very raw," he says. "Right now, my main focus is building a laser projector to run animations that project apparitions based on online live security footage."
When I ask Thompson about his art, he describes it as inventions that "try to redraw space in a spiritual light." He pulls a variety of pieces and models from cabinets and closet boxes. One of the most intriguing is titled Fictional Retelling of the 2009 Balloon Boy Incident and took up half of his bed. By this point, most of Thompson's room was not walkable but rather a museum of his stream of consciousness. I struggle to get back to my seat and ask him about living side by side with his work. "Sometimes when my boyfriend sees my room …" he says, laughing. "It's hard enough for me to keep it organized, but when I'm breaking glass, sanding foam, and printing cyanotypes, the mess just builds up." I ask if his roommates ever get annoyed. "One time, my old roommate slipped on some wax I spilled on the floor and she fell. She was definitely unhappy with me after that," he says. "I'm really lucky to have roommates who don't care very much. I try to clean up after myself and work in my room as much as possible."
The bedroom-studio constraints make him "very project oriented," he says. "It makes me think about the full extent of my resources. I think about who I know and the printers, laser cutters, foam cutters, and waterjets I have access to around the city. This inspires me to make use of nontraditional materials like electronics or other scientific supplies, or to make work that is inflatable and easy to store. As I get ready to have a studio in grad school, I've been fantasizing about space and being able to weld and be messy, to work with silicones and wood. For now, working out of my bedroom works well with the aesthetics of my work. It adds a layer of 'make it work' to my art. Nothing needs to be pristine."
I have no previous connection to Gayla, so her space and work are both surprises to me. She comes from a small town in Massachusetts and has lived in almost every New York borough. She greets me downstairs at her Queens apartment. A woman working on the hedges outside smiles and welcomes me past the white gate; she's the landlord. When we get upstairs, rays of light illuminate Martin's kitchen–living space–art studio. Prints are strung from wall to wall on a clothesline. Martin giggles as she moves her ottoman to show me the 100-pound metal printing press she uses. The couch and television are stacked snugly against an ink-covered desk and a bookshelf.
Martin wears many hats in the art arena: She works in custom framing on top of being a printmaker, painter, and textile expert. The back wall of her apartment is decorated with current pieces, all revolving around landscapes and the human imprint that affects them. "I use printmaking, painting, and textiles to create a portrait of a place. I capture how places or locations change over time, altered by humans, bulldozing land, expanding and re-creating," Martin explains. "My prints resemble topographical maps, and water is often present in those landscapes. All the landscapes I have re-created in my map prints are located next to bodies of water like the Hudson River in West Harlem, the East River and Newtown Creek in North Brooklyn, and the Atlantic Ocean. I am pointing out and often lamenting the effect we have on nature."
After looking through a slew of prints stored behind glass and plastic sleeves, we settle on the floor, something I am more than familiar with since working from home. "Making art from my apartment changes the physical process of printmaking," Martin says. "For example, I find myself working from the floor a lot, as opposed to working on tables in a printshop or studio space. It changes what I do with my body. I inherited my grandfather's small proof press, which makes it a lot easier to print from home, but the press is very heavy. I physically cannot pick it up alone, so it stays on the floor on a piece of cardboard under a shelf."
There are drawbacks to having a home studio: "Scale and material are limited when working in my apartment. I don't use oils, or use them rarely and in small amounts. I learned the hard way that I cannot safely varnish my paintings in my living room. I tried sealing off the living room with plastic and setting up a few fans, but I could still smell the fumes outside the room. I've ended up making pieces that are smaller in scale, but that sometimes allows me to make them more quickly and maybe work through an idea more efficiently."
She had previously made art in a place where, like Thompson, she had roommates. "One time, I was commissioned to make prints as wedding gifts. I made over a hundred nine-by-12 prints, and I lived in Hamilton Heights with a roommate," she says. "I needed a place for them to dry, which usually took a few days, but the three clotheslines I had placed in my bedroom didn't fit them all, so I made more zigzag clotheslines up above our heads in my living room–kitchen. We lived under these little gold hearts like flags for a few days."
That story feels all too familiar to my own experience. Leaving her apartment, I think about how success and opportunity can emerge from constraints. With space or not, artists will not stop making. Closet, tarp, or 12-foot white walls, it's happening and always will be.

link